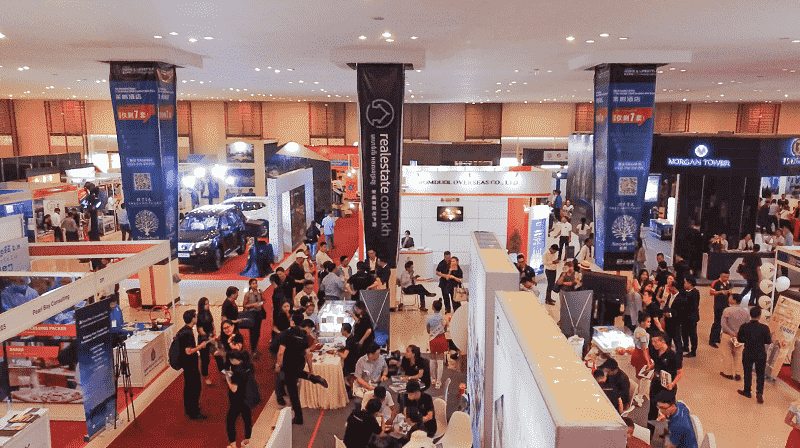 Over 20,000 people descended upon Koh Pich over the weekend, many of them putting down big money for condos, borey homes, land or cars at Realestate.com.kh's massive Home & Lifestyle Expo 2019. The company's CEO claimed it was their most successful event to date.
Taking place at Koh Pich Exhibition Centre on April 26 and 27 in 2019, the event hosted exhibitors from every section of the property market. Borey developers were there, as were condo developers, plot land dealers, agencies, lawyers, banks, construction firms and architects.
There was also lifestyle luxury brands there selling cars, watches, handbags, furniture and much more. Many were offering their biggest discounts of the year. The event didn't disappoint, either. Many exhibitors were able to connect with quality buyers and book sales that will smash their yearly sales quotas.
Affordable properties were the focus of the show, so it's no surprise that middle-class Cambodians made up a large contingent of attendees.
"Around half of the attendees were local," said Realestate.com.kh CEO Tom O'Sullivan, adding that the remaining demographics were mostly Chinese and just a handful of other international visitors.
"We really wanted to make the event into a blockbuster weekend and we were floored by the overwhelmingly positive response. By all accounts, this was one of the biggest real estate gatherings that Southeast Asia has ever seen."
Explosive sales

Urban Village, a development project in Phnom Penh's Chak Angre Leu, was particularly hot with real estate shoppers. The group reportedly sold 40 units over the weekend worth over $3.5 million combined.
Arata Garden Residences was another hot ticket project on the weekend. Piloted by Creed Group, the development sold 12 properties at an average price of just under $100,000 apiece.
Top International Agent inked eight sales at the show worth over $60,000 combined.
Worldbridge Homes hit the high notes during the expo as well. They sold nine properties, raking in over $250,000.
Local agency Pointer Property had an exciting weekend as they recorded four sales worth around $70,000 each.
7 Residence hit it big with a single sale of a unit worth half a million dollars.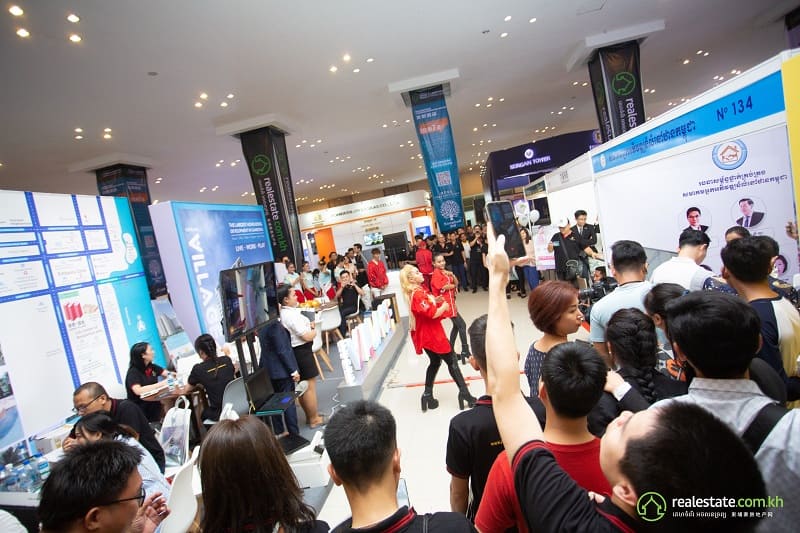 But sales weren't the only way to judge the success of exhibitors. In fact, many collected hundreds of new sales leads that will continue to pay off throughout the year. PHMK Real Estate, Capital Partners, Bred Bank, Royal Platinum, Air Apartments, Ohana Home Japan, La Bassac, RHB Bank, and Snowbell Hotel all left with over 100 red hot leads.
The retail side of the show wasn't without its heavy hitters either.
Carmaker Nissan reported that a lucky buyer rode home in a new $50,000 luxury vehicle bought at the show. Honda, on the other hand, sold four motorbikes for around $3,000 each. Sofa Shop, a furniture retailer, sold eight pieces during the show worth nearly $10,000 combined.
Sales figures are still streaming in from the huge event. However, Realestate.com.kh hopes to surpass the record from its previous event, which generated around $30 million in sales.
"This event proves that Cambodia's real estate sector is more alive than its ever been. Indeed, the future looks bright," said O'Sullivan.
---
Realestate.com.kh is excited to announce the sixth iteration of its hugely successful event series. The company expects to push the local property sector to new heights with the latest show - The End Of Year Property Sale 2020!