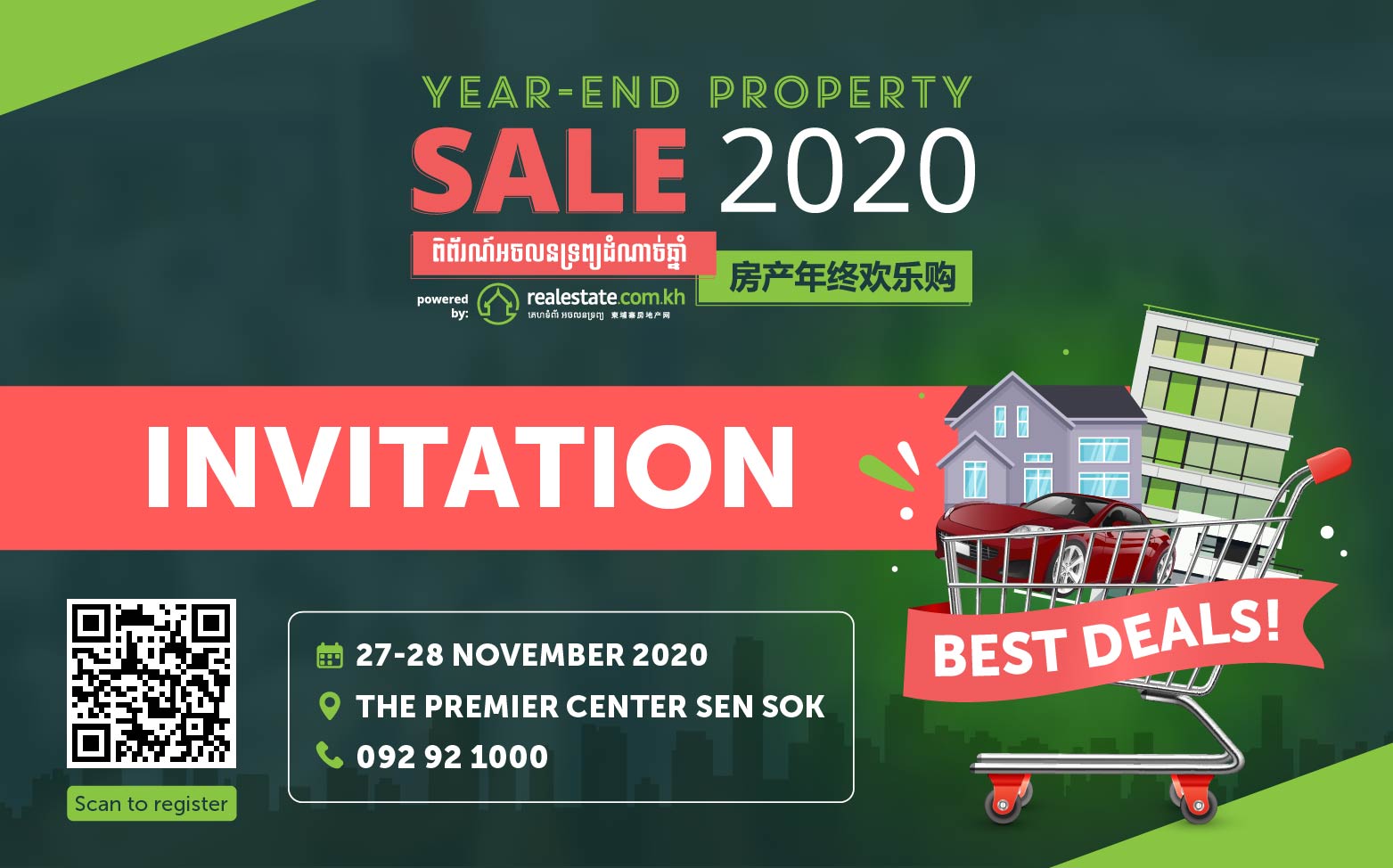 Cambodia Real Estate's first-ever offline-to-online event
Realestate.com.kh is excited to announce the sixth iteration of its hugely successful event series. The company expects to push the local property sector to new heights with the latest show - The End Of Year Property Sale 2020!
Taking place in Sen Sok, just across the road from Aeon 2 at The Premier Center on November 27th and 28th, the event will house Cambodia's leading Borey, Condo, and Mixed-use developers as well as the country's best agencies, banks, lawyers, and other real estate-related businesses.
Property seekers, first-time home buyers, and investors will be able to secure some of the best deals in real estate and speak to the leading banks and lending professionals to help those buyers to secure their dream home.

During the two days, interested buyers will also be able to attend the country's leading property seminars all of which will be streamed live to a local & global audience which will be viewed by thousands of people around the world. 
Attend & Exhibit Online
Earlier this year, Realestate.com.kh ran Cambodia's first-ever online property sales event and successfully facilitated over $15 Million dollars worth of property sales in just 4 hours! In light of the current global pandemic, Realestate.com.kh has decided to combine the offline event with an online component where international property seekers will also get to access the best deals in Cambodian real estate, reserve property online, as well as virtually attend the seminars during the 2-day event. 
Over $115 million and counting at Realestate.com.kh's events
The End of Year Property Sale 2020 follows as the latest in Realestate.com.kh's series of groundbreaking shows. Exhibitors sold nearly $100 million worth of property throughout the last four expos and over $115 million including the Black Friday Property Sale held last June. All in all, over 35,000 people have attended past Realestate.com.kh expos. 
Cambodia's leading property portal expects its next event to continue this growing trend; Realestate.com.kh anticipates over 50 exhibitors will join this year's event. These will be the most prominent names in Cambodian real estate, across the ASEAN region, and all over the world. The company expects attendance to be well over 10,000 people to the offline-online event.
An exclusive portfolio of quality exhibitors and sponsors
While Realestate.com.kh's events usually allow for over 100 exhibitors, this year's event will be limited to a select list of exhibitors and sponsors offering the best deals and updates on the market
In addition, Realestate.com.kh is forecasting the seminars to be more popular than ever before as property seekers and investors are eager to understand recent changes in property law, government policies, the current state of the market, and where the best opportunities are right now in Cambodian property. So, while it was tempting to dedicate the whole venue to exhibitor and booth space, Realestate.com.kh has allocated up to a quarter of the venue for these seminars 
If you're interested in a booth space call or sponsoring this event make sure you get in quick as spots will not last long! 
Key contacts
For all borey and plot land developers: 
Sumey Soun (Khmer/English)
mey.soun@realestate.com.kh
+855 77 241 285
For condominium and mix use developers:

Nin Kang (Chinese/Khmer)
nin.kang@realestate.com.kh
+855 78 637 323 / +855 93 552 305
For property developers and other interested exhibitors: 
James Whitehead (English)
james.whitehead@realestate.com.kh
+855 086 972 061