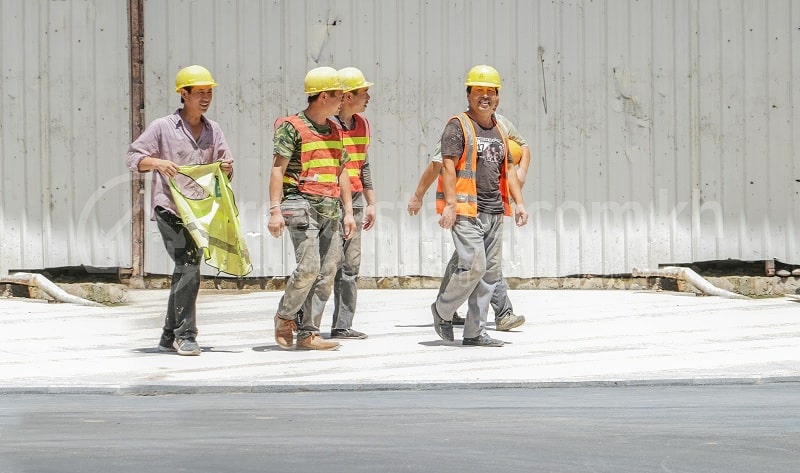 The Cambodian government is working to set a minimum wage for construction workers in the Kingdom.
Prime Minister Hun Sen made the announcement last week during a visit to Kampong Speu province. The Prime Minister noted that the government's plan is to include construction workers in the expansion of the Kingdom's minimum wage policy. Currently, the largest group of workers covered under the minimum wage law are garment factory workers.
Cambodia's minimum wage currently stands at $182 per month. However, the minimum wage does not apply to the construction sector.
The PM said that careful study and the input of relevant stakeholders, including construction companies, will be taken into consideration in the minimum wage deliberations.
"We have to study each and everyone [priority sectors]…we can include construction companies to determine the minimum wage rate and the research must be conducted by construction companies first," he said.
The Ministry of Labour and Vocational Training (MLVT) is already in discussions with the International Labor Organization (ILO) on the proposed expansion of the minimum wage policy.
Heng Sour, MLVT spokesman, noted that the ILO needs to research the size of the market and conditions to produce the best possible results or policies.
He explained that it will take some time to complete the research and corresponding consultations with relevant stakeholders.  "It may take about one year because relevant stakeholders will need to meet and discuss the ILO's findings," he stressed.
The Prime Minister stressed that the move to give construction workers minimum wage is meant to lessen the problem of worker migration.
Lured by the bigger pay and better working conditions in other countries, more Cambodians are working abroad, with neighbouring Thailand as the top destination. A substantial number of Cambodians are also employed in Malaysia, South Korea, Japan, Singapore, Hong Kong, and Saudi Arabia. In 2017, nearly 100,000 Cambodians were sent out to work abroad, representing an increase of 12% from the previous year's figure of 85,000.
The vast majority of manual labourers in Cambodia's construction sector are paid less than workers in other countries in the region. Moreover, construction workers do not receive insurance or other benefits. Currently, construction workers earn on average $7 (28,000 Riel) per day. In a month, the average pay of construction workers is between $150 and $200. In Thailand, construction workers receive $10 to $12.5 per day.
There are 250,000 to 260,000 Cambodians who are employed in the construction sector.
It is expected that the minimum wage proposal will gain the support of the majority, if not all of the stakeholders, including construction companies.
Realestate.com.kh, Cambodia's home of real estate, has the most up to date information for buyers, sellers and property enthusiasts! Sign up for our newsletter today and stay up to date with the latest info…