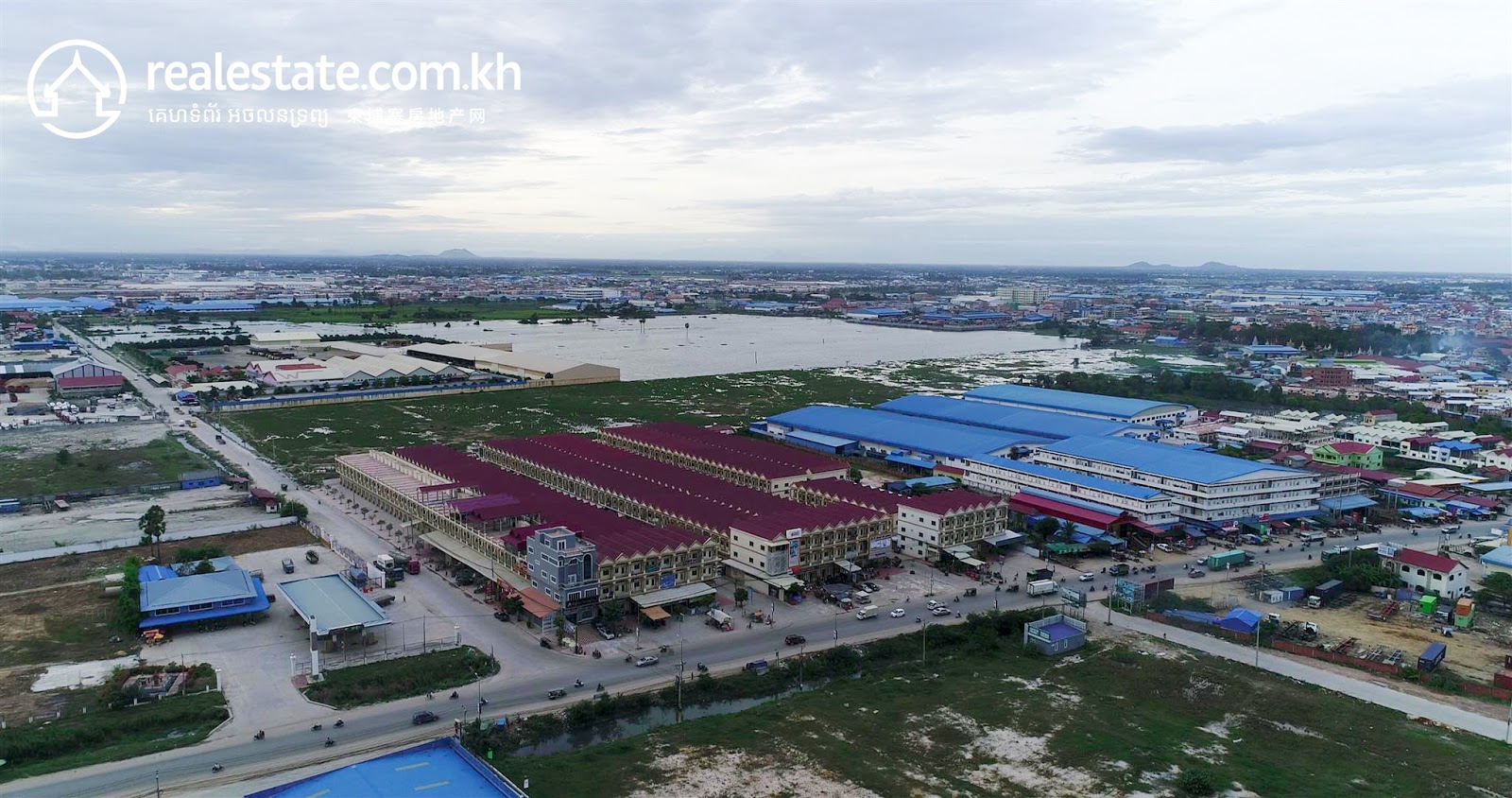 Amid rising property prices in central Phnom Penh, many developers have sought new options for hosting their residential development projects. Por Sen Chey - the largest emerging district - has, therefore, become an attractive choice for developers to build low to mid-end residential projects, due to the area's comparatively low land prices - see Realestate.com.kh's How to invest in land for sale and maximize your profit for more information.
Covering the majority of the western part of Phnom Penh and located approximately 10 km southwest of the city, Por Sen Chey district is the largest of all 12 districts of Phnom Penh and home to an estimated 184,000 residents.
Por Sen Chey is administratively subdivided into 11 communes (Sangkats) namely; Chaom Chao, Kakab, Kantork, Snao, Trapeang Krasang, Kambol, Phleung Chheh Roteh, Samraong Kraom, Boeung Thum, Krang Thnong and Ovlork..
According to the latest Housing Market and Outlook Report 2017 by Vtrust Appraisal, Por Sen Chey has seen a remarkable increase in borey and other residential projects since 2001. The area has 94 major developments and 111 smaller- scale projects currently being constructed, with 58 of these already completed. These projects, once completed, will amount to a combined total of approximately 30,000 available units. However, so far there are 16,000 units already completed- while more than 3,500 units are expected to reach completion within the first half of 2018.
Mr. Hoem Seiha, the author of the report, said: "Por Sen Chey has experienced rapid growth over the preceding years in terms of both residential and industrial projects. With such a high population density, the area has more factories and residential projects than any other districts in Phnom Penh."
Mr. Hoem continued: "Many low to mid-end residential projects have moved to the area thanks to the multitude of available large land sections that can be used for new development."
"However, with the influx of residential projects, land prices in the area have increased sharply. In general, land for sale in Por Sen Chey grew 31 percent year on year between 2013 and 2015, whilst, the two bustling communes of Chaom Chao and Kakab grew approximately 10 percent or less each year," Mr. Hoem added. He further believes that the lower annual increase of price in these two key communes was due to the fact that prices were already high compared to the rest of Por Sen Chey.
In addition, Mr. Hoem explained that in terms of land values and major business prospects, Kakab and Chaom Chao stand out due to their strategic locations- such as their coverage of prime streets which are ideal locations for businesses to establish.
Kakab commune is immediately adjacent to Teuk Thla, part of the immensely popular Sen Sok district, while Chaom Chao is in the direct path of Phnom Penh International Airport and covers some parts of the capital's arterial roads, namely Russian Boulevard, National Highway 3, and National Highway 4.
Although Kakab shares a similar market value as Chaom Chao, the commune's close proximity to central business hubs in the capital makes Kakab stand out comparatively in terms of land prices and commercial demand.
Land prices in Kakab commune continue to grow at approximately 10 percent annually, with prices ranging from an average of $380 dollars per square meter in 2013 to $490 per square meter in 2016. However, in undeveloped areas, low prices such as $70 per square meter can be found-  but can peak up to $2,080 per square meter along prime streets and in bustling commercial hubs, according to Mr. Hoem's report.
Commenting on Por Sen Chey's residential project growth, Dr. Kim Heang, President of the Cambodian Valuers and Estate Agents Association (CVEA), said: "Por Sen Chey is an area sandwiched between both Phnom Penh's center city and suburbs and many developers have selected to build residential projects priced between $30,000 and $70,000 dollars. This price range is most suitable for lower-middle income families, among whom are [for example] company staff and civil servants with a suitable salary."
Dr. Kim added: "Por Sen Chey's target market and residents differs from that of Sen Sok, which is predominately for middle-income families, while areas such as Toul Kork, Prampi Makara, and Chamkarmon are for families that sit within a higher income bracket".
One development underway in the Kakab commune is Borey Suncity, a project launched in November 2017 and is expected to complete construction by mid-2020. Mr. Xu, General Manager of Borey Suncity, said: "The reason we chose Por Sen Chey to host our development is that the area is in close proximity to Phnom Penh International Airport- therefore more easily connected to the world and residents will have ease of accessibility with the metro line opening in next April."
Mr. Xu added: "Our project will be a great success, thanks to its' location in an area with perfect infrastructure- suitable for long-term living. Cable burial has been completed and roads are in good condition. Nearby are surrounding facilities including Korean international schools, healthcare centers, and Parkson shopping mall. Mr. Xu added that he is looking to target mainly local investors for his project.
Por Sen Chey district invariably is rapidly developing which can be in part due to the influx of newcomers in search of job opportunities within Phnom Penh. With developer interest in the area rapidly rising, and relatively inexpensive plot-land still available in many of the communes, it is likely that this district will continue to flourish at a rapid rate in 2018.