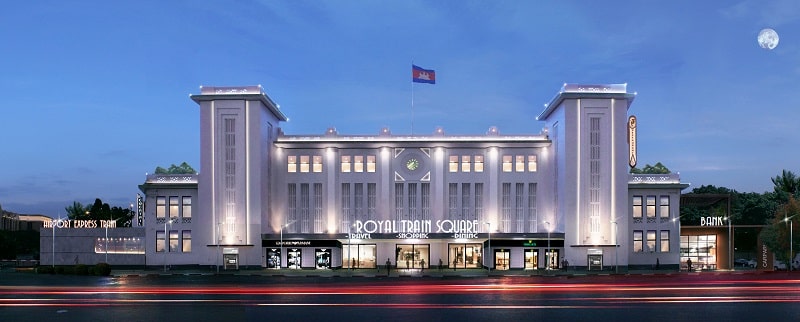 Plans have been laid out to give Phnom Penh's Royal Railway Station a major facelift, according to a release this week from the US-led firm spearheading the project.
Sitting adjacent to the capital's central business district, the train station was originally built by the French in 1932. In fact, it has remained one of the most iconic examples of French colonial architecture in the city. Read our full guide to French colonial architecture in Cambodia.
The new project, backed by a group of individual US and EU-based investors, will feature 3,000 square metres of retail and commercial space for shops, cafes, restaurants, a bank and ATMs as well as office space and an exhibition and event space available to lease.
"The railway station is a well-recognised heritage building in Phnom Penh but very few people currently use it. With the development of Royal Train Square we will provide people with a new place to meet, dine and relax in beautiful surroundings with high-end cafes, restaurants and shops," said Scott Bolls, attorney in real estate law and development who is the principal lead on the project which will cost $5 million and commence within the next few months.
The rail station was previously refurbished in 2012. However, over the last five years, it has seen increased activity with the updating of routes connecting Phnom Penh, Kampot, Sihanoukville, Pursat and Poipet.
"For first time visitors to the capital arriving by train, the station has not been especially welcoming. With this redevelopment we want people to realise how far Phnom Penh and Cambodia have developed and to see how careful and sensitive renovations can realise the potential of some of our beautiful heritage buildings," said Simon Griffiths, Managing Director of The Mall Company, who will be taking the lead on marketing the project to potential tenants.
Looking for more information about recent investments in Cambodia? Make sure to read our Investment Guide 2019. 

Article by: