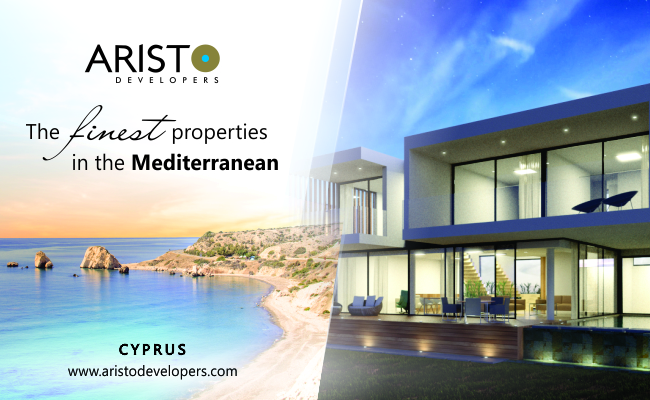 For over three decades, Aristo Developers has been the preferred choice for establishing long-lasting property partnerships in Cyprus. As an award-winning property developer, we are able to offer the most comprehensive real estate solutions, for you and your clients, with the widest range of freehold properties in the most prime locations throughout Cyprus.
Aristo Developers Overview
- Over 37 years of experience in Property Construction and Real Estate
- Over 265 island wide developments with 50 projects currently in
the market
- Large-scale investment opportunities
- 6 million m² privately-owned land bank
- 130,000m² land currently being developed
- Representative offices in China, Egypt, Greece, Russia, UAE,
United Kingdom and Vietnam
- Strong network of global partners
- Aristo Developers guarantee delivery dates and title deeds
- Excellent after-sales and customer services including property management, landscaping, maintenance, rentals and re-sales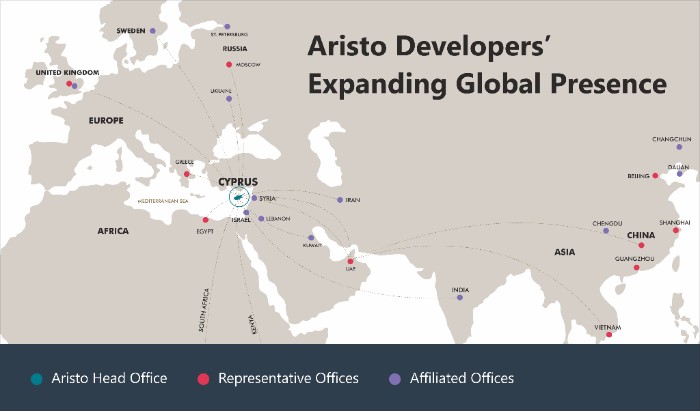 Introducing Cyprus
As the safest country in the European Union, and the fifth safest country in the world, Cyprus is an attractive place to do business and a unique place to reside. Real Estate in Cyprus has proven increasingly popular to foreign investors which consist of 25% of the island's investors. Individuals looking to invest through Real Estate, take advantage of Cyprus':
- Unique strategic location.
- Enviable Mediterranean lifestyle.
- Excellent infrastructure and first-rate tourism infrastructure.
- High standards of healthcare and education.
- Modern airports with connections to all major destinations.
The most favourable incentives in the area of property taxation:
Zero Property Tax

Zero transfer fees

5% reduced vat policy for first property purchase

Zero inheritance tax

Low Capital Gains Tax
The future of Cyprus is extremely positive. Significant gas reserves in Cyprus' exclusive economic zone and the creation of the largest European casino in Cyprus will contribute significantly toward the growth of the island's economy, and will attract high net worth individuals and tourism.

Realestate.com.kh, Cambodia's home of real estate, has the most up to date information for buyers, sellers and property enthusiasts! Sign up for our newsletter today and stay up to date with the latest info…