A Trust is one of the newer mechanisms to help investors manage their assets in Cambodia and offers a means of holding and managing property for foreigners too. In Q3 2023, the Trust Regulator (TR) Director-General Sok Dara confirmed that the legally registered trust funds had surpassed over USD $1.1 billion over the past year and there are expectations this could rise to USD $1.5 billion by the close of 2023.
The Trust Law of Cambodia was enacted on January 2, 2019, and has seen significant growth - it is part of the reason the well-regulated trust market has helped to ease and build investor confidence.
The Trust Law provides a range of regulations and rules to govern the rights, duties and responsibilities of the trustor, trustee and beneficiary as well as a comprehensive understanding of each type of trust and its purpose, so what should you know about Cambodian Trusts?
Why Utilise A Trust In Cambodia?
Trusts offer an alternative to direct investment and a risk-mitigation mechanism but also allow foreigners to own land legally. Whereas Cambodian citizens have the right to own land and property without restrictions, foreigners are prohibited from owning land in Cambodia directly.
Foreigners can own condominiums and apartments in Cambodia (excluding the ground floor, which is attached to the land) but under the Trust Law, a foreigner may indirectly manage the real estate by providing a trustee with the right to hold the title and manage the real estate for the benefit of the foreigner (Trustor) or the beneficiary of the trustor.
In essence, this allows foreigners to profit from land price appreciation without owning the land in their name, while the trustee manages and protects the property for the trust's beneficiary.
A Trust is thus professionally managed and provides investors such as foreigners in Cambodia an opportunity and solution to invest in or hold ownership of a property which was not previously an option.
What Is The Cambodian Trust Market Valued At?
Since 2022, the value of funds invested in the various trusts has nearly doubled and Sok Dara, is confident the values will be in the billions of dollars, with more than 500 Trusts recognised by Q1 2023.
Dara said that the Trust offers a "more effective investment policy for Cambodia to increase the cash flow, and direct investment into Cambodia, increase tax revenues, financial diversification, and transparent monitoring of capital flow".
Which Cambodian Companies To Trust
For foreign investors, understanding the process of purchasing landed property in Cambodia via a Trust can offer challenges but if you are looking to invest or set up a Trust, you have to ensure you are following The Trust Law which requires that all trusts be registered with the government.
Trustees must also meet certain qualifications and standards of conduct, while The Trust Law only recognises licensed trustees in holding land. The benefit is that trustees can help arm potential investors with knowledge of the range of investment opportunities in Cambodia and are qualified and licensed by the Trust Regulator.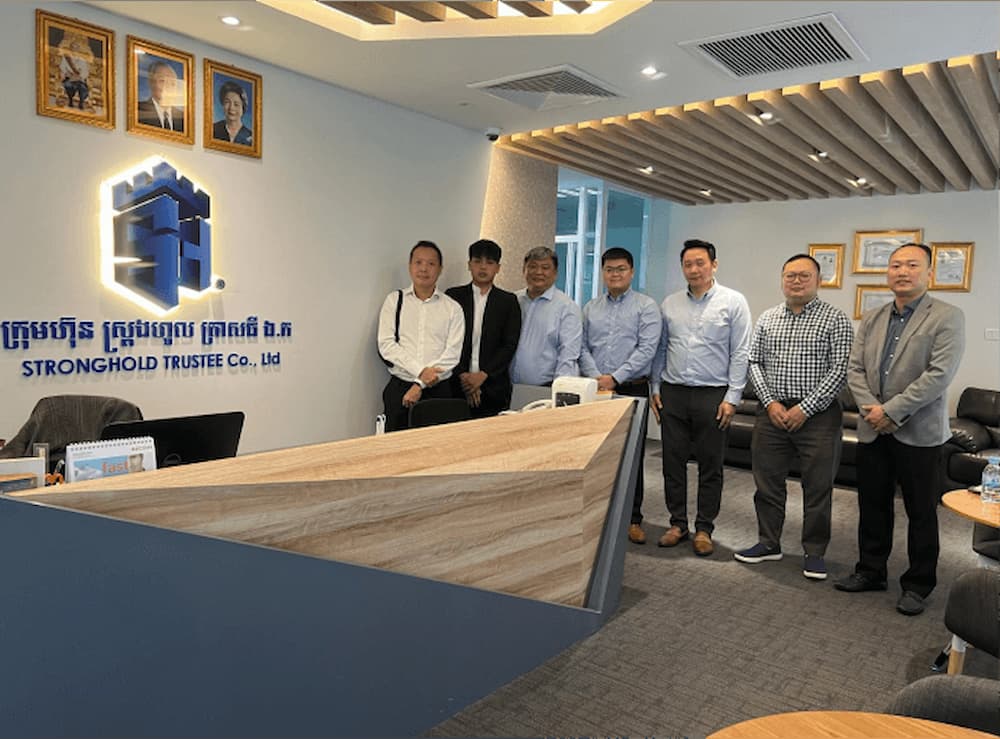 Hans Chen, CEO at Stronghold Trustee Co., Ltd, which was one of the first companies in 2019 to receive Approval in Principle of Trustee License and by 2021 completed the first trust registration in Cambodia, told us: "Currently, Cambodian regulations do not allow foreigners to purchase properties connected with the land, such as land, flat houses, or shophouses. Some investors may already know or have experience using a Nominee structure or a land holding company (LHC) when investing property."
He added, "Although those methods solve the title-holding problem for investors, some negative issues like fraudulence or high hidden fees still happen and hurts property buyers' confidence in investing. Therefore, safely investing in real estate in Cambodia has become an essential issue for foreigners before investing.
There are many types of trusts, and the structures are pretty flexible. For example, except for using a land trust when buying the land, investors could also combine the land trust with a money trust or use a money trust directly for flexibility in investing. However, A simple contract with a licensed trust company cannot be called a real Trust. A legal trust product has its operational process, especially trust registration.
Take the land trust as an example; the trust company must register the asset with the Trust Regulator within three months after signing a trust contract. The Trust Regulator will issue a certificate to officially announce that the asset has registered and become a "Trust Asset" after the registration, which means the Cambodian Trust Law protects the asset."
According to the TR, there are currently eight trust companies, eight banks, 43 physical trusts, and 10 appraisal firms that have received a license or permit or recognition from the TR by August 2023. Some examples are: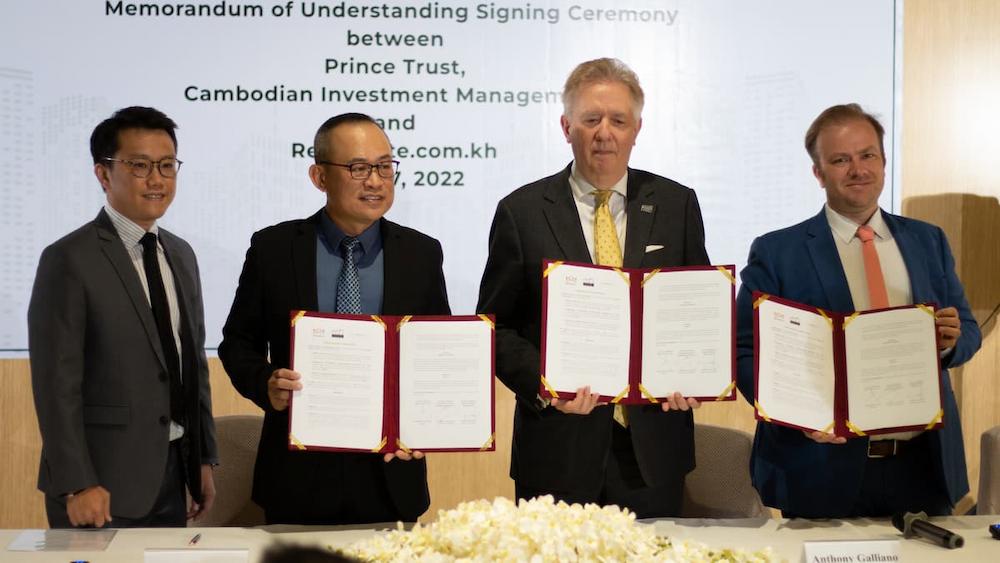 Companies such as Stronghold Trustee and Canatrust - which is part of Canada Group and was the first Trust Company in Cambodia, are seen as reliable Trust companies to use.
Chen adds 'the selection of trust companies is also essential. Besides possessing a legal business license and Trust license, the ability to customise the product structure and implement trust registration procedures are significant indicators of meeting the client's demand and safeguarding the property."
These firms are able to assist foreign buyers in acquiring property legally and ensure all taxation requirements are met as well as offering ongoing services to ensure the investment is being done in a professional, reliable and trustworthy way.
Types Of Trusts And Cambodian Regulators
Following the Law on the Organisation and Functioning of the Non-Bank Financial Services Authority (NBFSA) on 16 January 2021, the Market and the Financial Institutions Department of the General Department of Financial Industry were integrated as Trust Regulator (TR).
The TR regulates, supervises, and develops the trust sector in the Kingdom of Cambodia and the main responsibilities include the registration of Trusts and law enforcement as well as overlooking the regulations and Trust market mechanism in terms of licensing and the approval of Trusts.
In addition, the Trust Registration Department of the Trust Regulator provides licenses to commercial banks for escrow services.
Trust investment types in Cambodia include:
Public Trust
Commercial Trust
Social Trust
Individual Trust
Chen said their company receives many queries from overseas on what is available, "we receive many inquiries about trust structures every day. Our clients are from different countries in Europe or Asia. We understand that the law system works differently in other countries, therefore, we are willing and able to customise the trust structure under the guidelines of Cambodian Trust law to make investors feel at ease. We also show all the details on related fees and processes to let our clients know we are on the same page."

What Should A Foreigner Know About The Trust Law Developments
There have been ongoing developments to promote the Trusts and raise awareness about how they work.
In July 2023, the Trust Regulator Cambodia and the Cambodia Chamber of Commerce signed an MoU to raise public awareness and promote participation in the Trust Sector in Cambodia.
Around the same time, TR and CamEd Business School also signed an MoU to increase awareness, develop technical know-how, and regulate adherence of the Trust market.
Companies like Stronghold Trust have been "working hard on educating clients, providing training sessions to our partners, and doing presentations in different places as much as we can to promote the trust sector. So far, the result is quite good, and we are happy and excited to see this and the potential growth of Cambodia" confirmed Chen.
The Securities and Exchange Regulator of Cambodia (SERC) is also working to officially authorise real estate investment trusts (REITs) which are an investment vehicle that pools individual investor capital to purchase and manage income-generating real estate properties. These could include apartments, hospitals, and even shopping malls and will further enhance public trust, and investment opportunities, and boost Cambodia's real estate industry.
Hans Chen concluded, "Cambodia is a developing country with many favourable factors attractive to overseas investors. However, it is not enough to rely on just domestic resources. We need capital, technologies, and skills from various countries to enhance the development of Cambodia. With the completion of the Trust system, we believe that more and more investors will come to invest by using the trust, which is a legal structure that provides a safer way for your investment."
As the Cambodian real estate market faces challenges due to global economic changes, reduced Chinese demand, and an oversupply of projects, Trusts can offer a longer-term choice for investors in the Kingdom in which land and property prices are expected to rise in the future.