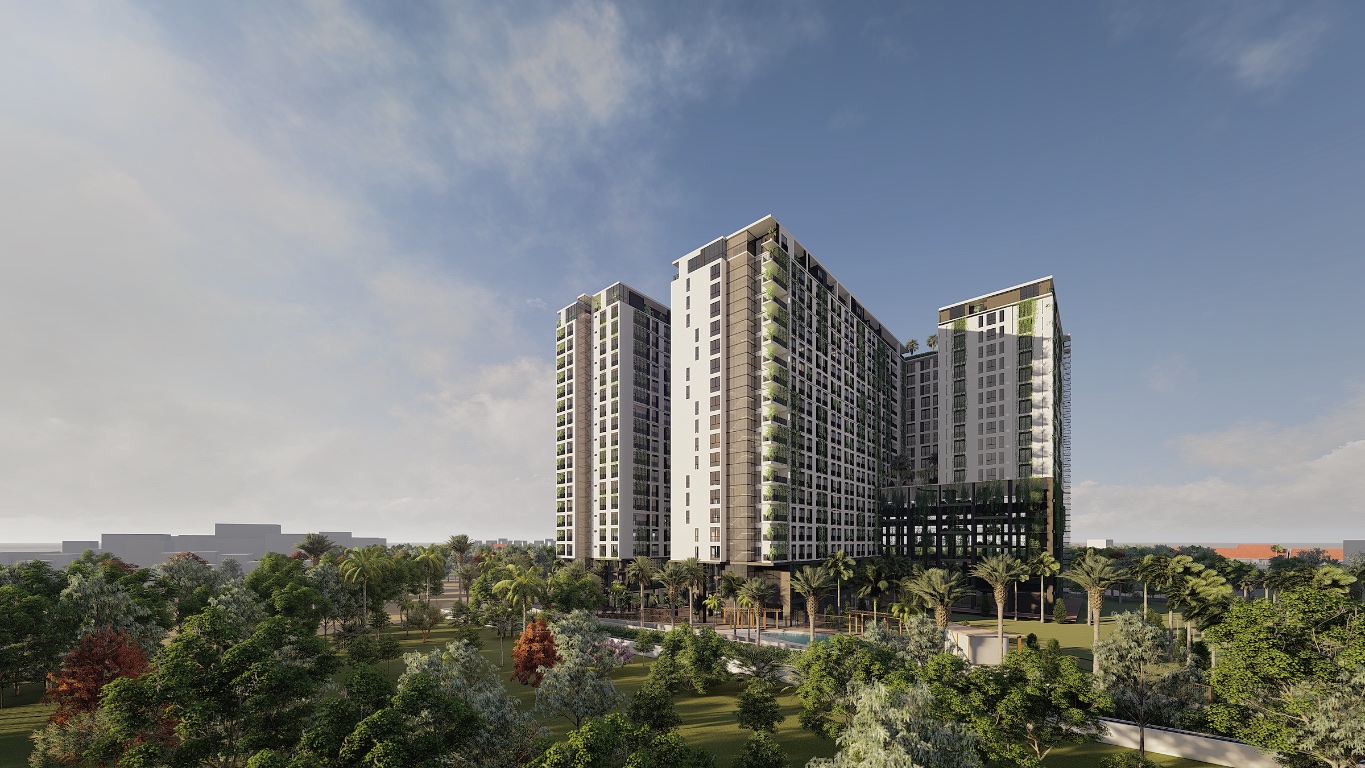 Urban Village is one among many brand new residential development projects in the Kingdom of Cambodia. With its green and community-centric concept, Urban Village extends more than what a typical residential project can provide in terms of comfort, design and affordability.
Ideally located in an investment hotspot (Hun Sen Boulevard) to the South of Phnom Penh's central business district (CBD), Urban Village is close to Aeon Mall, International School of Phnom Penh (ISPP), Mercedes-Benz Cambodia, embassies, restaurants, banks, hotels, hospitals, markets, and other amenities. Its location also means that it is only a few minutes away from the Phnom Penh City Centre and Kandal Province's Kandal Steung District, where a new international airport, billed as the world's ninth largest, will soon rise.
The Developers
Urban Village is being developed by Urban Hub, a joint venture between Urban Living Solutions (ULS) and Goldfame Group an international garment production group with a presence in four countries. ULS is the lead developer for site master planning, architecture, design and construction, with Goldfame providing land, financial capital and operations support. Urban Living Solutions is also the developer of Urban Loft, a residential development complex in the Phnom Penh suburbs of Sen Sok.
Construction is led by Urban Cambo Builders, the construction firm behind Urban Loft, Factory Phnom Penh and several restaurants around Phnom Penh.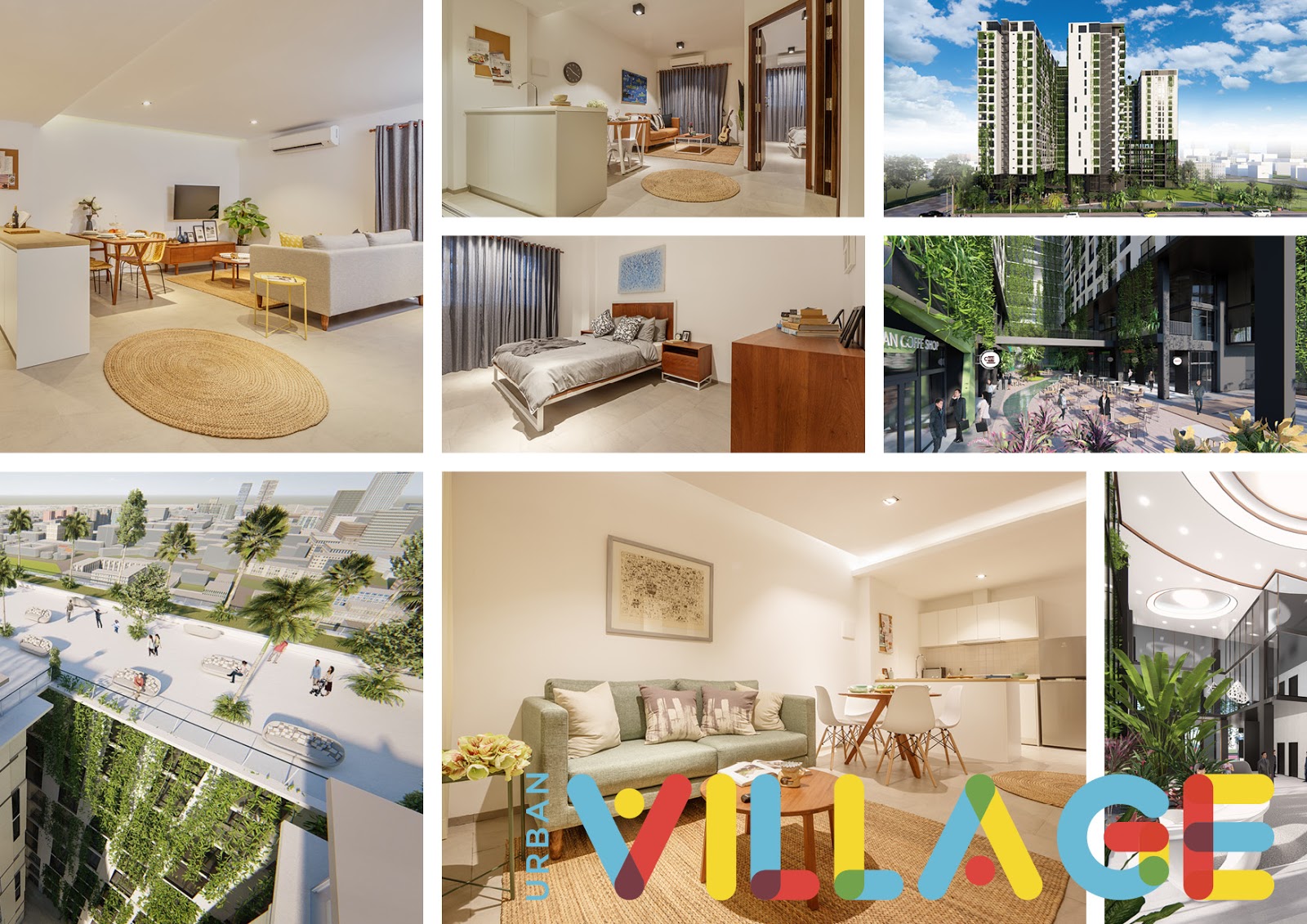 The interior and exterior of Urban Village, a green and community-centered residential development in the heart of Phnom Penh.
Photo Credits: Photos supplied, 3D renders by Cole Atelier
Architectural and interior designs are courtesy of Harper Architecture and Atelier Cole (Australian & English architects). Construction is led by Urban Cambo Builders, a reputable local construction firm.
Urban Village's green and community-centered concept and its placement next to technology and creative hub Factory Phnom Penh, is what makes it stand out among its peers.
Spread over 7.6 hectares, Urban Village devotes over 45 percent of the area to greenery and open spaces, where people can walk or bicycle around to relax. It is also a venue where occupants and their families can interact and get to know each other, with gardens and plants providing shade and a relaxing atmosphere.
Urban Village prioritizes function and communal areas to promote interaction between Village neighbors– the first three floors are reserved for strategic retail and recreation centers with modern, functional living units above them. The project aims to provide businesses for everyday use, from cafes, a supermarket, child care hair salons and other retailers that provide everyday necessities.
Urban Village comprised of 4,000 European-inspired apartment and condo units. These units are divided into four types of varying sizes, features, and amenities.
A typical Type A unit, occupies an area of 50 sqm and features a bedroom, a bathroom, and a balcony. For Type B units, the size increases from 50 sqm to 53 sqm. These units have two bedrooms, one bathroom, and a balcony.
Type C units are typically sized 70 sqm to 72 sqm, with 2 bedrooms, a bathroom, and a balcony. The Type C2 variant has 2 balconies. Type D units are the largest at 80 sqm and features 2 bedrooms, a bathroom, and a balcony.
Urban Village also features the Private Garden condo complex, with size starting from 103 sqm to 148 sqm. This type of condos is the biggest in Urban Village.
Tenants will also have access to a swimming pool, gymnasium, and skateboard park next door at Factory. Future expansion will include new sports facilities, including a football field.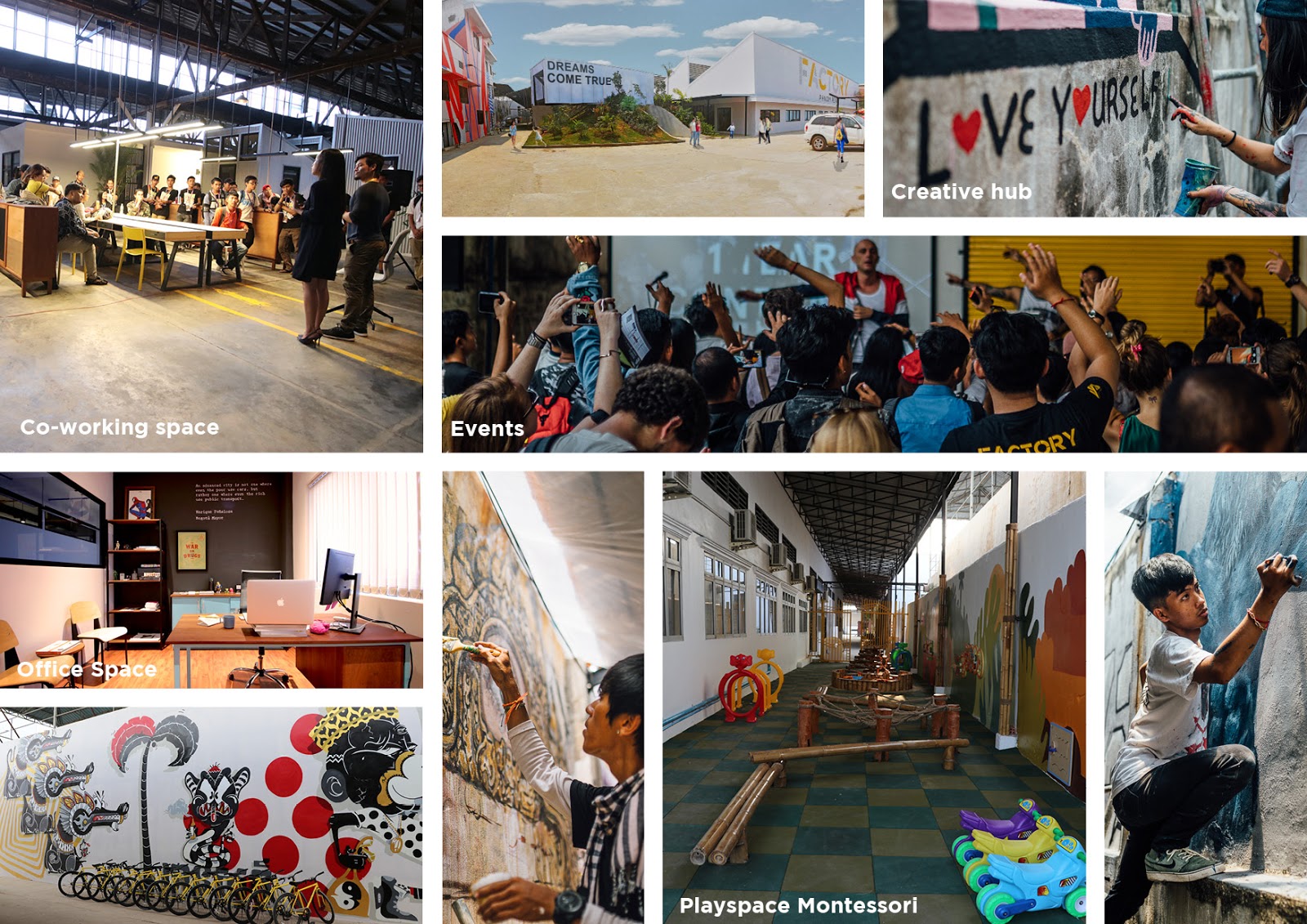 A unique feature of Urban Village is The Factory, an old factory complex converted into a mixed used creative hub for business, co-working and the arts.
Photos courtesy of Tiffany Tsang & Kobe Khy.
Another important and unique feature of the project is Factory Phnom Penh, the adjacent, formerly abandoned factory complex converted into a mixed used creative hub for business offices, coworking and the arts. Factory, which has an area of 1 square kilometer, houses 2,300 square meters of office space and a co-working space, Playspace Montessori School, Fulcrum Cafe, and a wood workshop. The Factory will be a location not only for artists, but also for startups and other businesses seeking to gain a foothold in the Kingdom. Future plans include 2,000 square meters of event space and large concert venue– all within a 4-minute walk from Urban Village.
With emphasis on quality, Urban Village developers hired local and international construction experts, and utilized high-grade materials for the project.
Phase I is scheduled for handover in the first quarter of 2020, Urban Village is attracting interest and buyers, with over 220 apartment and condo units sold over 6 weeks.
Urban Village offers attractive, easy, and flexible payment terms and financing, making it accessible and affordable to all, especially to low and middle-income market who have found it hard to buy in other projects because of high prices and difficulties in securing financing. In addition, Urban Village is also offering special discounts and promotions.
Combining accessibility, affordability, luxury, and comfortable living, Urban Village is the perfect choice for local and international buyers and investors.