Realestate.com.kh has released the updated and free Why Cambodia Guide 2023 which aims to unlock the potential of Cambodian investment and real estate. The comprehensive guide enables investors to be informed and make informed decisions in a thriving investable market.
The Why Cambodia Guide looks at the measures the government has implemented to attract foreign capital, such as streamlining bureaucratic processes and offering incentives for foreign investors, and discusses why Cambodia is seen as a Tiger Economy with the benefits of its strategic location within ASEAN increasing its appeal as a potential investment, logistics and tourism hub.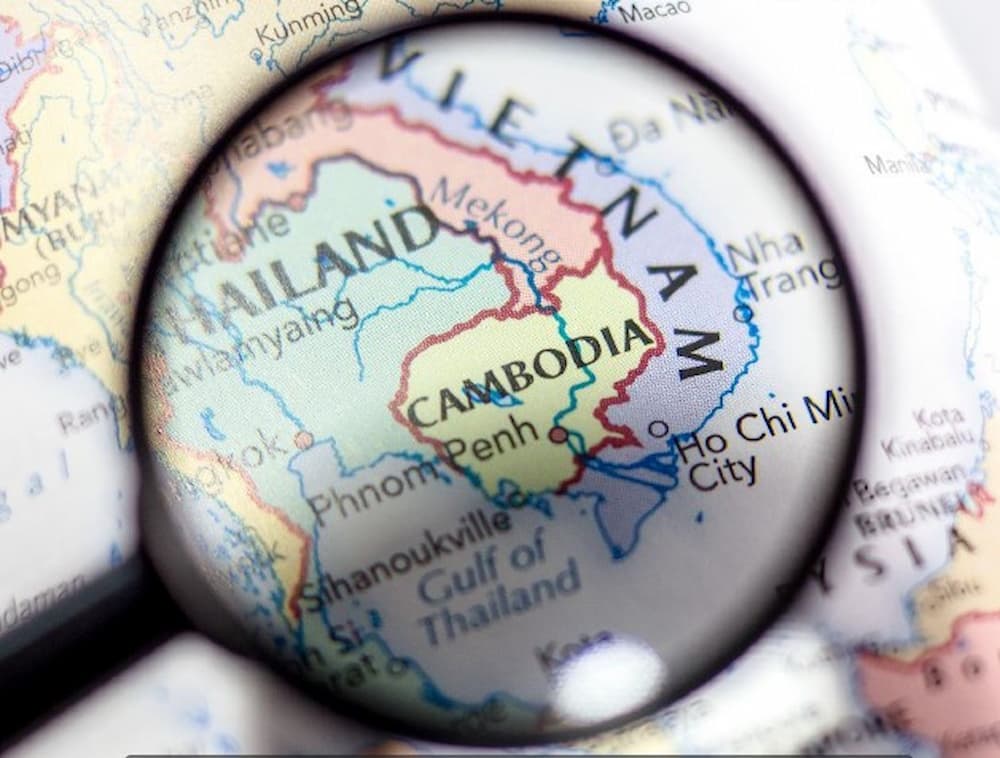 Realestate.com.kh, the leading online property and real estate platform in the Kingdom offers a range of easy-to-use tools for property searchers and investors on their website and on their app. For this guide, they say "Whether you're a seasoned investor or simply curious about the market trends, this guide is a must-have resource."
Is Cambodia A Tiger Economy?
Cambodia is a key part of the Chinese Belt and Road Initiative (BRI) which has seen massive investments pour into the country supporting wide-scale infrastructure projects (the Phnom Penh- Sihanoukville Expressway), construction projects including new airports, canals and shipping ports, and even a new stadium (Morodok Techo Stadium) in Phnom Penh which was used for the 32nd SEA Games and 12th ASEAN Para Games - the first major international multi-sporting event to be hosted by Cambodia.
In 2023, the Ministry of Public Works and Transport also authorised the Chinese state-owned company, China Road and Bridge Corp (CRBC), to conduct a study on the proposed Phnom Penh-Siem Reap Expressway, while a new Phnom Penh-Bavet has also been approved.
Interconnectivity by road, sea and air is a big part of the Kingdom's roadmap to be a logistics hub and the Comprehensive Intermodal Transport Master Plan 2022 – 2030 (CIT-MP) has identified the need for nearly $50 billion investment for dozens of projects.
Other key factors to consider when investing in Cambodia:
The GDP growth rate is among the highest in ASEAN post-pandemic - with ADB, World Bank and other financial institutions targeting 6% in 2023 and even stronger thereafter.
Companies can be 100% foreign-owned in Cambodia.
Investment and Trust Laws are investor-friendly.*
Cambodia has one of the fastest urbanisation rates within ASEAN.
*The advent of the Cambodia Trust Law, released in 2019, has also given financial and other large international institutions more confidence to develop large asset holdings in Cambodia in more secure legal trust holds.
With an emerging middle class in Cambodia, which continues to see significant growth, the latest projection is for the country to no longer be categorised as a least developed country (LDC) and move into the high-middle-income country bracket by 2027.
Sector Growth in Cambodia
The Kingdom has been investing in transforming into a key business and logistics hub for the region, through a series of public-private partnerships as well as government-led roadmaps and strategies.
The four economic pillars as they are known, have not changed but increased digitalisation and technology will only enhance these industries but also see other sectors experience growth.
Cambodia's Key Economic Industrial Pillars:
Construction & Real Estate
Manufacturing: predominantly
Garment and Textiles
Tourism
Agriculture
Furthermore, the residual impacts of COVID-19 are still being felt (such as in tourism and trade) but should rebound. Globally supply chains have probably changed permanently but SEA is one of the potential benefactors.
Industry 4.0 and the digital economy are part of the new economic targets of the Cambodian Government and Cambodia is ripe for growth and investment in manufacturing, logistics and as a tech hub.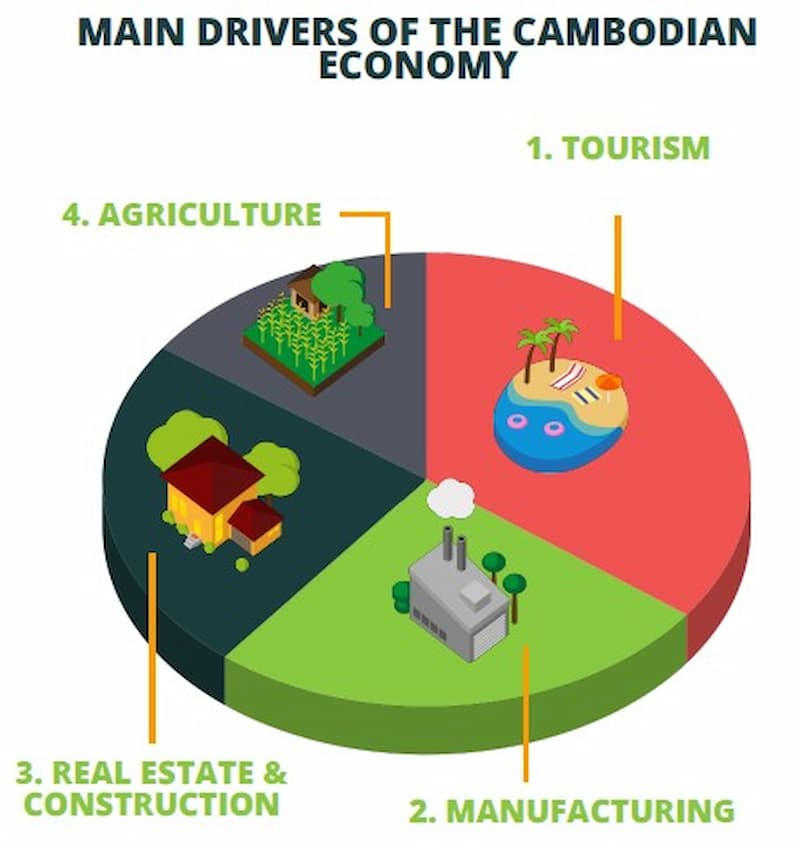 Cambodia Is Investor-Friendly
FDI & Ease of Doing Business
Foreigners currently investing in the Cambodian property sector, for example, hail from 18 countries and the majority are Chinese. According to the National Bank of Cambodia (NBC), in 2019, 42% of FDI (foreign direct investment) came from China, followed by South Korea (11%), Vietnam (7%), Japan and Singapore (6% equally).
With no foreign exchange controls, the removal from the FATF Grey List in 2023 which means Cambodia is less likely to face economic penalties or face sanctions from FATF member states and other international bodies. Combined with the ease of obtaining visas (and extensions) and establishing a business (which is increasingly being digitised) there is a strong interest and demand to confidently invest in the Kingdom.
In terms of long-term investors, there are options to purchase citizenship or the Cambodia My 2nd Home (CM2H) program which is an initiative launched in 2022 to attract foreign investment to the Kingdom and compete with similar initiatives in the region. The CM2H program is open to all countries recognised by Cambodia with a certain investment and financial requirement.
Special Economic Zones
SEZs operate under the authority of the Cambodia Special Economic Zone Board and these offer businesses a number of fiscal incentives, additional tax breaks, an infrastructural backbone and integrated customs support for manufacturing investors.
Digitalisation
The NBC has also been pushing for de-dollarisation, while there has been drastic and increased digitisation in payment options such as KHQR, and a number of cross-border and remittance agreements are being explored with a number of nations - including Thailand, Vietnam, China, Rwanda, India, Singapore, Malaysia, Solomon Islands & Fiji.
Cambodia has also applied for membership in the Cross-Border Interbank Payment System (CIPS) which is China's payment system and acceptance should increase the trade and investment between China and Cambodia.
Cambodian Construction and Property Potential
With 25 provinces in Cambodia - the top three areas for condominium investment are in the capital of Phnom Penh, Siem Reap (famous for Angkor Wat and as a tourism destination), and the coastal Preah Sihanoukville.
Historically, Chinese, Japanese, and Koreans have been the main property buyers in Cambodia but the range is diversifying with buyers from the US, Europe, Singapore, Malaysia, and other ASEAN nations.
Most investment in the commercial space is Chinese and Japanese but there has been increasing interest from India, Indonesia, and the Middle East.
Based on the realestate.com.kh 2023 Consumer Sentiment Survey; Land, then Condominiums and Apartments were the most popular among buyers but The Why Cambodia Guide 2023 offers an insightful market comparison on the three types.
The guide also expands on the taxes on property, the mechanism for Trusts, land prices, the types of land titles, and other vital information including the detailed market analysis and latest trends as well as the investment opportunities in residential, commercial, and industrial properties.
Realetatel.com.kh says the new guide that it is "Packed with valuable insights, expert advice, and in-depth market analysis, this comprehensive guide is your essential resource for navigating the vibrant Cambodian real estate market with confidence. Whether you're a buyer, seller, or investor, the "Why Cambodia Guide" has you covered!"
You can download the free Why Cambodia 2023 Guide Here