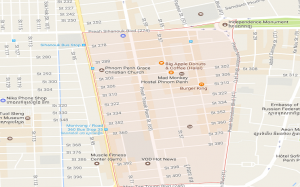 Boeung Keng Kang (BKK) is an area in Khan Chamkarmon considered as one of Cambodia's most prime real estate destinations. It has three main divisions. Namely, Boeung Keng Kang Muoy (BKK1), Boeung Keng Kang Pir (BKK2), and Boeng Keng Kang Bei (BKK3).
BKK1 is a suburb that has hosted NGOs, expats, officials, ministries and businesses throughout the years. Compared to BKK2 and BKK3, it's a hotspot for upmarket bars and restaurants, international F&B brands, and retail stores. BKK2 is the area situated to the west of BKK1, and still has its fair share of venues and upmarket accommodation - but generally cheaper than uptown BKK1. In comparison, BKK3 is known to sport the best of both traditional Khmer and modern expatriate living, and a quieter set of neighbourhoods.
How's the Boeung Keng Kang property market?
Boeung Keng Kang Land Market:
The Khmer Times reported that land prices in the area remained stable during the 1st half of 2016. This stability was attributed to the slowing down of investments in the area. Land price in BKK costs around $3,800 to $5,000 per square meter.
The general manager of Lucky Real Estate Co. Ltd., Poe Eavkong, adds, "The prices are at the maximum now and that's why they are stable. But I don't expect them to fall." He clarifies, "Compared to neighboring countries, our land prices in the city seem to be lower."
Boeung Keng Kang Residential Property Market:
Boeung Keng Kang remains to be the hottest zone for residential properties in Cambodia, according to the 2nd Quarterly Report released by Bonna Realty last July. BKK took up 51 percent of apartment shares in Chamkarmon district - with a total of 145. BKK3 came in at 8 percent, BKK2 at 9 percent, and BKK1 leading at 34 percent of the currently occupiable apartment and condo stock.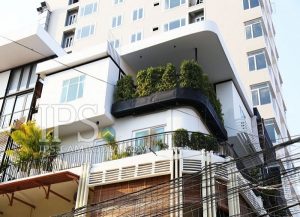 If you're buying a condominium unit, a fully furnished unit goes for as low as $35,000 in BKK. But if you're looking for more of upscale living, penthouse units go as high as $1.3 million for a unit. Depending on your needs, you can rent a two-bedroom unit for $130 per month or up to $4,100 per month for a fully furnished three-bedroom unit in a "no flood" area.
Serviced apartment rental rates in Boeung Keng Kang go as high as $4,500 per month for a three-bedroom apartment. But many quality serviced apartments can be secured for around $1000 per month. Amenities and quality significantly impact pricing. An apartment with just basic services can be fetched for around $400 per month.
There are also villas in the area for varying needs. A one-bedroom villa goes for as low as $700 a month in rent. Some Villa's are still available for sale in Boeung Keng Kang, but there is a limited supply. Many villa properties have been purchased by apartment, hotel and condo developers to make way for new construction. Meanwhile, expect to pay for what you get, because good quality villas with surrounding land are in high demand from wealthy locals in this area. Villas have also been popular for businesses looking to create an office and retail venues looking for something a bit classier than a standard shophouse/flat houses for sale in the area.
Prices may vary a little between the three areas though. BKK1 properties are generally more expensive than BKK2 and BKK3 because of an abundance of development taking hold of the available land in downtown BKK1. Developers can afford to pay top dollar for land in the area, meanwhile wealthy renters can afford to pay high monthly rates. These factors are pushing those with less money to put down out of the uptown market.
Rental rates are some of the highest in the nation, given the concentration of expats, corporates and high-value Khmer residents in BKK. These high rental rates, in combination with strong occupancy rates, are fueling confidence for developers in strong rental returns into the coming years.
Meanwhile, occupancy rates in this area remain strong; in fact some of the strongest across the nation: As of Q2 2016, CBRE suggests that overall apartment occupancy rates in Phnom Penh sat at 86.8% (across all grades and Phnom Penh districts). Knight Frank Cambodia stated in mid-2016 that serviced apartments that are located in prime areas, such as BKK, continue to perform well commanding occupancies of above 80%.
Office Spaces and Business Centers in Boeung Keng Kang:
A range of offices are available to rent in Boeung Keng Kang, especially in the BKK1 area. Rental rates start from $1,300 for a 100 square meter office and can range up until $5,500 per month for an office with a complete set of equipment and facilities.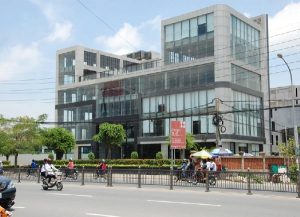 New Developments in Boeung Keng Kang:
There are lots of hot new developments in Boeung Keng Kang.
One of them is 88 Suites, developed by YCT Land. This development will be the first pure small office/home office (SOHO) in Cambodia. It will include amenities like a roof deck, a gym, sauna, a pool, and a state-of-the-art automated smart parking system. The target completion will be by the end of 2018.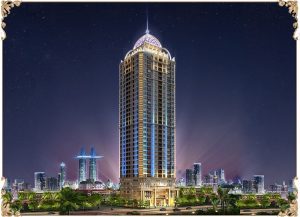 The Imperial Crown Condominium will also make its debut soon. It is inspired by the artistic quality and top-notch design and construction of Baroque architecture. This has been modernized and will be realized into a prime residential dwelling. Materials included in the construction includes sandstone which will not require maintenance for up to 20 years. It will also have a total of six floors of parking space.
Boeung Keng Kang Lifestyle:
What schools are in the Boeung Keng Kang area?
Top international schools in the vicinity include The International School of Phnom Penh (ISPP), CIA Phnom Penh International School, The Bridgeton School & The Raffles Montessori School of Phnom Penh.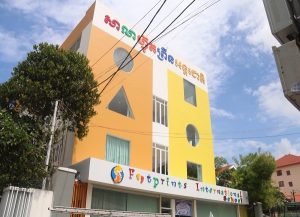 A collection of other schools are available from BKK1 to BKK3, including the Footprints International School, Paññasastra International School, Western International School of Cambodia, Bamboo International School, and HKC Tree International School. The area also has music and art schools like the Neak Poan School of Music and the Ocarina French Music & Art School.
Instructors from some of these schools have Teaching English as a Foreign Language certification, NZQA qualification in Business and Computing, and a Teaching English to Speakers of Other Languages degree.
Some of these schools have international certifications from Western Association of Schools and Colleges, the Ministry of Education, Youth and Sport, the Cambridge International Examination Centre, and the International Primary Curriculum.
How do I move around Boeung Keng Kang?
Boeung Keng Kang has a network of taxis, tuk tuks, motos, and public buses. The three main transport routes for buses that were opened in 2014 run to and from Monivong Boulevard to Okaha Suy Sophan, Ta Khmao to the Night Market, and Chom Chay Roundabout to the NIght Market. Students and Senior Citizens ride free.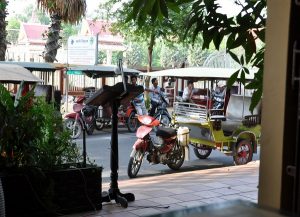 How is infrastructure in Boeung Keng Kang improving?
Among other monuments, Wat Than, Wat Svay Poper, Wat Lanka, the Phnom Penh international Airport, Independence Monument, Embassies of Brunei, Bulgaria, and Sweden are accessible through the main roads in and around Boeung Keng Kang. These include Monivong Boulevard, Norodom Boulevard, Sothearos Boulevard, Sihanouk Boulevard, and Mao Tse Toung Boulevard.
What if I get sick? Are there Boeung Keng Kang Medical Centers?
Meanwhile, some of the leading clinics in BKK1 include The Khema Clinic, The International SOS Clinic, and The Naga Clinic, to name just a few. Other in the area are the Maliya Hospital at St. 392, Japanese-run Ken Clinic at St. 370, Cabinet Médical Francais at St. 57. There's also smaller medical facilities like the SMC Clinic.
Dental clinics are also available. These include the Pachem Dental Clinic at Norodom Boulevard and Japanese-owned Shigeta Dental Clinic at the corner of St. 294 and St. 21.
Is the Boeung Keng Kang area prone to natural disasters?
High end constructions since last year have been made in BKK1 for its low risk profile for natural disasters. Regardless, the Ministry of Public Works and Transport expanded and repaired around 162,871 meters of drainage area in Boeung Keng Kang to anticipate flooding and drainage woes.
What's the nightlife like in Boeung Keng Kang?
Most of the bars and clubs in the area are concentrated at the north end of BKK1. Backpacker/Hostel bars dominate the night scene. Popular Boeung Keng Kang bars include the Mini Banana's Hostel Bar and the Blue Dog Bar located across the Urban Patio Hotel, The White Rabbit Hostel Bar on St. 294, The Mad Monkey Bar on St. 302, Duplex Club & Bar on St. 278, and Club Love!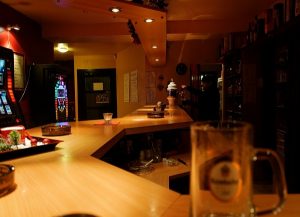 But if you are looking for something a bit more up-market, BKK also has a lot to offer for trendy cocktails and fine dining. In this area you can find some of the best restaurants and bars that Cambodia have to offer.
Are there any places to shop and eat in Boeung Keng Kang?
Boeung Keng Kang is near the Aeon Mall at Tonle Bassac. It also has a variety of cafés and food places such as Costa Coffee, Brown Coffee, True Coffee, Gloria Jean's Coffee, Fish & Co., Aria D'Italia, Sushi Honda, Blue Pumpkin, Deco, Comme a la Maison, Uraetei BBQ Japan, and the Lost Room.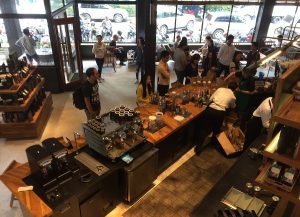 Fast food places like Burger King, Bonchon, Domino's Pizza, and KFC are also available. Markets like the Thai Huot on St. 352, Boeung Keng Kang Market on St. 380, and the Lucky Market. For organic finds, meats, and cheese. And Veggy's organic is located along St. 240.
Where are the Gyms, Fitness and Wellness Centers in Boeung Keng Kang?
For workouts, you can choose between nearby Paddy's Fight Club at St. 294, Afighter Gym, Chey Mongkul Sport Club at St. 360, Crossfit Amatak, Superfit Fitness and Health Club at Mao Tse Toung Boulevard, and VIP Sports Club at Norodom Boulevard.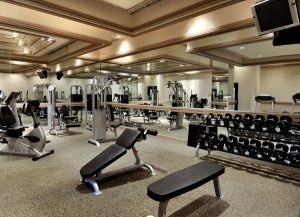 For peace and relaxation, spas and wellness centers like the Soben Spa at St. 294, La Rose Boutique Hotel & Spa at Norodom Boulevard, Oriental Spa along Sothearos Boulevard, the Samata Health & Wellness Studio, and the Angkor Spa along St. 310.