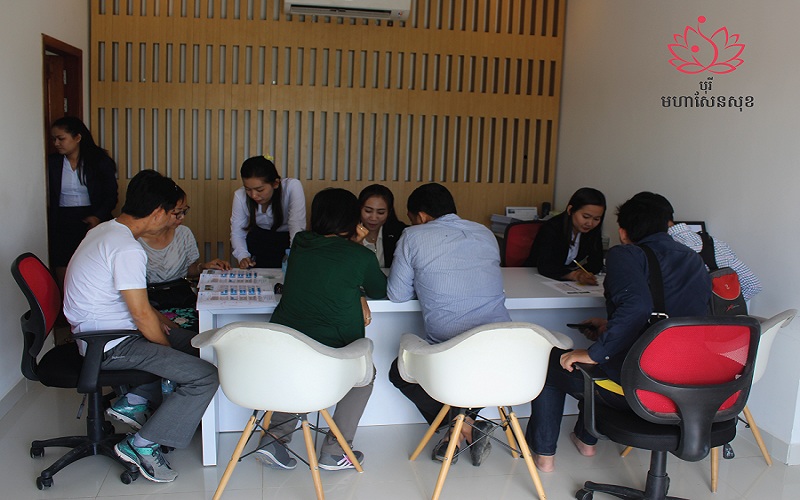 Recently, Borey Maha Sensok, the biggest landed housing development by a Japanese company in Cambodia, has received massive interest from local customers.
Only 4 months after soft launch, Borey Maha Sensok has been sold out around 80% for its first phase. This sales success is due to the affordable prices, starting from $49,500 per unit, flexible payment terms and home loan/financing options. Presently, the project is under construction, along with road construction and sewerage facilities development.
This latest project of the Creed Group, Borey Maha Sensok, is located just 3km from the Phnom Penh International Airport, in Krang Thnong District, Sen Sok Commune, a fast developing area near the upcoming Lion Mall project and AEON Mall 2.
Borey Maha Sensok covers a total area of 120,684 square meters and consists of 683 units, including one floor flats (E0), two floors flats (E0E1), and land lots for villas. Common amenities include solar power street lights throughout, beautiful flower gardens and landscaping, a children's playground, and an exterior gym. Japanese elements are brought into the design also, such as a foot massage path and tree trunk path, and a full equipped garden cabana.
According to Mrs. Cheng Sokha, assistant to the Sales and Marketing Director at Creed Group, the project has had high interest from clients because of the trust for the development company: "our project offers concise and fully legal documents for buyers, and the construction quality is strictly controlled by Japanese engineers."
Borey Maha Sensok is the second project of the Japanese investor, Creed group, who has already invested in Cambodia with their first project, Bodaiju Residences, located on Russian Boulevard in front of the Phnom Penh International Airport. Creed Group's main office is in Japan and has been investing in projects throughout Asia, including Cambodia, Vietnam, Bangladesh, Malaysia, Japan and Singapore.