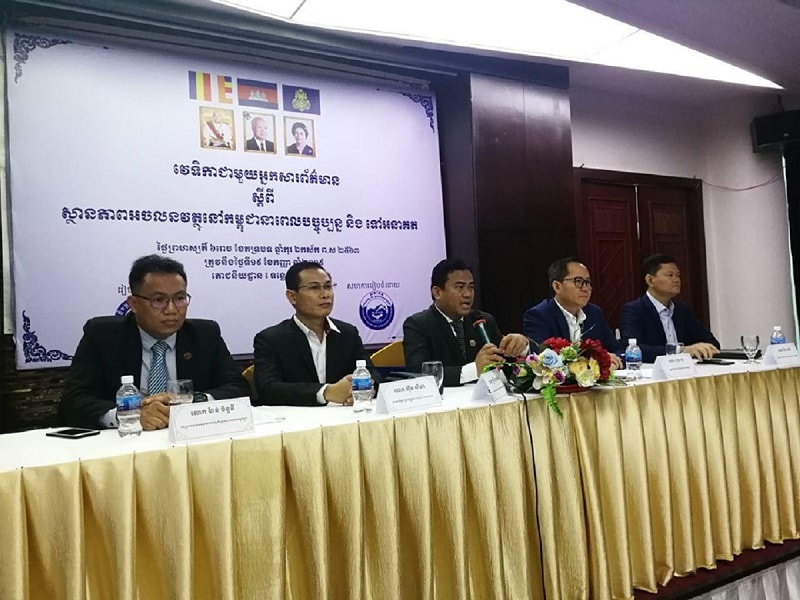 (Officials speak at a real estate seminar in Phnom Penh last week. Supplied)
When Ly Vuthy, a Phnom Penh IT professional, wanted to buy a house two years ago, his parents discouraged it. Anything he could afford would be far from the city centre, they said.
Vuthy relented, believing that prices would soon rise far above his budget. He spent $55,000 on a new home located along National Road 6, around 16 kilometres from the Chroy Changvar Bridge.
"It is a bit far, but I cannot buy a house [in the middle of the city] with that amount of money," he said.
"Whenever we have the ability to own a house, we better do it immediately even if it is a bit far. If we wait, we will need to go farther or spend more."
Two years on, Vuthy's insights are coming true. Home values around his property are on the rise, and more borey developers are pushing farther from the city centre.

Speaking at a seminar last week titled Current and Future Situation of Real Estate in Cambodia, VTrust Appraisal's Research Director Hoem Seiha said that landed housing projects are moving into the outskirts of Phnom Penh.
Seiha, who authored the company's Phnom Penh 2030 report, added that the new projects are currently being developed as far as 25 kilometres from the capital's central business district (CBD). He predicts that developments will be as far as 35 kilometres from the CBD by 2030.
"Increasing prices and limited availability of land in the inner areas and suburbs are pushing new borey project to be developed farther out," he said.
"In the future, only condominiums will be available in the inner-city area, as they don't need as much land to be developed."
Several borey projects are being developed in the outer areas of the city. Borey the Flora sits about 17 kilometres from Wat Phnom. Borey Piphup Thmey, meanwhile, is constructing several projects, all of which are 10 kilometres or more from the CBD.
Chrek Soknim, president of the Cambodian Valuers and Estate Agents Association, said that he expects the average Phnom Penh household size of around four or five to drop in the coming years.
"In the future, the average [household size] will be only one or two people," he said.
"The younger generation doesn't want to live in a crowded space and they will shift from traditional houses to condos," he said.
According to VTrust's Phnom Penh 2030 report, Phnom Penh will see a steady rise in the supply of condo units over the next 10 years, eventually reaching 295,000 by the end of the decade. This represents a fivefold increase over 2018 when there were just over 61,000 condos in the capital.
The same report predicts that landed homes will increase threefold over the next 10 years from around 150,000 at the end of 2018 to about 450,000 by 2030.
Reflecting on his decision to buy a home that, two years ago, seemed far from the centre, Vuthy was glad he bought the property when he did.
"The future of new houses will be farther [from the city] and if we hesitate to buy, we will only have to go farther or buying a smaller condo.
Want to find out more about housing types in Cambodia? Read our Investment Guide 2019.
Reminder: It is free to enter the Realestate.com.kh EXPO 2019 at NagaWorld. Register now for express entry.

Article by: