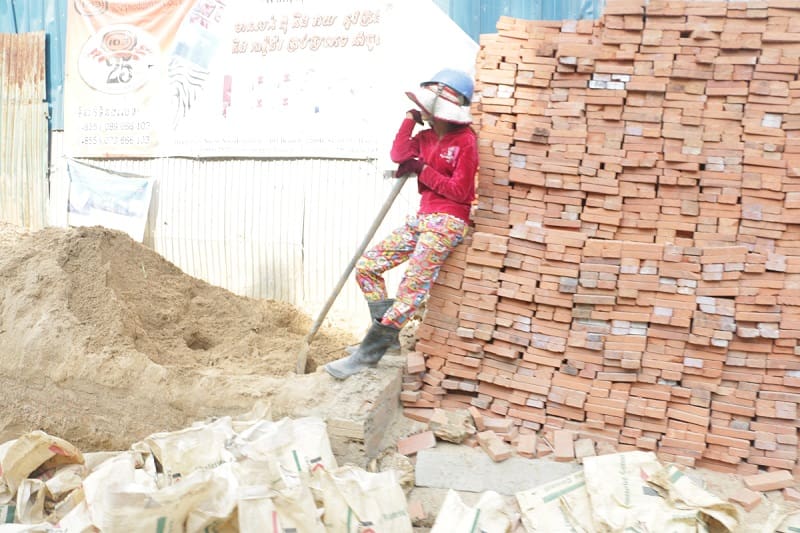 Cambodian brick prices have been stable over the last 18 months. Industry insiders say that supply has finally caught up to rising demand, which caught the industry off guard in early 2018.
According to Chheang Suyheang, a representative for over 100 brick kiln owners in Kandal province's Mukh Kampul and Khsach Kandal districts, prices haven't risen significantly since early last year. 
Suyheang said that bricks in Kandal province, the Kingdom's main region for domestic masonry, are currently going for $400 per 10,000.
This price, he said, has remained the same for over a year. In early 2017, however, 10,000 bricks were going for just $180. That figure rose to $300 by late 2017 and jump to $400 in March of last year. 
According to Suyheang, the spike in demand came from huge construction orders out of Sihanoukville, Kampot, Phnom Penh and Poipet. 
"Many brick kiln owners have expanded production as they see growing demand. Those who used to have only two kilns now have four. Those who had four now have six," he said, adding that they have kept prices low to compete with brickmakers from Vietnam. 
Suyheang estimated that there were currently around 300 brick kilns in Cambodia, each capable of turning out at least 100,000 bricks a day.
Cambodia still reliant on imports
Cambodia has seen a massive influx of foreign direct investment (FDI) over the past few years. Indeed, the real estate, construction and hospitality industries are some of the main recipients. The brick industry has benefited from a building boom that has seen new shopping malls, office blocks, condo towers and more.
During the first six months of this year, the Ministry of Land Management, Urban Planning and Construction (MLMUPC) approved over 2,000 construction projects with an estimated investment value of more than $3.3 billion.
Residential and commercial projects made up the largest portions of the approved projects, accounting for $1.5 billion and $1.07 billion, respectively. 
Chiv Sivpheng, general manager of the Cambodia Constructors Association, said Monday that economic stability, FDI and real estate progress have all contributed to the growing demand for construction materials. 
He noted, however, that Cambodia was still heavily reliant on imports for other construction materials such as steel and interior fixtures.
"We want to see our local production grow stronger so that we can produce more things domestically and become less reliant on imports."
Learn more about the industries that make up Cambodia's economy in our Investment Guide 2019.

Article by: