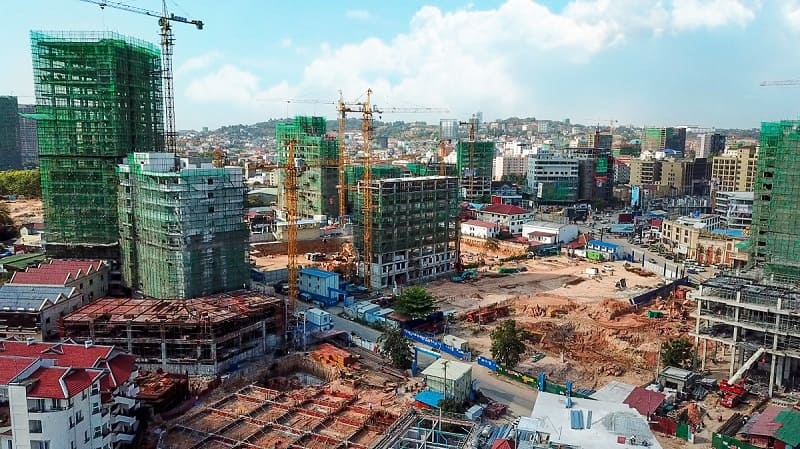 (Aerial picture of the under-construction buildings in Sihanoukville. Realestate.com.kh)
Cambodia's construction sector continues to grow given the gradual increase of investments in the sector and large imports of construction materials into the country, according to the latest report released on Thursday by the World Bank.
The World Bank's East Asia and Pacific Economic Update predicted that Cambodia's economy will increase by 7 percent due to the country's good performance in the construction sector.
Ly Sodeth, a senior economist at the World Bank​ Cambodia, said the total import of steel has increased 63.5 percent within the first nine months this year compared to the same period last year. It indicates strong growth since it was only 27.7 percent increase between 2018 and 2017.
"Steel is a key material in the construction sector and we don't produce steel locally. If we see a huge increase in steel imports, it can reflect how the construction sector performs," he said.
The total investment in Cambodia's construction sector has reached over $3 billion for the first six months in 2019, while there was only $2.1 billion for the same period in 2018, a 57.5 percent increase, according to data from the Ministry of Land Management, Urban Planning and Construction.
Heom Seiha, a research director of V Trust Appraisal, said that values of investment in the construction sector have been increasing significantly in the last decade due to the increase in demand for housing among local buyers, which is driven by the growing numbers of newly-weds and middle-class population.
He also added that the growing demand for office space, serviced apartments, condominiums, and commercial buildings also contributed to the rising demand for construction materials.
"The rising imports of steel and construction equipment show a steady growth year on year that proves a healthy growth of construction sector," he said.
Chheang Suyheang, a representative for over 100 brick kiln owners in Kandal province's Mukh Kampul and Khsach Kandal districts, has confirmed that the demands of brick are still high. The orders are mostly from Sihanoukville, Kampot, Phnom Penh and Poipet where the sector is booming.
While the industry sees no sign of decline soon, Ly Sodeth from World Bank reminds that having some strategy in hand to prevent any risk is also a good method.
"Construction sector always has a boom and bust cycle. We don't expect construction boom continues forever," he said.
Want to find out more about housing types in Cambodia? Read our Investment Guide 2019.
Registration for Cambodia Real Estate Awards 2019 is open. 

Article by: