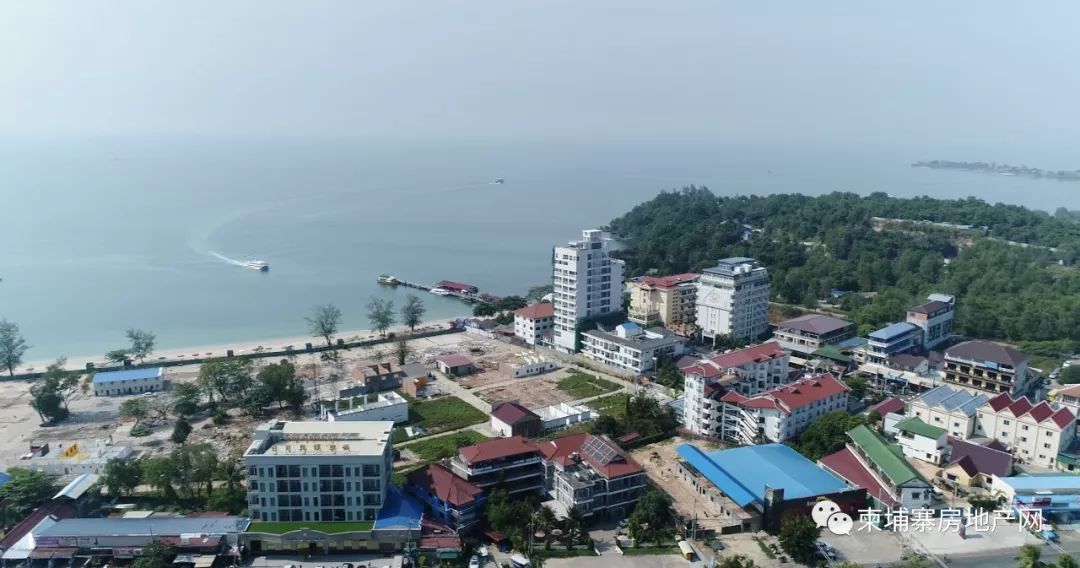 Over the last decade, the coastal town of Sihanoukville has become one of the fastest rising areas of Cambodia. Indeed, it has become a star of the region. Particularly over the past two years, construction and development have been surging in Preah Sihanouk province. Many even say the area looks different every day.
At its current pace, many say that Sihanoukville is on its way to becoming another Dubai. 
This rapid growth has been causing real estate prices to rise tremendously. The monthly rent for a 30-square metre apartment in Sihanoukville has hit $1,000. It is common to see annual increases of more than 10 percent.
New Landmark is one of the few large-scale residential complexes overlooking the ocean in Sihanoukville, and will surely become a hot option for overseas investment.
What's more, the new sales office for New Landmark is about to host its grand opening in Sihanoukville. And with that comes a limited-time promotion: Three years of rental returns at 12% per year can be yours. This offer is only available for the first 50 buyers.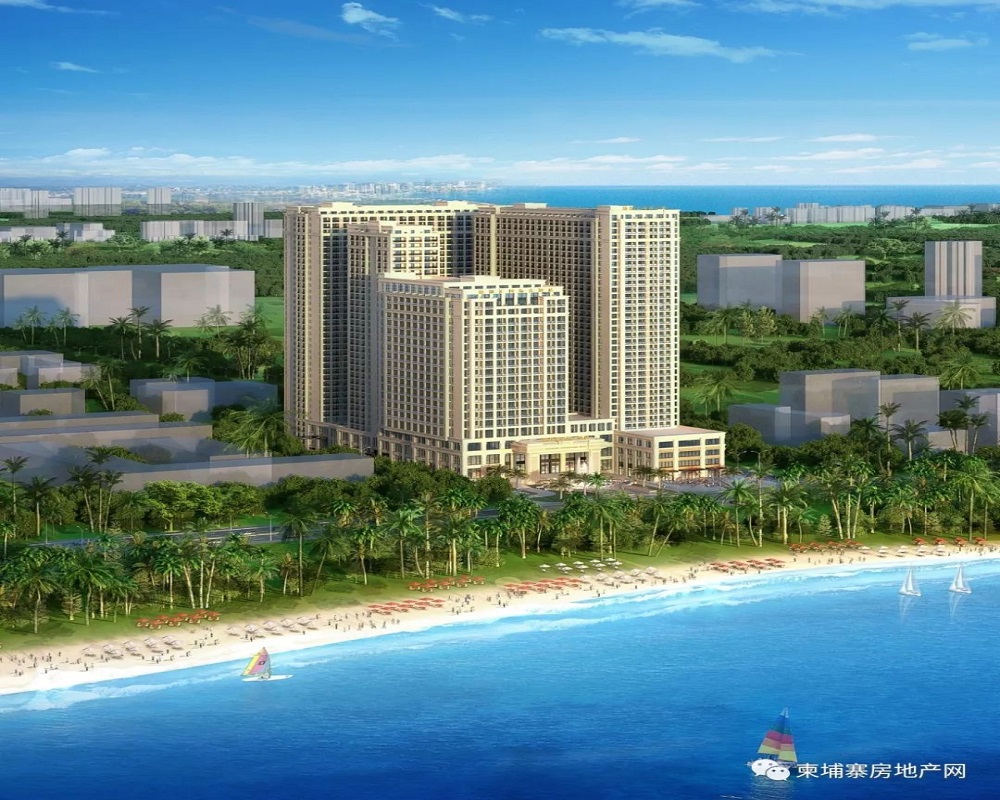 Address: Village 4, District 4, (near the Gold Lion roundabout) Sihanoukville, Cambodia

Height: 37 storeys 

Views: Unobstructed views of waterfront, 200 metres from Ochheuteal Beach

Producer: New Landmark Group and 7 China Construction Bureau Ltd.

Nearby: Five-star hotels, seaview apartments, the largest entertainment mall in Sihanoukville, and tons of commercial facilities

Outfits: Turn-key homes with high-quality decor, top brand appliances and furniture

Value: Minimum size of 30㎡, strata titled, prices starting at $40,000

Neighbours: Gobo East, White Sand Palace Hotel, Jin Bei Casino & Hotel, Prince Hotel, a duty-free shop, schools, banks and police stations.

Traits: First smart and eco-friendly community in Sihanoukville, QR code access control, fingerprint locks, free wifi, drinkable tap water, practice golf course, tennis court, and running path. The first musical and laser-lit fountain in Sihanoukville. 
The complex also boasts a convenient store, a beauty salon, leisure club, bank, cafe, gym, private luxurious pool.
New Landmark is a new mixed-use complex with a floor area of 200,000 square metres in the beautiful coastal city of Sihanoukville. It offers three kinds of products: seaview apartments, premium hotel rooms (five-star) and spaces in a large commercial centre.
New Landmark is located near the Gold Lion Roundabout, a well-known landmark in the heart of Sihanoukville, and close to the  main road, Poulowai Street 300. It's just a short drive to the centre of the city, and two minutes to the famous Ochheuteal Beach. The crystal clear ocean waters are just 200 metres from the doorstep. The project is right in line with the city's expansion towards the south and east.
Within one kilometre of New Landmark there are tons of hotels, restaurants, and large-scale shopping, gaming and entertainment venues. These include Gobo East, White Sand Palace Hotel, Jin Bei Casino & Hotel, and a duty-free shop. Life is vibrant and active in this part of Sihanoukville.
New Landmark will also host a large-scale commercial centre with a variety of commercial businesses, including the largest entertainment mall of Sihanoukville, spanning on 10,000 sqm, Chinese and Western-style restaurants, bars, apparel stores, convenience stores, cafes, spa clubs and other leisure and entertainment services.
It doesn't stop here. There is also a private rooftop pool, cultural activity centre, tennis court, golf practice course, public meeting room and so much more. All facilities create a classic luxury experience. At the same time, New Landmark will feature the first laser-light music fountain in Sihanoukville.
New Landmark is a dream home you deserve, where you fall asleep to the tune of the tranquil sea, wake up to a fresh glowing morning.
Here are seven remarkable advantages of New Landmark based on its prime location!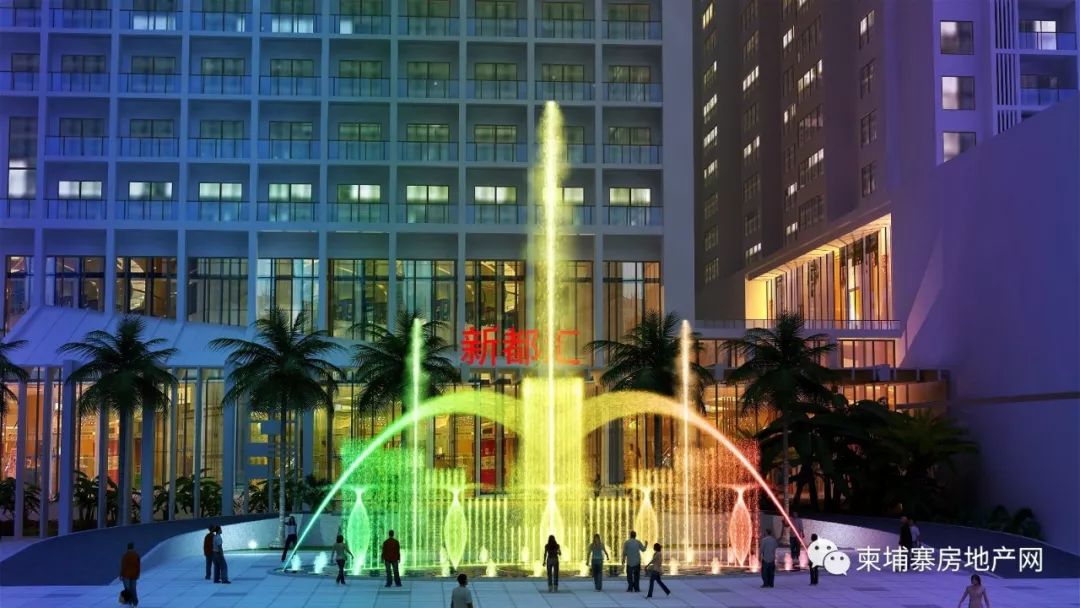 In 2018, Cambodia attracted 6.2 million international visitors, an increase of 10.7% over the previous year. Chinese tourists accounted for the largest portion, about two million. More than two million tourists visited Sihanoukville, increased by 6% year-on-year. A goal has been set by the Cambodian government to receive 7.5 million international visitors in 2020 and 15 million in 2030.

The expansion of the Sihanoukville International Airport will be completed in the first half of 2020.

The Asean International Conference Center is planned for construction in Sihanoukville.

The Trans-Asian Railway that connects Cambodia, Singapore, Vietnam, Laos, China, Russia and other Eurasian countries will start to run in 2021.

The East Asian Games will be held in Phnom Penh in 2023 and the watersport events are set to be held in Sihanoukville.

By the end of 2019, oil production will be realised with a daily output of 30,000 barrels in this region. Moreover, by 2020, natural gas will be produced on a large scale.

Set to open in 2023 is a new $200-million container terminal in the coastal city. It will be for the import and export of coal, steel, fertilizer, rice and oil, and it will improve the efficiency of cargo transportation and greet cruise ships from all over the world.

The expressway connecting Phnom Penh to Sihanoukville is nearing completion.

The Sihanouk Special Economic Zone, funded and constructed by China Red Bean Group is one of the largest overseas cooperation zones accepted by the Ministry of Commerce and the Ministry of Finance of China. It has created 60% of the jobs in Sihanoukville.
It is foreseeable that, in the future, many new industries will sprout in this developing region. Prosperities fuelled by manufacturing and tourism will attract more people and grow the economy.
Sihanoukville is set to be the world's next Dubai or Shenzhen!
If you're interested in learning more about the development of Cambodia, download our Investment Guide 2019!