Though the road was long and winding, Cambodia has reached new heights in the past decade across many industries - none less, the real estate sector.
And along with continuing success, there is also a need to understand how the market is developing in comparison to the region. By studying Cambodia alongside an understanding of similar markets nearby we can better predict the future of the real estate sector, and handle potential problems before they occur.
This is according to CBRE Vietnam and CBRE Cambodia managing director, Marc Townsend, who spoke in depth regarding the latest CBRE Cambodia's Marketview Q2 2016 report last week in Phnom Penh.
The resounding remark from Townsend was that, "All of us who have been involved in the real estate industry for sometime understand that any market is cyclical. What is happening in Cambodia currently has happened in neighboring markets."
With this sentiment in mind, we can better understand current market conditions in Cambodia - and concepts such as the potential oversupply in the condo market, speculative price growth in Phnom Penh land, and issues regarding credit issues around lending for property - in a context of curb and flow.
A downside for the market now offers opportunities down the line as it naturally adjusts itself - and ultimately, a maturing of the real estate market as a whole.
CBRE Cambodia's Marketview for Q2 2016 Recap:
The World Bank officially elevated Cambodia to the status of a 'lower-middle income' economy at the close of Q2.

Hongkong Land's mixed-use development, Exchange Square, held its topping-out ceremony over Q2, with overall completion set for Q4 2016.

P

rime sales and rental prices broadly appreciated over Q2, with the exception of serviced apartment rents, which remained stagnant over the quarter.

Average quoting rents across Grade B buildings grew by 4.5% q-o-q, while average quoting rents across Grade C stock decreased by 3.9% q-o-q.

2,796 condominium units, across 8 projects, launched over Q2, with Russey Keo district welcoming its first off-plan sales launch.
Land & Investment in Cambodia Q2 2016:
While foreign buyers are focused on the hottest areas on the market where land prices have reached all time highs, namely central Phnom Penh districts such as BKK and Tonle Bassac, Townsend explains that "the local Cambodian land bankers and landowners are obviously moving in a different trajectory. They're thinking four to six years ahead." This is also due to many local buyers being priced out of the downtown market.
These local land buyers understand that infrastructure such as bridges, roads and sewage is, and will continue to, drastically affect pricing of land on the outskirts of the city. This has been highly apparent in Chroy Changvar, where land price is rising significantly year on year, at a much faster rate than land in the CBD.
Investors targeting the lesser known districts of Phnom Penh that are able to predict these improvements in infrastructure will make large returns in the not so distant future. Given the need for local connections and understanding however, this opportunity remains in the realm of local buyers and agents for the time being.
Phnom Penh Residential Market Q2 2016:
Although the number of foreign developments are continually growing and expected to contribute to a supply of condominiums of around 25,000 units by 2018, Townsend states that "the local developers are the main players. It may not be that way every quarter. But obviously, the strength and depth of Cambodian developers are growing."
These local developers have a better understanding of the means of the local market buyers, and this is creating more affordable options in the market. These developers often look outside the most expensive corridors of Phnom Penh where, once again, a lesser degree of infrastructure plays a big role in allowing developers to acquire affordable land and ultimately create a more affordable end condo-product. If they are lucky, the infrastructure will come as their project nears completion.
Townsend then describes that as the market matures a variety of other property types have been popping up in the Phnom Penh new developments market, such as hybrids, SoHo and smaller units.
Mixed-use developments have also made their way to Phnom Penh, a way of developers offsetting their risk in a unit-heavy condo market by combine a mix of retail, residential and commercial options for buyers within a single development.
Despite growing competition though, condominium prices have still seen small but steady growth from 2015, up until the second quarter of 2016. It is with this slow growth that Townsend says that, "trajectories have changed from being favorable to the developer to favorable to the buyer."
Townsend explains that if there are no secondary sales from the primary residential market, then it's a sign that the market's only going to get worse. Cambodia developers must heed this advice with care.
Yet, Townsend notes that it is with this change in trajectory that the serviced apartments market is suddenly playing a much bigger role.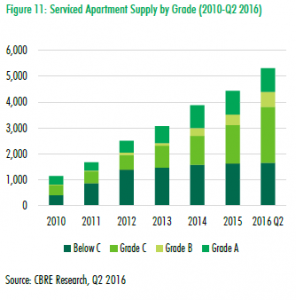 As Townsend puts it, "When the residential market dries up or begins to change the trajectory of sales per month or per quarter," developers begin to look to see if they're able to convert some of the units to serviced apartment units to cut cost, and assure returns. Townsend notes that the serviced apartment market in Cambodia seems to still be going strong.
In regards to the condo market for international investors, Townsend also notes that, "It's a limited market at the moment. And obviously, at some point, it will come on the radar screen of a wider group of people". Once Cambodia enters the consciousness of investors around the world, the market has the potential to change dramatically.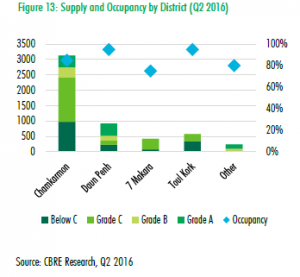 It seems that so far we have only seen the tip of this iceberg…
He emphasizes that it's important to be out there and getting your story across, and marketing internationally - not just individual developers and agents, but the national as a whole.
He adds the need for a diversified investor pool to negate risk across the market: "We need investors from all over the region. Not just from one place. You need to have a balance." Otherwise, when one set of investors for some reason boycott the market or lose their influence in the country, the market can still be sustained by the overall investor pool.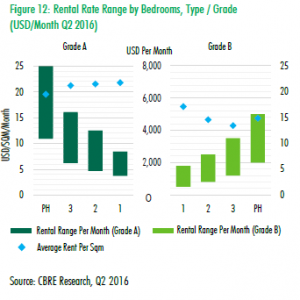 Given Cambodia's current reliance on condo investors from Taiwan, China and Korea in particular, this word of warning seems highly valid.
Phnom Penh Office Market Q2 2016:
Townsend mentions that big businesses aren't as enthusiastic to go to Cambodia for expansion as other markets.
He says, "Unfortunately, we're at that stage where most of the people that are going to be here expanding and upgrading are here already." So, he doesn't predict a whole lot of new activities happening in this market.
He adds, "The reality is not a lot of those Fortune 500 companies will be coming here. But the ones that are here want to be here."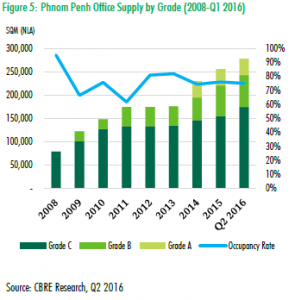 He also addresses the audience of developers saying, "some of you will be thinking that you can fill your building in a year – not retail, but an office building. When things tighten up and everybody gets the same idea to have coffee at the same time, or go to the lift at the same time, or when the pilot puts the lights on in the airplane to go the bathroom at the same time, the same thing happens in office markets. So, sometimes, some of you may have mistimed it. And instead of taking one year to fill, your building may take three years to fill. This is the reality of real estate and commercial office space in a developing market."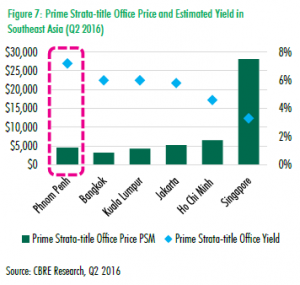 The data gathered by CBRE shows that while supply in the office market has risen drastically – most especially with Grade A office units – occupancy has lowered from 2008. It also shows that the biggest business type occupying these office spaces are the banking & finance and logistics industries, which comes in at 22% and 14%, respectively.
Townsend also explains that more and more strata titled office space is appearing in the Cambodian market, and that it's not necessarily a bad thing - but it is a sort of inflection point because it's more difficult to handle a strata title building from the developer's perspective.
Phnom Penh Retail Market Q2 2016:
The retail market is also seeing an increase in supply, mainly with shopping malls, community malls, and retail podiums, where CBRE expects it to only go up even more in the next two years.
Their data also shows prime shopping malls, prime retail podiums, prime high street, and prime retail arcade at an average rental rate per square meter of $31.44, $48.3, $30, $52.5, respectively. These developments include the Exchange Square, AEON Mall, and the Naga Citywalk.
Townsend says that the market's maturing, as evidenced by new products like row houses and shop houses. He also says that there is high demand right now for long-term leases that usually comes hand in hand with quality investment opportunities for incoming investors.
He says that the Cambodian retail market is slowly gaining traction as well, with the coming of different international brands like Levi's, Starbucks, Hugo Boss, Long Champ, Salvatore Ferragamo, and L'Occitane.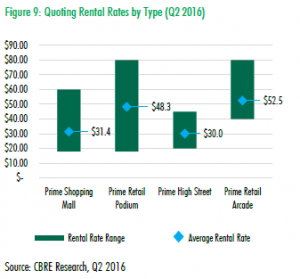 CBRE's researched data for Q2 2016 shows that these have contributed to the high occupancy rate for the retail segment, where the majority of those who are occupying the space do so for financial & professional prime retail use. It also shows that "26 percent of retailers surveyed identified SEA countries as target markets for 2016."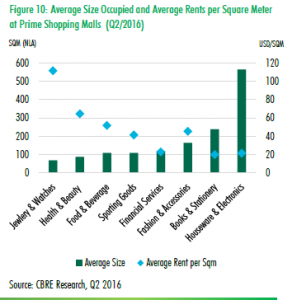 As a result of this, CBRE is expecting even more construction and expansion for the retail industry.
Siem Reap and Sihanoukville Q2 2016:
According to Townsend, there are a lot of things happening in Siem Reap and Sihanoukville, in particular, a lot of activities in retail and hospitality. Infrastructure upgrades are also helping shape the two provinces. Just recently, the Royal Railway has restored its services to transport passengers from Phnom Penh to Sihanoukville, for example.
He adds, a rising level of infrastructure will, "Obviously drive retail and condo sales, and second home sales."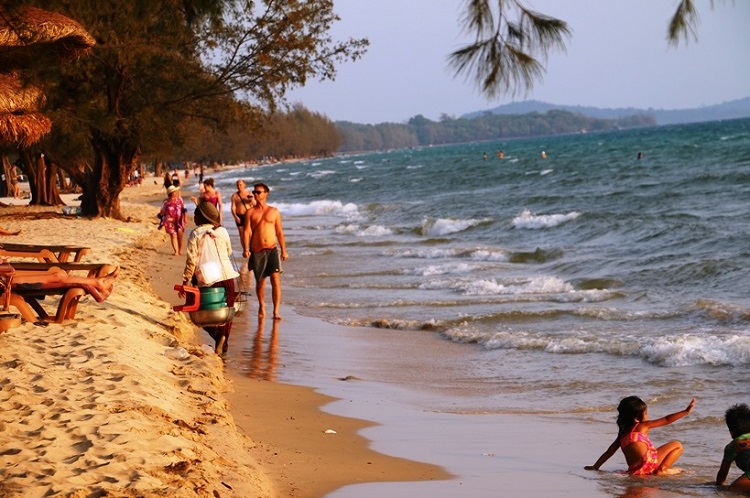 Some of the properties available here are located in different islands such as Dara Sakor, Song Saa, Koh Rong and Koh Chanloh. But Townsend explains that the current difficulty here is getting people to actually go to these provinces, because there is actually more work that needs to be done in terms of basic infrastructure. But he balances this out and says that prices here are very attractive: Luxury resort villas range in the $2,000 to $3,000 per square meter range, for example.
Talking about the competitive pricing in these provinces, Townsend adds, "when developers start to move their total focus away from the primary residential market in the main cities and concentrate on the coast, then obviously where they're looking for new markets and looking for new product, again you can see this reflected here with that sort of pricing."
Outlook Overall Q2 2016:
Townsend also talked about finding new markets that may already be in existence but have just not been captured yet, such as the opportunity to seize the growing interest for retirees.
In a report by International Living, Cambodia ranked 21 as one of the best places to retire in the world. Townsend adds, "We've got to keep finding new markets, new things, and put some analysis behind it."
One of the sectors that are also being extensively marketed is the industrial sector; where industrial parks and Special Economic Zones are starting to slowly pick up as there is a growing need for increased fit-for-purpose space for factories, according to Townsend.
He also mentions that tourism is one of the primary driving forces in Cambodia's economy, "but you've got to get out and market it. You can't rely on one group. You've got to rely on a wider source. And so much of it comes down to that airport. So much of it comes down to infrastructure." Townsend says that as these things continue to come up across Cambodia, tourism will surely grow.
In conclusion, Townsend says that "if you haven't already started building a retail center, you're too late. If you're building Grade A, finish it quickly. If you're building or thinking about building Grade B and C, just make sure you put enough lifts in, and enough car parks, and enough motorbike spots, because if you haven't, there's already enough in the pipeline. If you're going to build something in the industrial park, you're probably going to need to heavily spend more money on marketing and be prepared to invest in factory space on behalf of the tenants that hopefully, you can attract either from Europe or North Asia, or indeed, out of China. And if you're doing a big residential project and it's got six phases, then look at the resale market."
Be an investor with valuable foresight, stay tuned to Realestate.com.kh news!