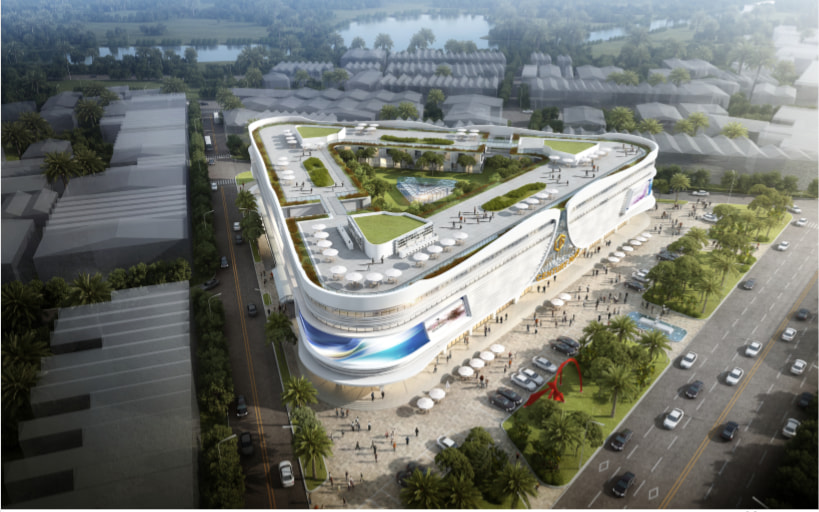 Century Plaza, an upcoming shopping centre in Por Senchey, recently signed on Realestate.com.kh and FazWaz Cambodia as its marketing & sales partners.
Realestate.com.kh is the largest property classifieds portal in Cambodia and FazWaz Cambodia is the first-tech enabled brokerage in the Kingdom. Both companies, earlier in 2021, signed a Memorandum of Understanding (MoU) to provide a one-stop marketing-sales solution for property developers.
Century Plaza is a commercial complex rising along the Russian Boulevard in Por Senchey district. This new shopping centre will integrate retail, entertainment, office, and hotel functions in the district's busiest shopping area. It stands in place of the well-known Old Market, taking all that has made it popular to Por Senchey's residents, and transforming it into a shopping plaza with all the modern conveniences found in the capital city's more centrally-located shopping centres.
Century Plaza will have multiple floors and basement parking. Each floor will feature specific types of goods and services that make it easy for shoppers to navigate. The Century Plaza already has over 670 store owners temporarily set up in front of the Century Plaza construction site. Given the popularity of the Old Market, Century Plaza's expected completion in late Q4 2021 is a much-anticipated development in Por Senchey.
Mr. Tom O'Sullivan, CEO of Realestate.com.kh, said "We are proud to have such a popular project as one of our partners. Century Plaza stands on top of the popular Old Market, making it immediately recognizable to many in the district. Additionally, it already has 670 store owners, which speaks volumes in the confidence the local market has in Century Plaza"
"We are expecting Century Plaza to be a landmark development in Por Senchey and our team is looking forward to sharing the project's opportunities with the whole of Cambodia and abroad," he said.
Mr. James Whitehead, CEO of FazWaz Cambodia, said "We're happy to have Century Plaza on board. It's a strategically located modern shopping centre along a major road artery (Russian Boulevard) and is only 1.5 kilometres from the airport. It's unique in its design and, thanks to the Old Market, already has established value as a go-to shopping area among long-time residents of Por Senchey."
About Century Plaza
Century Plaza is a new shopping centre along Russian Boulevard in Por Senchey. The project was developed by JLECC, a property developer with 6 Chinese National Grade A Engineering Consulting Qualifications and 2 Cambodian National Grade A Design and Construction Qualifications. JLECC is working with the Phnom Penh Municipality to realize Por Senchey as a suburban retail hub.
Century Plaza has a total of 6 floors with retail/commercial/hotel functions and 2 basement floors for parking. Each shopping floor will host a wide range of stores where its 670 (and growing) store owners are getting ready to sell various goods and services once it opens towards the end of 2021.
About Realestate.com.kh
Realestate.com.kh, established in 2009, is home to over 20,000 live property listings making it the largest real estate classifieds portal in Cambodia. Realestate.com.kh works with the leading real estate agencies and property developers in the Kingdom to meet the demands of both local and international property seekers and endeavours to further develop the larger Cambodian property market as the most attractive real estate investment hub in Southeast Asia.
Aside from being a popular online platform, Realestate.com.kh has also organized several popular offline events since 2018 that connected real estate agents, property developers, investors, and home seekers with the best deals available on the market.
About Fazwaz Cambodia
Established in 2020, FazWaz Cambodia is the first tech-enabled real estate brokerage in the Kingdom. FazWaz Cambodia represents a new way of doing real estate by giving anyone the opportunity to make money in the country's growing real estate market and provide the best service and safest possible investment to property seekers and investors in the country.
Contact Information:
Tom O'Sullivan
Realestate.com.kh, CEO
tom.osullivan@realestate.com.kh
James Whitehead
FazWaz Cambodia, CEO
james@fazwaz-kh.com