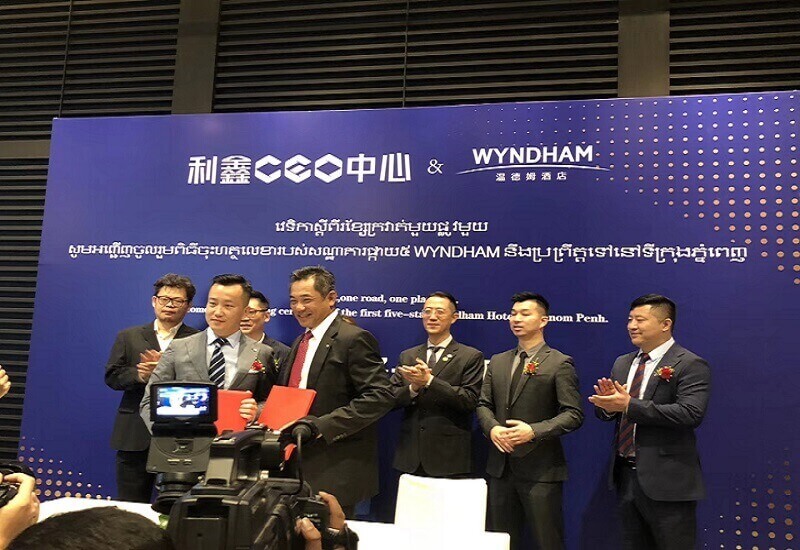 Wyndham Hotel Group and LiXin CEO Center had recently signed an agreement of cooperation, which was held on October 22, at Rosewood hotel in Phnom Penh.
The agreement was signed by Mr Joon Aun Oo, president of Wyndham hotel's Asia-Pacific area and Mr Xu Ming Zhao, CEO of LiXin Group, witnessed by Cambodian officials and business people.
It agreed for the Wyndham Hotel Group, to host its hotel brand inside CEO KT Pacific, a 33-storey commercial and residential building jointly developed by KT Pacific Group and LiXin Group, located in a prime area of Phnom Penh's 7 Makara district.
It is a historical moment for Cambodia, a fast-growing economy in the region; as two of the world's most successful groups, join hands together to service the Cambodian's growing markets, the groups claimed.
Wyndham Hotel Group is the world's largest and most diversified business hotel group in the world, with headquartered in New Jersey's Parsippany. It is currently operating nearly 9000 hotels with 23 different brands in 80 countries across six continents, said Mr Joon Aun Oo.
Wyndham Hotel Group maintains good relationships with foreign governments and it has rich experience in commercial operations across the globe. The group is committed to high-end hotel management and development, he added.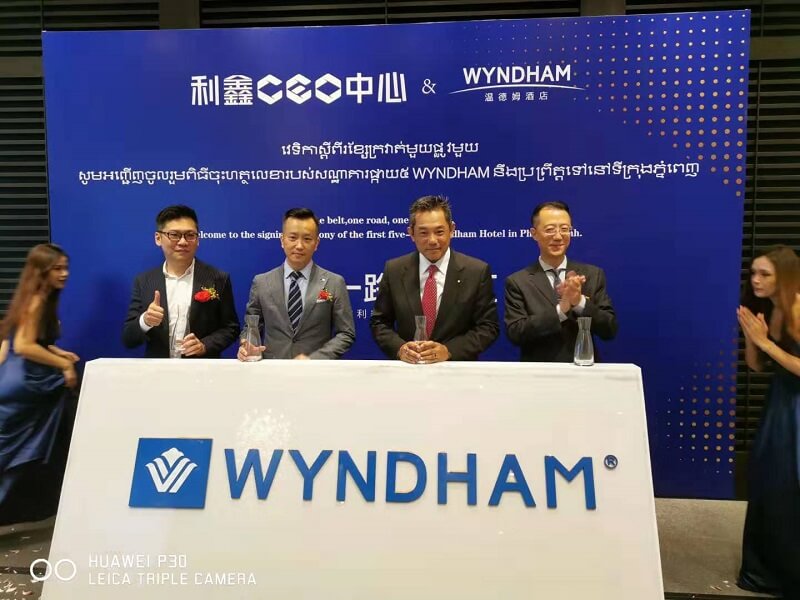 "Wyndham hotel's arrival in LiXin CEO centre is based on rigorous market research, precise analysis and calculation. The strict evaluation of the value of the business district, location, the supporting and expected value of the future operation had finally settled the Wyndham brand in LiXin CEO centre," he said.
Phnom Penh is becoming an international business centre. The fact that the Cambodian government is putting more efforts and investments to improve the country's infrastructure, has attracted more businesses and investments to Cambodia in the past years, said Mr Xu Ming Zhao, CEO of LiXin Group
Cambodia's tourism sector is also growing fast, attracted millions of tourists to visit the country each year. Cambodia is no longer limited to sessional travellers. It in fact also attracts business travellers, he added.
Since Cambodia is going to host both 2022 ASEAN summit and the 2023 Southeast Asia Games, the country will be able to attract more people in the coming years. Cambodia will able to attract approximately 15 million business travellers to the country by 2030, Mr Zhao added.
"Wyndham hotel, which will be settled in LiXin CEO centre, will be a five-star hotel of the international brand after Raffles, Magnificent and Sofitel. LiXin CEO centre will join hands with Wyndham hotel to welcome the golden period of economic booming in Cambodia," he said.
Wyndham Hotel group decides to cooperate with Lixin CEO Centre due to its strong financial status, while it chose to work with the Wyndham Hotel group due to its good reputation in the hospitality industry and in fact it is the world's largest hotel group, he continued.
Lixin CEO centre project is built by KT Pacific Group, the third biggest construction company in West China. It is home to Phnom Penh first international commercial and residential new landmark with 130 meters high twin towers and great facilities, such as the international banquet rooms, red wine lounges, cigar rooms, bars, spas, fitness centre, 30m infinity pool and sky bar.
Want to find out more about housing types in Cambodia? Read our Investment Guide 2019.
Registration for Cambodia Real Estate Awards 2019 is open.