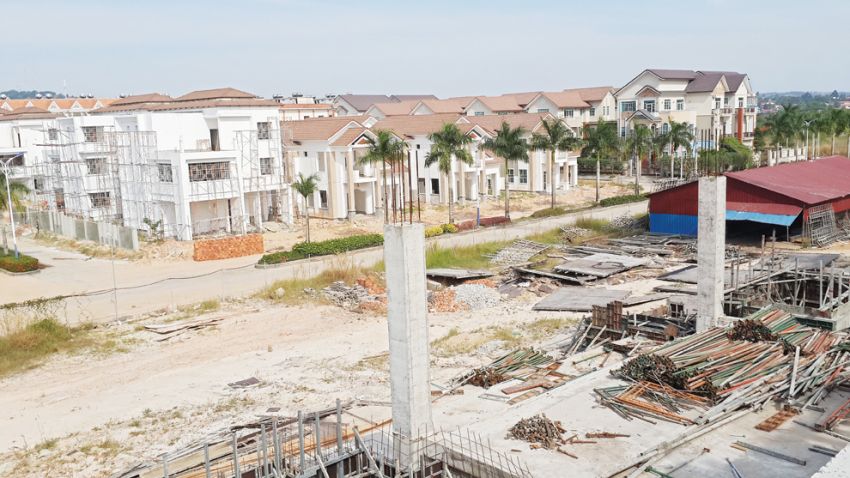 Given that many local population's lack the initial capital to invest in new homes, albeit condo, borey or other, home loans are underpinning the market currently.
The IMF have stated recently that buyers across the Cambodian market are taking on more and more credit to buy property, and this is increasing year on year. In fact, the IMF state that loan-to-value ratios have risen to 70-80% in 2016.
Owners that have leveraged finance in order to buy properties are generally the first sellers after the market has reached its peak, accentuating risks of a "bubble" bursting in the market.
This situation can be amplified when interest rates on those mortgages rise, and rental yields for the completed property drop below prior expectations. Mortgagees reselling their condo units can then add the oversupply, creating a dangerous snowball effect for the market. As debt levels continue to rise, the risks of an eventual credit crash are becoming more of a concern in Cambodia.
When credit loans increase, the credit in the market increases, then there's a cash flow for the citizens and the economy. It is good for citizens when they place this cash into targeted businesses by creating a business with a clear plan. It's also useful for business expansion, etc. These activities create more jobs for people.
Yet there are downsides…
Hoem Seiha, of VTrust noted that another credit risk is growing in the 2016 market as developers take financing into their own hands in efforts to stimulate sales growth in the lower end of the market, and particularly the domestic market: "For the recent market stimulus, developers have now offered another very flexible option for home and plot land buyers by applying a zero down payment scheme to drive their sales, and, in the short run, the practice looks good and helpful for the overall market. Yet, while banks are very careful when releasing mortgage loans to buyers, most developers have not conducted enough due diligence on their clients before releasing installment contracts, to avoid future defaults. If not well managed, this could, in the medium-to-long term, create over-indebtedness among unqualified buyers and therefore potentially lead to a mortgage crash. Regulators should study this seriously."
Another potential risk for the Cambodia finance market is the 2018 general election.
During election periods in Cambodia there have been a tradition of "capital flight," whereby multinational companies, dual citizens and affluent locals remove their capital from Cambodian banks, and instead store their wealth offshore. This is seen as a safeguard during times of political uncertainty. Given the correlation between the upcoming election, and the completion and release of a larger proportion of the incoming condo supply, these two factors may amplify the effects of each.
Mey Kalyan, senior advisor to the Supreme National Economic Council, noted that general credit across the Kingdom has increased around 30%. The Supreme National Economic Council are aware of the risks this raises, especially in the real estate market. As according to a recent report from the Phnom Penh Post, Mey Kaylan says that, "credit is like fat in our body. We need the fat to function, but we also don't need too much of it."
In light of these concerns, the IMF have stressed the need for Cambodia lenders to place higher capital requirements on any real estate financing, weigh risks for banks in regards to real estate lending, and ensure that property developers are "under strict regulatory and supervisory control".
Yin Leangkong – editor in chief of the magazine Property View, and presenter and editor of real estate and economics at BTV - notes in a recent interview that, "loan providing institutions should keep lending to people, but there should be a limitation and conditional loans must be specific and clear. When providing loan to people, you have to make sure it will contribute to help for a better standard of living for the customers. For a home loan, it may be suitable with the middle-class bracket. A term loan will provide both affordable standard of living to people. It also profits banks or microfinance institutions."
These recommendations appear to be having an influence in the market as we enter the second half of 2016. Regulatory control of developers has seen a rise in recent months, as policy makers continue to clarify and develop licensing procedures from new development projects. Meanwhile, private lending institutions appear to be tightening lending on real estate, especially off-plan properties.
Check out what 5 industry experts have to say about the state of the Cambodia real estate market!