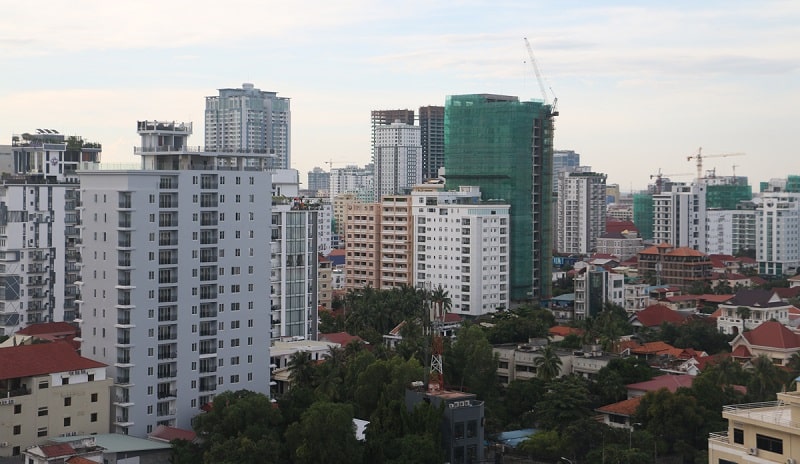 Condominiums are arguably the hottest type of real estate in Cambodia. Less than a decade ago, however, there were only a few condo projects in the capital. Most of them were geared toward expat clientele. 
Now, over a decade later, a new trend is emerging as Cambodia's middle class are pushing the demand for property ownership.
Ouk Chandaravuth, sales and marketing director for Seven Residence Co Ltd, has seen first-hand the growing desire for condo ownership among Cambodians.
Daravuth said that, previously, there was a gap in the market as the demand for property ownership grew among locals. Condos, he said, are meeting that new demand. 
Growing demand for condo ownership was a significant factor that led Seven Residence to build The Seven Residence Condominium. The project is an affordable condominium, located in Sen Sok district near Aeon 2 Mall.
"More and more Cambodian people are buying condos. They can get them for lower prices than previous high-end projects in the city," he said, adding that The Seven Residence Condominium has sold nearly a third of its units since presales opened in January. 
Nearly all of the buyers, he said, are Cambodian.
"In five years, Cambodian people will be buying more condos than landed properties [such as boreys]. If they want to buy landed properties, the price is higher, and the location is farther from the city centre. More will turn to affordable condos located near the downtown area," he predicted.
The Seven Residence Condominium represents a new trend in the Kingdom's real estate sector. More developers are shifting their focus towards local buyers. This often involves keeping construction costs low and choosing secondary locations.
Units in this segment are currently going for $1,400 or less per square metre. In other words, units usually clock in at around $50,000. 
Report shows growing affordable segment

According to a recent report by real estate services firm CBRE, 13 condominium projects have been completed and put on the housing market during the first half of this year. Nearly 70 percent of the units that came online, the report said, were condos in the affordable segment of the market. 
CBRE's figures also revealed that at the end of June, the total condominium supply in Phnom Penh hit 16,657 units. Over half of those units were classified as mid-range properties, while affordable and high-end units split the remaining half of the market almost evenly. 
According to CBRE's data from the second quarter of this year, the average price per square metre of a high-end end unit was $3,254. Mid-range and affordable condo units, on the other hand, averaged $2,568 and $1,501 per square metre, respectively. 
CBRE's research and consulting manager, James Hewson, said that affordable condo developments have historically been a small section of the market. Now, however, there has been significant growth of affordable condos over the past six months.
He added that international developers were initially drawn to the mid-range and high-end segments of Phnom Penh's condo market because of the potential for high returns. However, many are now shifting their focus.
"Now that there is a high supply of mid to high-end condo projects, developers are beginning to diversify by entering the relatively under-supplied affordable sector," he said. 
"It is forecast that the affordable sector will see a sharp increase in supply over the next three years."
Most of the appeal for Khmer buyers, Hewson said, has been in the borey market. 
He added that much of the condo sector's growth depends on infrastructure and accessibility. This is primarily a concern for affordable projects, which often choose secondary locations to keep costs low. 
"It is recommended that developers consider collaborating with the government to ensure infrastructure matches the rapid rate of real estate development currently seen within the city," said Hewson.
According to CBRE's most recent report, completed condo units are set to hit 40,000 in Phnom Penh by the end of 2020. Over a quarter of these are set to be positioned in the affordable segment of the market. 
CBRE's Hewson told Realestate.com.kh that the buyers within the condo market vary greatly. Many projects are marketed to a specific demographic. Often international developers will target expats, while local developers will target Cambodians.
"This is demonstrated in the project L' Attrait located in Chamkarmon district. A Japanese company developed the project, and Japanese buyers purchased 62% of the units," he said. 
"This trend has also been witnessed in several Chinese projects, yet statistics are difficult to obtain."  
If you found this article interesting, you'll love our Investment Guide 2019: Property ownership briefing. Browse through or download your copy now. 

Article by: