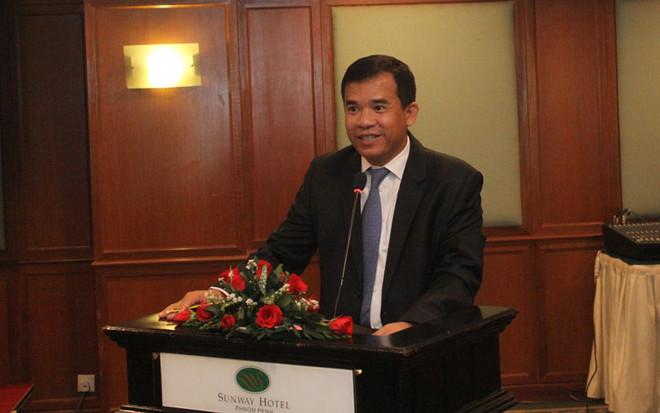 According to figures from government and other international stakeholder, Cambodia's economy grows around 7.0% in 2015. International Monetary Funds said in November that the Kingdom's growth were bolstered by three main pillars: textile manufacturing, construction, and real estate sectors. However, there have been subsequent concerns about an anticipated bubble to crisis for the country's property market. Realestate.com.kh talks to Mr. Mey Vann, head of Economy and Finance Ministry's general department of financial industry.
What have been the key strategies Cambodian government and stakeholders have done for post-global financial crisis' resilience for the country's real estate market?
For the side of government, we have been trying our best to ensure macro stabilities of the economy, keep inflation rate low, and stabilize exchange rate of the national currency. In addition, we have strengthened our banking system to get strong enough in relation for market capitalization, especially, for this real estate market we are talking about.
From the lens of government, what are the key attractiveness of the Kingdom's real estate market or why should people invest in this market here?
Indeed, when we talk about investment, we do not merely focus on real estate market but we talk many others at the same time. However, specifically talking about real estate, we try to create an open and convenient environment for the market. For example, we make eligible for foreigner to own condominiums. In addition with the context of regional economic integration starting this year, Cambodia locates in a strategic, dynamic regions of thriving growths and investment.
What government's general evaluation on the property market in 2015?
Yes. Actually to make a figural analysis we need to wait until the end of February when the government's official reports on economy is finalized. But I can say, as we mention before, the economic growth stood at 7.0% in 2015, which was partly contributed by the increasing real estate market, undeniably.
This year 2016 is the kick-off of ASEAN Economic Community, welcoming a number of regional competition. What are government doing to keep market of property and real estate moving forward in year ahead?
We will continue our works from previous years including stabilizing the macro situations and diversifying the foundations for the greater national economy. And as part of pushing investment in property and other markets, we are working to build it more effectively with public services and social works to bolster the growth. Whenever there is growth, the people get better off with greater purchasing powers that can dynamically drive the property market forward.
What is government seeing as risks and threat for the real estate market? What government's intervention with that?
Our main concerns concentrate on the imbalance between demand and supply sides of the property market where there are more production than consumption (that subsides the price). We are also concerned about threat rising from beyond the borders where the region can be in crisis one day so that it shoots down amount of investment to the country which results as smaller purchasing power for people in the market.
To be clear, we opt for a private sector-driven free economic system so government will never put any order to drive the market. What we can do are only in the scope I mention earlier with macro elements.
No order or control from the government. But can you give advice from government's side to the investors in the real estate market?
Our advice is we urge investors to have a thorough study before making any investment decision with consideration on demand and supply. They should not get a greater-than-capability mortgage to invest in the market since it can be risky. Plus, please keep up to date with global market environment and latest development since both domestic and global factors are correlated.
Find the best real estate news on Realestate.com.kh!