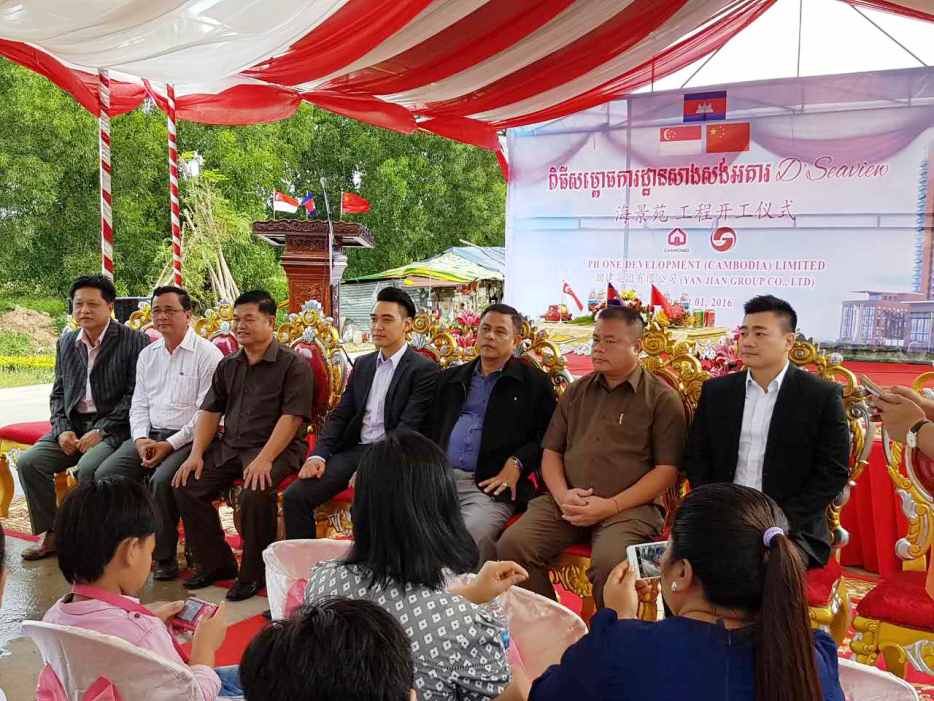 Singapore – 21 July 2016: SGX Mainboard Listed HLH Group (HLH) has reported strong demand for its first real estate project in Cambodia. D'Seaview, a mixed-use development of 737 residential units, has sold more than51% to date.
The project was successfully launched in Sihanoukville (the third largest province in the country) in September 2015 and the groundbreaking ceremony was held in January this year. Following the successful launch and strong demand for its residential units in 
D'Seaview
, the commercial spaces and the balance 51% of its 737 residential units with an estimated market value of US$88 million, are available for sale. Meanwhile, construction is well underway. The contractor has now confirmed that 100% of all piling work is complete for the D'Seaview Project, as of July 18, 2016. Ryan Ong, Director of PH One Development (Cambodia) Limited, stated at a recent press conference on-site, "I look forward to stand here again in 2018, upon the successful completion of this project." One of the key highlight of the commercial spaces is a 10 stories boutique hotel – the first to be built by a Singapore company in Sihanoukville - is the country's premier seaside destination for international tourists. The hotel will have up to 98 rooms where HLH will seek boutique hotel operators in Cambodia or the region to invest in and operate the hotel.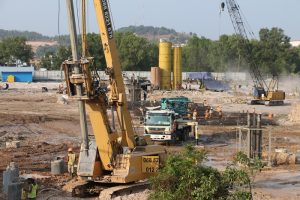 The commercial units of D'Seaview, which includes a good mixture of commercial spaces, retail spaces, two commercial buildings and a grand tower of ten-storey boutique hotel comprising of up to 98 rooms, are scheduled to be completed in Q4 2017, while the residential units for D'Seaview are expected to be completed by 2018. Dato Dr Johnny Ong, CEO and Deputy Chairman of HLH Group, says "This is a highly opportunistic time to leverage on Sihanoukville's booming growth by expanding and growing our businesses. Sihanoukville's tourism growth has been on a rapid rise in recent years. There are many international light industrial parks and special economic zone being set up in the province as Sihanoukville is a deep-water seaport. It is also the third largest province in Cambodia with an international airport." To kick-start the construction of D'Seaview, the Group has awarded the construction project to Yanjian Group (Cambodia) Co Ltd for US$36,797,993.93. Yanjian Group (Cambodia) Co., Ltd is a subsidiary of Yanjian Group Co. Ltd – a global engineering and construction company listed in the Engineering News-Record Magazine as among the Top 250 Global Contractors. HLH will issue a 30% advance payment to Yanjian Group (Cambodia) Co., Ltd for the construction project. The parent company, Yanjian Group Co. Ltd will provide a 40% performance guarantee on the construction amount to ensure the successful completion of the construction. The D'Seaview project is not expected to have any material impact on the financial performance of HLH for the financial year ending 31 December 2016.
About HLH Group Limited:
HLH Group was founded in Singapore since 1988, from a sole proprietorship providing construction services to a regional property developer and producer of raw and processed agricultural products. It has been listed on the mainboard of Singapore Stock Exchange since June 2000.
The HLH Group operates two core business segments: Property Development and Agriculture.
Since the establishment of the Group's Agriculture Division in Cambodia in 2008, it has become one of the largest privately owned cassava plantations in the Kingdom with land size approximately 11,000 hectares. The Agriculture Division is focused on agricultural investment & development, as well as the cultivation of cassava and sugarcane through collaboration with joint-operation partners.
A new cassava starch production line was recently added, capable of producing up to 120 tons of cassava starch daily. The setting up of the cassava production line is part of the group's overall strategy to extend its agricultural production chain downstream from farming to harvesting to value-added processing on our produces. Currently, the factory is producing around 80-100 tons of starch daily.
The Property Division, which has successfully completed numerous projects in Singapore since 2001, officially started its overseas property division in 2015 with the launch of its residential brand "CAMHOMES". It has also unveiled its first overseas mixed development project called D'Seaview, which will be built in the port city of Sihanoukville. The only deep water sea port in Cambodia. Under "CAMHOMES" the Group will aim to launch more high quality and affordable housing developments to target the growing middle income residents in Cambodia.