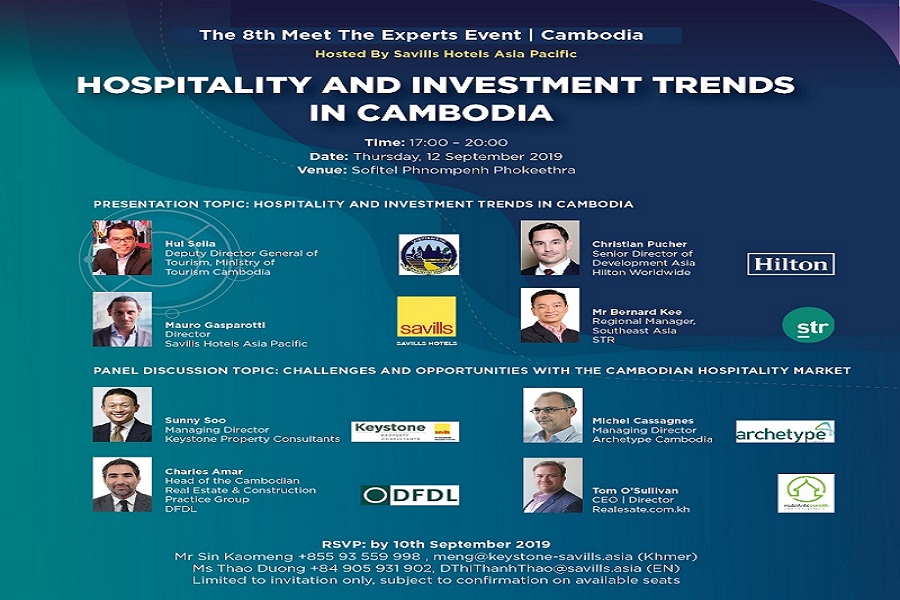 Savills Hotels Asia Pacific is going to host the 8th event of the Meet the Experts series on 12th September 2019 at Sofitel Phnompenh Phokeethra, Cambodia. At this event, industry experts from the Ministry of Tourism of Cambodia, Savills Hotels APAC, Hilton Worldwide and STR are invited to share their insights about Hospitality and Investment Trends in Cambodia.
What: The 8th Meet The Experts Event
Time: 17:00-20:00
Date: Thursday, 12 September 2019
Venue: Sofitel Phnom Penh Phokeethra 
The event will include a fascinating panel discussion on the challenges and opportunities in the Cambodian market with the involvement of real estate experts from DFDL, Archetype, Realestate.com.kh and Keystone, followed by a networking and drinks section at the end of the event.
Meet the Experts event is dedicated to real estate developers, investors and hotel owners in the region with a very exclusive capacity. 
For further information and registration, please kindly contact the latest by 10th September 2019:
Ms. Thao Duong (English)
+84 905 931 902
DThiThanhThao@savills.asia
Mr. Sin Kaomeng (Khmer)
+855 93 559 998
meng@keystone-savills.asia 
Want to find out more about housing types in Cambodia? Read our Investment Guide 2019.