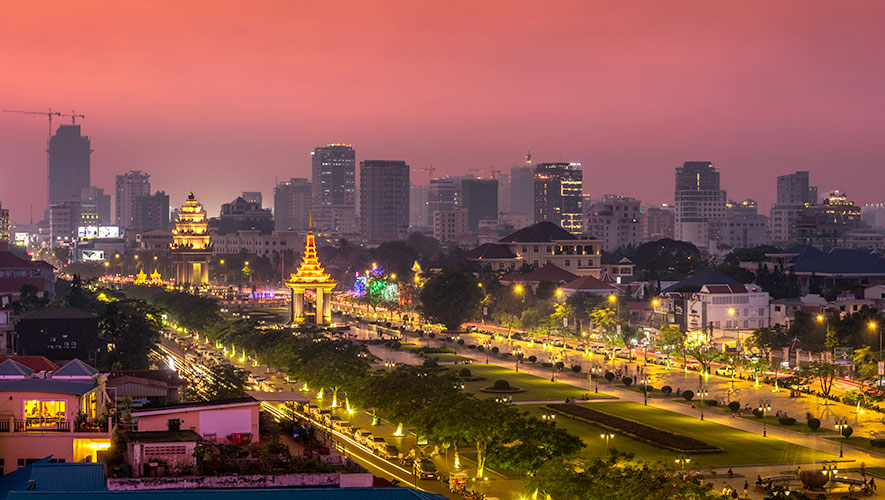 The attention has shifted from foreign buyers to local Cambodians, does the Kingdom's property market still have a place for foreign property buyers? Supplied.
Cambodia's property market has changed drastically over the past year-and-a-half from COVID-19. Foreign buyers who looked to buy and visit new projects were met with travel restrictions and various other red tape, making it harder for them to pursue their investments in the Kingdom.
But that was more than 18 months ago and a lot has changed with travel restrictions lifting and the Kingdom of Cambodia fully reopening since November 1, 2021.
What has changed in Cambodia's property market over COVID-19?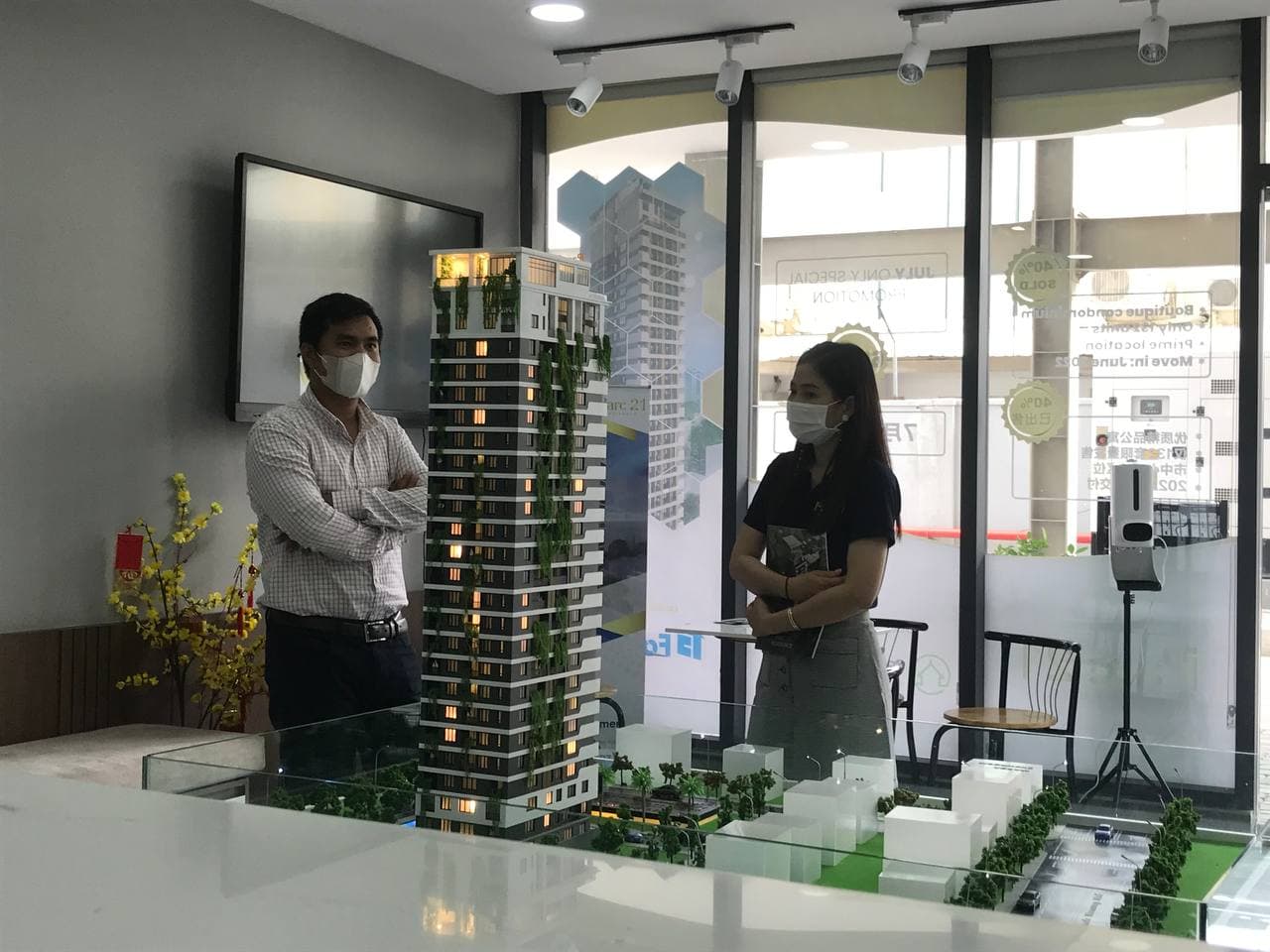 New projects like PARC 21 Residence have attracted buyers over the pandemic, especially among locals due to its value proposition. Photo from PARC 21 Residence showroom.
Developers' target market changed from foreign buyers to local Cambodian buyers
Prices have adjusted downward to meet local preferences
Previously short payment terms have been extended to accommodate a preference for longer payment plans
Developers formed partnerships with local banks to facilitate longer payment plans
A more involved local market in a fast-growing property sector
With foreign buyers few and far between, both agents and developers shifted their attention to the local market. It is worth noting that real estate sales and marketing within Cambodia geared towards the local market has markedly been picking up pace prior to the COVID-19 outbreak and the pandemic simply accelerated the shift.
Naturally, Cambodians have their own set of preferences and many in the sector have learned to change their sales and marketing approach: First and foremost, most Cambodians looking to buy a condo prefer more affordable projects with longer payment terms. Second - related to the previous point - is that there has been a good mix of Cambodian property seekers buying condos as a primary/secondary home or as an investment.
Most banks have had little to do with property developers and have interacted mostly with end-financers (property buyers) even during the height of the market in 2018-2019. But with the landscape shifting, developers have been proactive in forming partnerships with banks to encourage activity by constructing long payment terms adjusted for most local buyers.
How can foreign buyers benefit from this shift?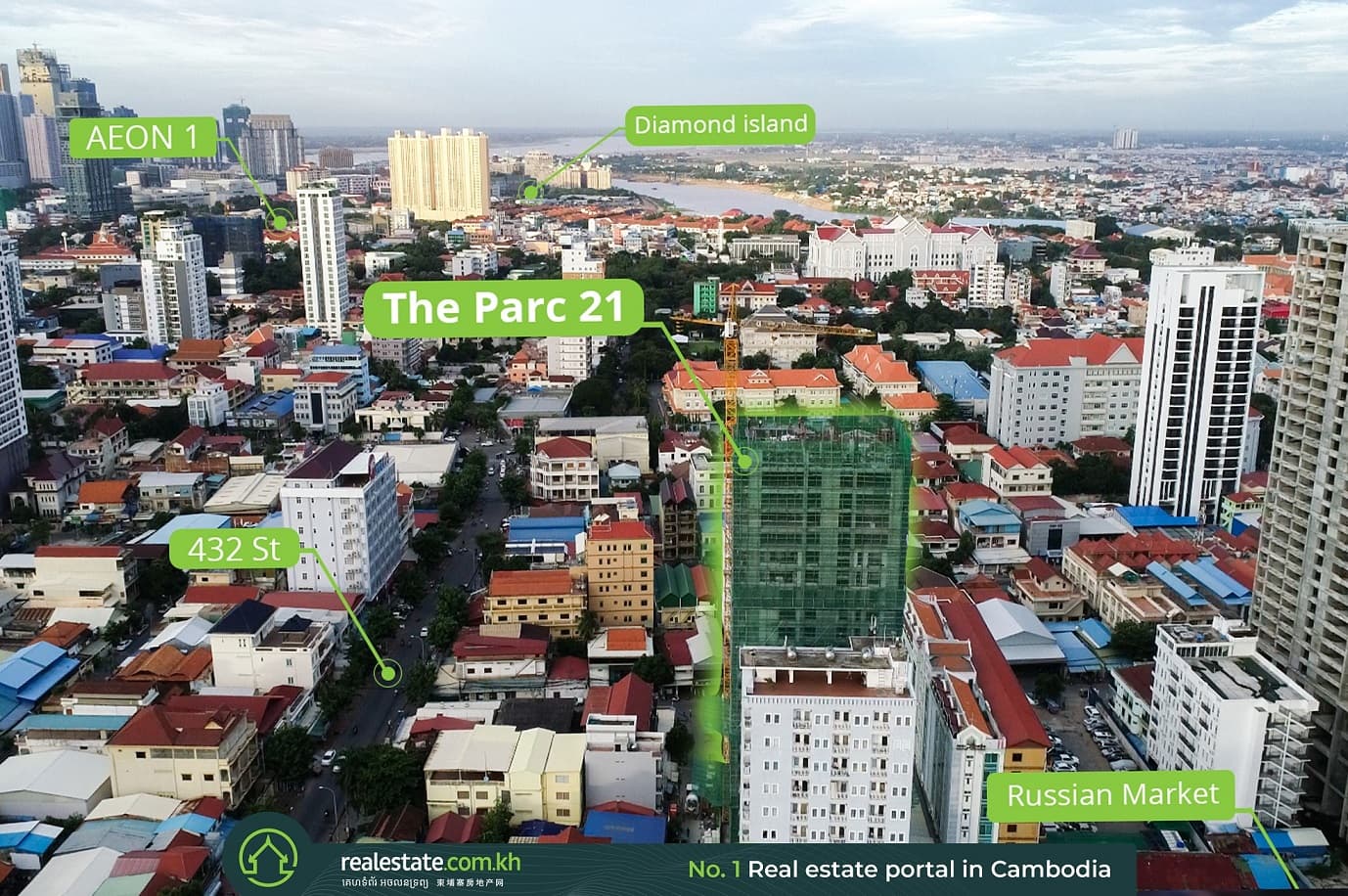 Prices may be depreciating, but location certainly isn't. Projects like the PARC 21 Residence maintain their strategic location while offering flexible payments for both local and foreign buyers. Supplied.
It may appear on the surface that this only benefits Cambodian buyers. However, let's not forget the circumstances that influenced the shift and how fundamental these changes are:
Lower prices and more discounts
Prior to COVID-19, a property that cost around ~$2,000 per square metre was considered affordable by a foreign buyer, but not so for a typical Cambodian buyer. Price per square metre has dropped anywhere from single digits to even 20%, depending on where one looks since the start of the pandemic.
"I believe it [the change in prices] will only benefit foreign buyers as price policy has become more flexible for locals and buyers abroad can take advantage of this shift", said Peter Guboglo, a real estate investment specialist in Cambodia.
There have been a growing number of developments with lower asking prices going as low as $1,300 per square metre. Of course, these come with concessions such as the unit being unfurnished and sometimes as bare as a concrete box. Then again, that does give one the freedom to design and decorate it as they please.
Increased partnership with banks for home loans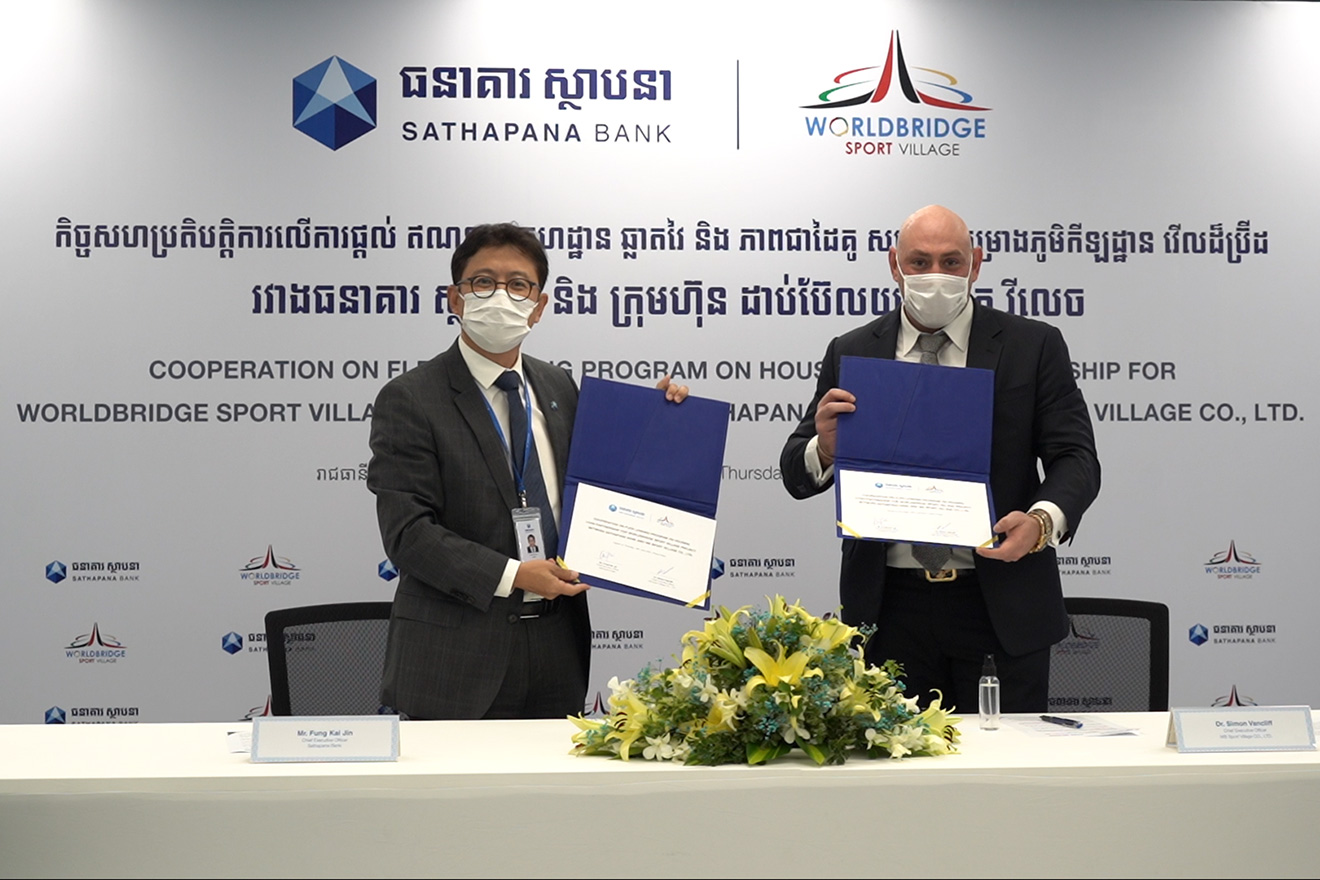 (Left to right) Sathapana Bank CEO, Mr. Fung Kai Jin, and WB Sport Village Co., Ltd CEO, Dr. Simon Vancliff signed an MOU to offer "Flexi Loan Lending" for WorldBridge Sport Village buyers. Photo from WorldBridge blog.
Developers have been noticeably active in forming a partnership with banks to increase accessibility for local buyers. However, it must immediately be said that most banks in Cambodia will be stringent when it comes to lending to foreign buyers. However, banks part of an international brand may be more open to assisting. There are several international banks in Cambodia such as ABA (owned by National Bank of Canada), BRED Bank (from France), RHB Bank (from Malaysia), and Maybank (from Malaysia) are a few examples of established international banks in the Kingdom.
Nevertheless, it might be an option worth exploring if it so happens that your home country bank has a holding in Cambodia.
Foreign buyers are more valuable now than before
Foreign buyers largely fueled the activity of property developments in Cambodia, especially in Phnom Penh in the past 4-5 years. Foreign buyers entering Cambodia usually pay a significant downpayment (30% to 50%) with short payment terms - allowing developers to fill their books with immediate cash flow.
On the other hand, while Cambodians are seeing an improvement in annual household income, most still require financial assistance from banks and would often prefer longer payment terms around 10 years. This new status quo has made foreign buyers even more valuable for developers who have been struggling for the past 2 years.
Most quarantine measures lifted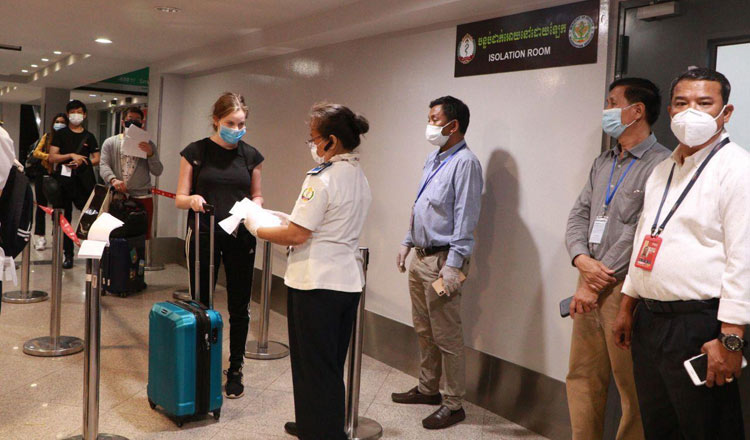 The new travel rules were announced in mid-October 2021 after an outbreak-free Pchum Ben holiday season, followed by further easing in November 2021. Photo from Fresh News.
In November 2021, Cambodian authorities rolled out new and streamlined rules for foreign travelers coming into the country in a bid to reopen the economy. The most highlighted of these new rules is that foreign investors traveling into Cambodia need only proof of vaccination and negative PCR-test, doing away with costly and time-consuming quarantine requirements. Complete list of new requirements can be found here:
"Cambodia reopening is a good move that will attract investors," said Peter "The biggest thorn of their [investors] side has been the 2-week quarantine for the past 2 years."
Peter, who has been on the phone with foreign buyers throughout the pandemic, notes that buyers he's talked to are looking forward to the day quarantines are lifted completely. "And now that measures are more relaxed, it's only a matter of time before interest picks up significantly," he said.
Cambodia is one of the most vaccinated countries in Southeast Asia, making a leader in regional reopenings
As of November 2021, Cambodia is one of the most vaccinated countries in SEA and has been ahead of its neighbours in reopening the economy through streamlined requirements for foreign travelers, reduction of quarantine periods, and businesses being allowed to operate as they used to (following healthcare guidelines).
Throughout the pandemic, the Cambodian people have noticeably been eager to go out, taking every chance to enjoy a long holiday out of town or visit public places. This has grown more pronounced since November 2021 as most of the country is vaccinated and businesses are seeing a considerable pick up in foot traffic once again.
Cambodians are more involved in the property market, adding further value to the sector
The question of "Who is going to buy these properties?" has been a pressing question for Cambodia's real estate market. Foreign investors and middle-to-upper class Cambodians were often the answer, but that has changed in a matter of 2 years - quite the speed when it comes to real estate.
"The shift in terms of sales and marketing has made much of the market more involved in the property market," observed Peter "This is a good sign for foreign buyers as their condo investment can more easily be sold for locals who want to buy one".
As mentioned above, developers forming partnerships with local banks have made it easier for Cambodian buyers to access financial assistance and make it more commonplace in a fast-growing market.
"A product's value proposition is helped by the demand. Now that condos are more accessible to not just expats/foreigners but more so to Cambodians, the more stable and less prone to risk the market is going to be". Peter said.
Article by: