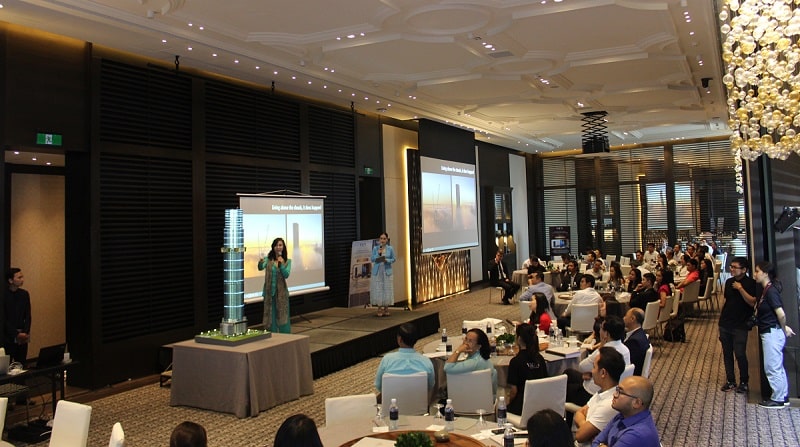 Saturday saw one of the biggest real estate projects in the region introduced to Cambodia. Vaun Property Cambodia, one of the newest entrants to the country's bustling property market, held a launch event for the Australia 108 building at Phnom Penh's Rosewood Hotel on Saturday.
This launch comes at a time when the Australian dollar (AUD) is at a three-year low versus the USD. Many speculate that now is the time to buy in the country.
Dozens of the biggest property investors in the country headed to the 36th floor of the Kingdom's tallest building to hear about the project dubbed the southern hemisphere's tallest residence.
According to Regis Broadway, Vaun Property's regional director, the building is set to be the pride of Melbourne and all of Australia for both its style and grandeur.
"When people ask where you live, just tell them to look up," he added.
Low AUD means a better deal for foreign buyers
Describing what a unique opportunity Australia 108 is offering buyers from abroad, Luke Vaughan, Vaun Property's managing director said that their has been considerable interest from Asia, especially considering how low the AUD has sunk in value.
"Strong interest from Cambodia on Melbourne property was a driving factor in Vaun Property deciding to open a local representative office in Phnom Penh. The weekend's event confirmed out previous experience: Many locals want to buy in Melbourne to give their children a place to live while studying. Of course, the AUD at a decade low has also fuelled interest."
He mentioned that Australia is a country which allows foreigners to buy new property, and that Melbourne was ranked as one of the most livable cities in the world. This reputation is mostly due to its education quality, infrastructure and amenities.
Australia 108 offers up top-tier amenities
The weekend's event also highlighted the slew of luxury features on offer to future residents of Australia 108. The design of the building stands in a class of its own. 
Standouts of the structure include a 70th-floor sky lobby flanked by a six-pointed hourglass-shaped protrusion. Guests learned that this accent of the building represents the six states of Australia.
Australia 108 also boasts a sky garden, movie theatre, resort-style spa, and golf room. Additionally, there's onsite five-star dining and a sky gym packed with state-of-the-art equipment.
Interested investors are urged to act fast. Everyone at the event agreed that once the properties are sold they are likely to be held for a very long time. What's more, there's no saying how long the AUD will stay at its current low. 
Contact Vaun Property for more information on Melbourne's Australia 108.

Article by: