Year after year, the standard living for locals in Cambodia, and in particular Phnom Penh, is increasing. New types of property are changing Cambodian lifestyles; such as new standards of commercial buildings, office towers and co-working spaces, supermarkets, malls, entertainment venues, and modern residential developments. These structures offer proof of an increasingly modern lifestyle being adopted by the people of Cambodia.
As this standard of lifestyle rises, increasingly Cambodian property buyers are demonstrating increasing demand for properties of a high standard and high quality. Accordingly, the business competition between property developers and designers in the nation is rising fast.
These days we can also see more youth in Cambodia fresh out of school joining the business sector, bringing with them ambition, innovation, and a high level of commitment to their personal and business success.
One such business sector being joined by more and more young entrepreneurs is interior design, as the demand for such services grows year on year.
Starting a small business in the interior design industry is particularly attractive to the young-business sector in Cambodia because entering the market comes with very little risk, compared to some other professions.
A young designer can easily catch a contract for the redesign of a restaurant, entertainment venue or home without a large portfolio of projects under their name and without the need for a lot of start up capital. Assisting them also is the growing popularity of the interior design sector across Cambodia.
25 year old, Mavaly Chhoeum, senior staff from Studio INT in Phnom Penh, says that, "most of our interior design and construction projects are venues such as boutique clothes shops, restaurants, spas and many more places like this. Clients usually likes the contemporary concepts, and a try to make their spaces a bit more modern."
She added that, "interior design is highly demanded in the Cambodian market these days and competition is getting tough. It is important to travel to learn new things as much as you can, and always be creative and not a copycat."
"Interior design business and construction is more and more popular in Cambodia" said 29 Heang Venvitou, co-owner of Sathapanak Design and Construction.
Interior design projects involve managing the creation of unique, attractive and livable spaces inside buildings. The design might follow trends of local taste or import standards of modern lifestyle through design from other countries around the world. Functionality must always be considered too.
A good interior designer will leave their signature on the place that they remodel.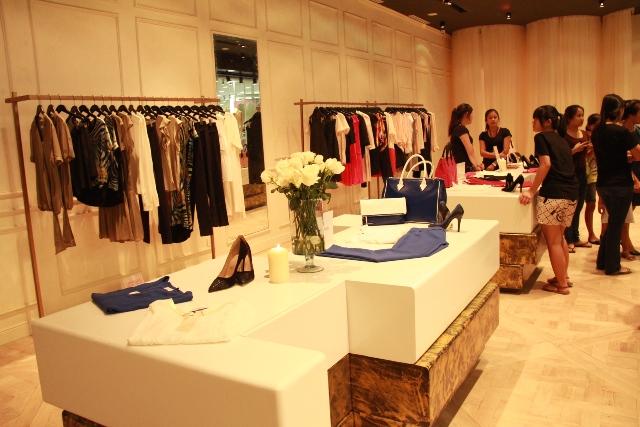 Now Sathapanak has a collection of projects in hand, such as: boutique clothing store AXARA, Kobe Restaurant, a Spa, Bank, villa, and condo. For the materials that they use, they generally import from Thailand, Vietnam and some material from local.
Interior design is driven by a passion to create something new; and given this aim, young Khmer business people with fresh ideas are perfectly suited to catch the market share in this business sector.
Before Cambodia needed to import human resources in interior design from other countries, especially neighboring countries of Vietnam and Thailand – but now young interior designers are demonstrating that this is a local industry of great worth and reliability, and one with many opportunities.
Find the best real estate news on Realestate.com.kh