Yesterday, J & L Property Development officially announced the launch of Sky Tree Condominium in Phnom Penh's Russey Keo district. J & L Property Development have over 20 years of local experience in Cambodia – and are working in strategic partnership with the world-renowned constructor MCC International Corporation of Beijing, China; Urban Architecture, the most innovative and respected architecture company in the Cambodian market; Knight Frank, the renowned UK real estate consultancy firm; Century 21 Cambodia; CBRE Cambodia; Matsu Property of Taiwan; &, of course, Realestate.com.kh, the premiere real estate search website and media agency in Cambodia.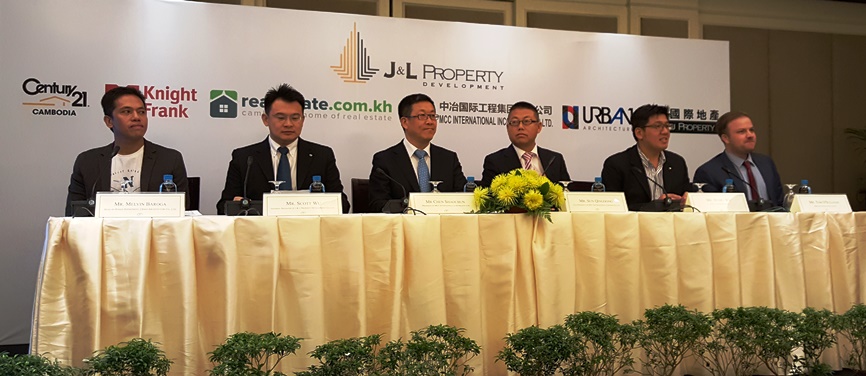 Guests of honor included Mr. Scott Wu, General Manager of J & L Property Development Co. Ltd, Mr Chen Shaochun, President of MCC International Corporation Ltd., and Mr. Sun Qingdong, Vice President of MCC International Corporation Ltd. As Mr Scott Wu, General Manager of J & L Property Development, said at yesterdays conference, "J & L Property Development is the main facilitator and owner of the Sky Tree Condominium project, bringing in world re-known and highly respected specialized partners in developing, planning, constructing, managing the various stages from start to completion, launching of project in accordance with the needs and means of the country, international standards and in a timely manner. J & L has a vision to help Cambodia to bring the country's image into the world property markets, and to do so is creating a world class product by collaborating with renowned partners." J&L wish to make affordability of owning a condo, as a prime objective, by lowering prices as much as possible, suited to the local demand and financial means, but meanwhile maintaining a high quality finished condo product. J & L will provide a "one-stop" solution by bringing a foreign bank into the partnership to provide "hassle- free" housing loan directly to the buyers and investors of units at SKY TREE project. Local and International buyers are only required to pay an initial deposit of 10% of the total purchase price. This is affordable for local buyers. Buyers then have access to finance for the rest of the payment, with 40 months of interest free finance to pay the balance 20% of the purchase price, then 70% bank loan available for all buyers for the remaining balance, with up to 15 years repayment. Sky Tree Condominium units start from just $89,440 NET. J & L's founder, Mr. Simon, had a wish to create a healthy lifestyle for those living in the city of Phnom Penh, by introducing high technology based parts and materials imported from overseas, such as eco-friendly materials, air-tight window frames, tinted window glass frames, green features and nature built within the development.
J & L Property Development wish to be a "catalyst" in quickly developing Phnom Penh into the world market for property investment; and is approaching major players in key markets in order to combine their regional expertise and expose the Phnom Penh market to their huge networks. J & L wants to ensure the safety and well being of the buyers and investors for the life of the development, and as such have partnered with one of the TOP construction companies in the world - MCC International Corporation from Beijing. The C.E.O and family will also be staying and living in the condo upon completion. Construction has already begun at the Russey Keo Site. Mr Sun Qingdong, Vice President of MCC International Corporation LTD, stated that "MCC ranked 326th among the world's Fortune 500 companies and 10th in Engineering News-Record's Global Top 225 Contractors. At MCCI, we specialize in designing and building the strongest portfolio of engineering feats around the world. MCCI has branches, subsidiaries and representative offices in Southeast Asia, Middle East, Africa, South America, etc. MCCI is proud to offer engineering, construction and overall strategic support for J & L Property Development Co. Ltd. Cambodia's current and future projects." With the strategic support of MCCI Corporation, construction has already started at the site in Russey Keo, Phnom Penh - long before the sale's launch. Phase 1 will be completed by 2019, ready for handover to buyers.   Mr. Melvin Baroga, Head of Design Department, Urban Architecture Co., Ltd, stated that "the design of Skytree Condominium is based on a strong desire to create an architectural impression that exemplifies grandeur. Pronounced perpendicular lines that extends from the podium up to the roof communicates a feeling of superiority from the surrounding buildings. Combination of horizontal and vertical design elements are used to communicate solidity. It creates rectilinear forms that suggests stability and permanence." "Residents can enjoy lounging by the swimming pool surrounded with greeneries or relaxing at the SPA and massage room. A mini-rainforest adjacent to the pool area is provided for those who wants to be immersed in the nature experience that Skytree has to offer. The spacious sky park on the connected roof decks is an ideal place for fitness and exercise. It offers a central space for residents to gather in the evenings," said Mr. Baroga. Although this is J & L's first Cambodian project, it will be the start of many more to come.