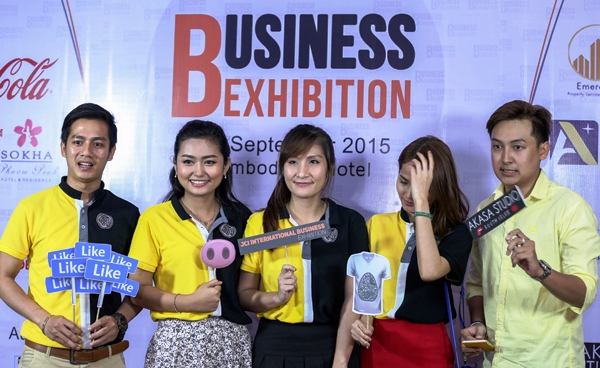 Junior Chamber International (JCI) is one of the many active non-profit organizations in the world that has a Cambodian division.
Officially recognized by the Cambodian government in 2012, JCI Cambodia has spearheaded several useful programs and collaborative projects in the hopes of creating a platform for professionals and students from different industries to engage in. JCI hopes that these projects will pave the way to a better and more stable economy, through education and dialogue. One such project is the upcoming event, JCI Entrepreneur Square.
What is the JCI Entrepreneur Square?
Alongside its business exhibition, JCI has also prepared a series of talks which will feature 7 distinguished speakers and experts from the areas of Food & Beverage, Real Estate, and Organic Agriculture products.
Although speaking about different sectors, the discussion will center on one key topic, "Key Success and Investment Opportunity in Real Estate, Food & Beverage, and Organic Products in Cambodia".
In line with this, the organization and its various sponsors and partners hopes to showcase the multitude of opportunities Cambodia already has in its resources and utilize the time the speakers have to educate how current and potential investors can tap into those specific resources to develop a healthier business environment. It also aims to create an event that will allow its participants to network and exchange business ideas and experiences.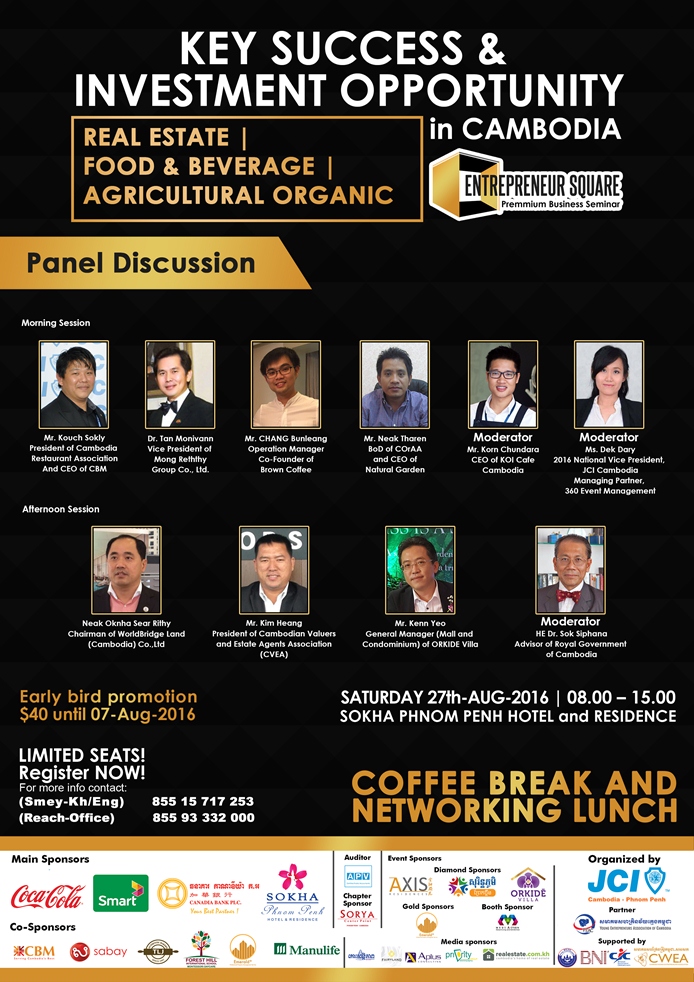 Who are the Speakers?
The event will have several key speakers, both in the morning and the afternoon, and will be moderated by equally distinguished people from the same industries.
Moderators:
Mr. Khorn Chhundara–
CEO of KOI Café Cambodia
Ms. Dek Dary –
National VP of JCI Cambodia, Managing Partner at 360 Event Management
HE Dr. Sok Siphana –
Advisor of the Royal Government of Cambodia
Agricultural sectors:
Dr. Tan Monivann -
VP of Mong Reththy Group Co., Ltd.
Mr. Neak Tharen -
Board of Directors of Cambodian Organic Agriculture Association and CEO of Natural Garden
Food & Beverage:
Mr. Kouch Sokly -
President of Cambodia Restaurant Association
Mr. Chang Bunleang -
Operations Manager and Co-founder of Brown Coffee
Real Estate:
Oknha Sear Rithy -
Chairman of Worldbridge Land Co., Ltd in Cambodia
Mr. Kim Heang -
President of Cambodian Valuers and Estate Agents Association (CVEA)
Mr. Kenn Yeo -
General Manager of Orkide Villa Condominium (Mall & Condominium Project)
What Will The Speakers Talk About?
The presentations and panel discussions will touch on a few things.
For the F&B industry, the speakers will talk about trends, sources, franchises, and methods in the industry that will help drive businesses to success. For the speakers from the agriculture and organic products industry, they will be presenting about geographical factors and characteristics of Cambodia and how it affects each sector. They will also talk about the current challenges and demands in the market. All of this will be done in the morning, while real estate speakers will do their presentations in the afternoon. They will discuss certain points on policies and development in the industry, along with triumphs and recommendations for investment.
This event will surely bridge the gap between businesses and individuals hoping to break into these specific markets and start investing not only in their own future, but also the future of the country.
There is a huge potential in Cambodia right now and it is important to understand how you can tap into that potential and get your payout once it grows.
If you're interested in going to the event, it will be held at the Sokha Phnom Penh Hotel & Residence on August 27th, 2016. The event will start at 8:00am and is expected to run until the late afternoon.
For interested participants, you can contact Mr. Horm Chanreaksmey at +855 12 540 033 or his e-mail hchanreaksmey@gmail.com.
For those who are interested in the sponsorship packages and in public relations, you can contact Mr. Soth Sothearak at +855 17 59 46 19 or you can e-mail him at sothearak2510@gmail.com as well.