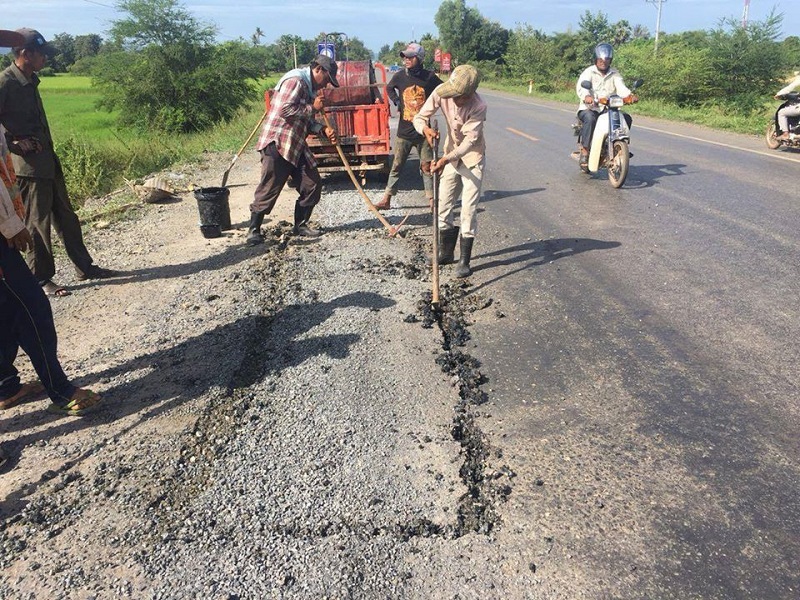 (Road maintenance of National Road 3 in 2017 by Ministry of Public Works and Transport. Supplied)
When An Chanthla heard rumors in late 2017 that the government is planning on expanding National Road 3, a 202km-long major highway connecting the south of Cambodia to Phnom Penh - he saw an opportunity he simply couldn't pass on.
With little capital, and even less experience in real estate investments, Chanthla decided to take a chance and pooled his capital in a joint-venture with his friends. They managed to put together $14,000 to buy a 2,500 sqm plot of land around National Road 3 in Prey Toteung Village.
The land they bought was surrounded by rice fields and was only accessible through a narrow dirt road. As the sale price was a mere $5.6 per sqm, Chanthla hoped that the land would double in value in 2 or 3 years.
But fortune came sooner than he had anticipated. A few months after the purchase, the government officially announced plans to renovate and expand National Road 3. Land prices around the major road skyrocketed overnight, including Chanthla's 2,500 sqm plot of land.
"We sold the land back at $13 per square metre. The resale gave us a profit of nearly $20,000 just a few months after making our first purchase," he said. 
After seeing the success of their first venture, he and his partners agreed to reinvest the money to buy a $50,000 plot of land measuring up to half a hectare; hoping for another flip on the market.
"We buy up larger land when we see a potential for it. At present, our group owns nearly 5 hectares worth of land valued at $25 per square metre totalling up to $1 million." Chanthla continued.
The story of Chanthla's business venture reflects how developments on major road arteries for the past 3 years increase the value of land property, and consequently, benefit the people who live around it.
According to Po Eav Kong, managing director of Asia Real Estate Cambodia Company, property value along National Road 3 has jumped significantly in the past few years. Due to the upgrading of National Road 3, there are more residential and commercial developments around it.
While National Road 3 stretches all the way down the coast, land property can be valued and purchased à la carte. For example, the land from Chaom Chao to Kampong Toul Bridge (the border between Phnom Penh and Kandal province) is valued at $200 to $400 per sqm since it's suitable for residential projects, he added.
On the other hand, property from Kampong Toul Bridge to Ang Tasom (land considered to be suitable for industrial development) is valued anywhere between $20 to $80 per sqm. While land from Ang Tasom to the Kampot Train Station is valued at $10 to $20 per sqm, Kong explained.
"Infrastructure developments are pushing land prices to increase. And for the past two years or so, the price of land along National Road 3 has risen by 10 percent year-on-year." Kong said.
As the National Road 3 connects Phnom Penh to the south's tourist hotspots like Kampot and Kep, the reconstruction of the major highway has led to factory and warehouse developments, with multiple landed housing commonly known as "borey" projects starting alongside it.
"Kampot has strong potential to be the next industrial zone, so land prices are likely to increase over time." he concluded.
Sorn Seap, founder and director of Key Real Estate, said that the National Road 3 that connects Ring Road 3 has every bit of potential to be an industrial and logistics hub for the region.
"The National Road 3 is expected to replace National Road 4 as the primary route for transportation of goods to and from the deep seaports. And when the rehabilitation is finished, we expect more factories and warehouses to set up next to it," he said.
"Development of Ring Road 3, which is connected to the National Road 3, is also expected since the city government (Phnom Penh) mandated that factories must settle outside the city," he added. 
"Normally, the price of land meant for factory developments in Cambodia is cheaper than land for residential projects. However, when there are enterprises such as factories, residential projects will follow to support industrial projects. And setting aside the National Road 4, the National Road 3 has a lot of factories compared to other areas" Sorn Seap said.
National Road 3 is one of the major national highways in Cambodia. With a total length of 202 kilometres, it connects Phnom Penh to the southern town of Veal Renh where the National Road 3 and 4 meets. 
A 20km portion of National Road 3 is being rehabilitated to host two big events, namely: Kampot's Sea Festival, the three-day event organised by the Cambodian government to promote the country's tourism attractions will happen on December 27 to 29, 2019, and the "1st World Cycling Tour of Cambodia Bay", an international cycling tournament hosted by Cambodia, where cyclists from around the world will race on Cambodia's coastal roads on January 2020.
For ordinary folk like An Chanthla, who saw his fortune multiply in a matter of months, every bit of development along Cambodia's major roads serves as a boon for people like him.
"We can sleep better at night, worrying a lot less about our jobs," he paused and said, "We see a bright future ahead because our land is giving us hope."
If you're interested in learning more about the development of Cambodia, download our Investment Guide 2019
Find out more about our Cambodia Real Estate Awards 2019 here.

Article by: