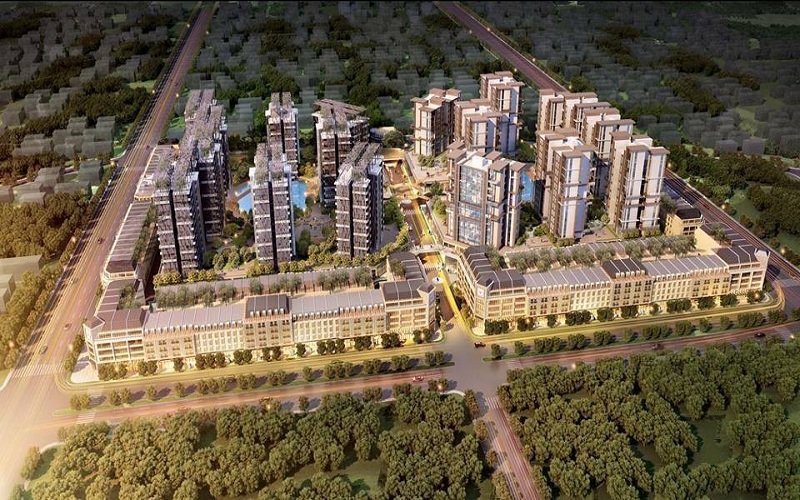 One Park Condominium represents one of Cambodia's most sophisticated and holistically-planned mixed use developments yet. Covering a total landed area of 7.9 hectares, and a floor area of approximately 2.5 million square feet, One Park is situated in the very heart of the Phnom Penh CBD, inside the newly-developed Phnom Penh City Center area - which is adjacent to the ministerial and financial hub along Confederation de la Russie or Russian Boulevard.
Given that the area has been recently developed with no prior structures on the land, the developer, Graticity Real Estate Development (GRED), was presented with an opportunity to plan the entire development layout from the outset, unrestricted by surrounding buildings, caveats or infrastructural limitations - a unique proposition in inner city Phnom Penh.  
This has resulted in a design which ensures state of the art base level infrastructure, a relatively low-density design throughout, North-South facing buildings, and a project that is designed with natural forces considered - thanks to in depth studies by the developer on wind flow and shade patterns.
Furthermore, thanks to One Park's central "Parking Podium" concept, the project has a discreet, centrally located car parking facility with over 1,600 self contained car parks. The retail area also caters for fully-off street parking for all owners. These features create convenience for residents and will protect the project from any congestion issues into the future.
The layout of the project comes in european style, with wide boardwalks containing retail outlets, bars, cafes and restaurants encircling the entire complex, meeting in the center to create an internal plaza boulevard which cuts between the twin residential sections. The centerpiece of this plaza will be a statue of Eros, better known as cupid - a concept imported from Piccadilly Circus in London. These retail and shophouse units are now almost 100% sold.
At the far end of the shopping plaza will be an international school, creating traffic flow for the retail outlets and a buzz of culture inside the One Park complex. Opposite the development, residents will also have access to various green spaces and sporting amenities. Again, wide roads and township planning is assured in the surrounding neighbourhoods of Boeung Kak.
Starting from just $170,000 per unit, One Park condo units are sleek, modern and spacious, with fully furnished options available, thanks to GRED's partnership with DP Architects Singapore, a renowned architectural design firm. Common areas include swimming pools, gyms and children's play areas, with a high proportion of green features maintained throughout the complex.
The end result of the One Park design is a truly international product, and a product that will hold its value for decades to come.
Graticity Real Estate Development (GRED), the developer behind One Park, is a Hong Kong based real estate development company with a wealth of experience completing grand scale projects to spec, always uniquely tailored to the surroundings and cultural context.
Having broken ground in H2 2015, construction is racing forward at the One Park site, under the experienced guidance of China Construction 2nd Engineer Bureau, with over 1,200 workers currently on site, and 24 hour construction works. This means that the Phase 1 of shophouse and retail units will be ready for handover as soon as Q1 2017; and the first phase of  around 1,600 condos will be released to residents by the end of 2017. The international school, within the One Park complex, will be operational by 2018.
Find out more about One Park today and secure your place in the new world of Phnom Penh!