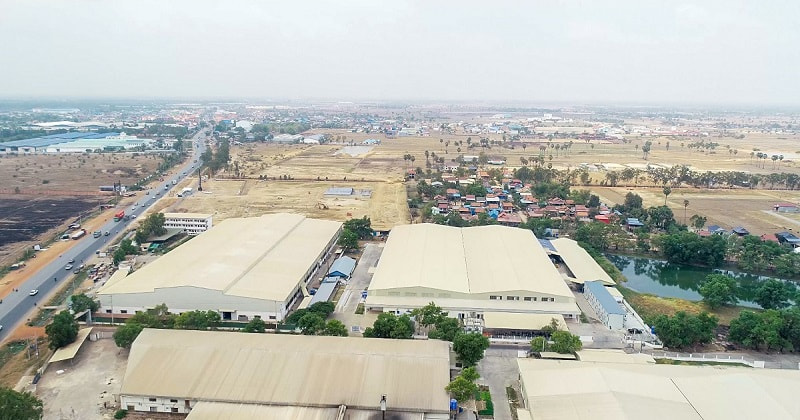 Real estate experts and developers encouraged local investors to invest in building warehouses and claimed Cambodia is in need of more warehouse spaces as the country's industrial sector continues to grow rapidly.
During his opening remarks at Realestate.com.kh Expo 2019 last Friday at NagaWorld Hotel, organised by Cambodia's leading property search platform, Realestate.com.kh, Cambodian real estate mogul and Chairman of WorldBridge Group Okhna Sear Rithy has called for local investors to build warehouses while the majority focuses on building condominiums, offices spaces and boreys.
He believed it will generate more income compared to other types of real estate developments and at the moment warehouse developments are prominently invested in by foreign investors.
"I can guarantee that if we have capitals and resources to build warehouses at the suburb of the city, we will earn good revenues," he said.
"If we build warehouses for rent, the business will generate at least 8 to 10 percent in return while renting a condominium can only generate us 5 to 8 percent," he added.
A report by V Trust Appraisal revealed the number of industrial enterprises in Phnom Penh grew tremendously from a small base of 31,000 square meters of industrial space used in 1998 to about 1.58 million square meters in 2018.
Heom Seiha, V Trust Appraisal's research director, predicted the total land size for the garment sector in Phnom Penh will reach nearly 2 million square meters by 2030, virtually twice the size of space needed in 2018.
"The garment sector, including clothes, leathers, and shoes productions, took majour lead in industrial growth in Phnom Penh city, not to mention the whole Cambodia," he said, adding that the garment sector occupies about 70 percent of total industrial space, followed by food and beverage processing and packaging.
Lim Heng, Vice President of Cambodia Chamber of Commerce told Realestate.com.kh that the rise of foreign investments in the last few years has driven the demand for storage spaces and has made it hard for investors to find warehouses to rent.
"There are no warehouses for rent inside industrial zones at the moment. This is because a large number of companies are currently using the existing ones," he said.
A new report released this month by ADB shows the economy of Cambodia will continue to grow in 2019. ADB predicts that Cambodia's GDP will grow 7 percent this year and 6.8 percent in 2020.
The report noted the country's industrial growth was robust due to a surge in production of footwear, and travel goods, which led to a revision from 10.1 percent in ADB's April forecast to 10.6 percent, it said.
Okhna Cheng Kheng, Chairman and CEO of CPL said more Cambodians are interested to invest in warehouse developments given the rising demands of warehouses due to the rapid increase in foreign investments.
"Demands for factory spaces are increasing, thanks to the growing inflow of factories from China to Cambodia," he said.
Want to find out more about housing types in Cambodia? Read our Investment Guide 2019.
Article by: