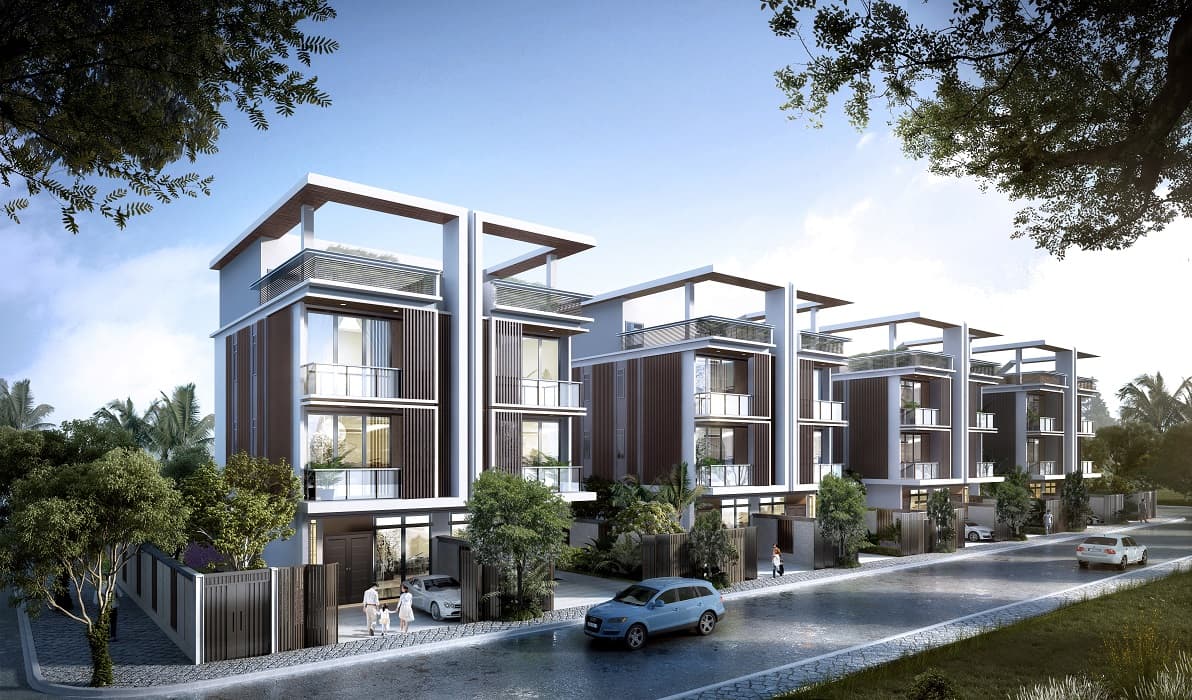 Borey Nadi is a brand new borey development in Chroy Changvar district with a unique take on modern community living. Supplied.
Cambodia's continuing struggle with its latest COVID-19 wave is keeping most people indoors, and with more people indoors, the fewer people there are in showrooms. But the preference for land, and the homes that come on top of it, remain a top choice for many Cambodian buyers.
According to Realestate.com.kh's upcoming Real Estate Survey 2021, around 66% of its more than 2,000 respondents chose Phnom Penh as their choice of location. Top districts in the capital for landed property are somewhat tied between Sen Sok at 22% and Chroy Changvar at 21%.
Sen Sok is known for its vast flatlands with increasing infrastructure that support both residential and commercial developments. It also does not hurt that the biggest mall in the city, AEON Mall Sen Sok, is located in the district. Realestate.com.kh previously reported that Sen Sok is one of the districts with the lowest median sale prices for property in Phnom Penh.
The peninsular district of Chroy Changvar itself is seeing continuous interest from both borey and condominium developers. What Chroy Changvar lacks in its commercial appeal, it certainly makes up for in its natural beauty and suburban living that has become popular among property seekers. This combination has attracted many interesting developments such as Borey Nadi. This borey is a new development in Chroy Changvar that boasts a modern take on community living with its aesthetics and even has cherry blossom trees within its premises, just to name a few of its features.
Interestingly enough, the survey also gathered that Cambodian respondents maintain a strong preference for land and landed properties when it comes to property choices. Around 45% chose land as the property they are most likely to buy. Landed properties such as shophouses and villas trail at 22% and 16%, respectively.
Apartment units come in last of residential properties at 13% among surveyed Cambodian buyers. The remaining 4% is split among commercial and industrial property choices. However, foreign buyers who participated in the survey overwhelmingly chose apartments as their primary choice - unsurprising as foreigners cannot hold landed properties in the country.
A majority of Cambodians are still interested in buying property while a third are choosing to save money for future purchases/investments. The severity of the Feb-20 event continues to streak across the country leading to a significant amount of respondents interested in a new home indicating that they are unsure of when would they will be buying.
Despite slowdowns in property market activity, infrastructure projects by the government have not ceased. It is a given that infrastructure, particularly in transportation, are generational developments that would take years if not decades for its return on investment. Authorities pursuing these long-term plans during an economic lull help maintain the future potential of many landed properties in and around Phnom Penh.

Article by: