Most people dream of living in a house near the clean, blue ocean, surrounded by mountain ranges, with only fresh, clean air to breathe. With this dream in mind, increasingly foreign investors are coming to Cambodia to build the first condos on the seaside.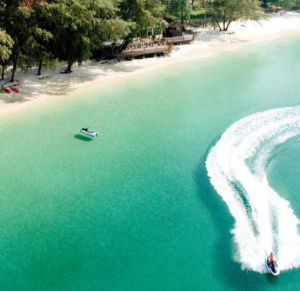 After Phnom Penh city, Sihanoukville is the latest destination to attract attention from international condo developers. Currently, there two Sihanoukville condo projects underway by Singaporean investment companies, namely Sunshine Bay and
D'Seaview
. The lush views of the seaside in Sihanoukville are attracting Khmers and foreigners alike for vacations and leisure, hence developers of resorts and apartments are coming too. The director of Khmer Real Estate and CVEA president, Kim Heang, is happy to see growing investment in Sihanoukville and said that although condo projects are coming too soon for market demand, eventually people will want to live there. At present, he said some people don't know how to live in condos and there are only a few people buying or selling property there. He continued to say that whether the two projects currently under construction are successful or not, will depend on the ability of the companies to persuade customers to buy, to build to high quality standards, and their ability to allow customers to pay step by step. This is because some companies have announced they will sell buildings prior to construction - but Heang worries these companies will never build the buildings. They appear to be waiting for money from buyers in order to pay for construction costs. He said some investors who invest in Sihanoukville condos may be successful because they will be pioneers, and partnering with well known Singaporean companies. Kim Heang believes that currently, investing in Sihanoukville hotels and guesthouses is increasingly popular and successful and maybe a better option than condos. Sunshine Bay invested 100 million dollars to buy 10,800 square meters of land on the Sihanoukville coast. It will build 3 condo towers, totaling over 700 units. Construction should end by 2019. Two 25 story towers will be condos, and one 35 story tower will house a hotel. The
D'seaview project of Camhomes
company will have 735 units over two towers. The HLH Group has invested around 50 million dollars in the project. Construction will be completed at the same time as Sunshine Bay - in 2019 as well. Having opened a new office in Sihanoukville, director of Town City, Vorn Chanthorn, said condos are a new market concept for Sihanoukville people. Condos may be well-suited to some wealthy families who can afford a holiday home that they can use intermittently for vacations, or otherwise rent. He says selling condos is easy in Sihanoukville, but that success depends on the price per unit and the honour of the company developing. Investors often visit the coast for leisure, especially the Chinese, therefore it will naturally attract more investors in future. Director of Lucky Real Estate, Dit Channa, said the Sihanoukville condo market in Sihanoukville will be very good after people's lifestyles change to a point where living in condos is understood as good and acceptable. Condos are modern and comfortable and these new projects will bring great variety and modernity to the Sihanoukville market in the near future. He added that Sihanoukville condo projects will be successful - but it will take a long time to come to fruition. The vision of the government is to develop industry through 2015-2025, and Sihanoukville is set to be the hub of this industrial development. It has great potential as it has direct access to the nation's largest shipping port and an international airport. In December 2015, the government announced that Koh Rong island will become a city and a special economic area of Sihanoukville for national and international tourists increasing every year. Sihanoukville airport now welcomes more and more flights from China, Korea and Siem Reap province. Realestate.com.kh is proud to support the CVEA's Property View publication.
Click here to get your copy, or if you are interested to join the CVEA today.