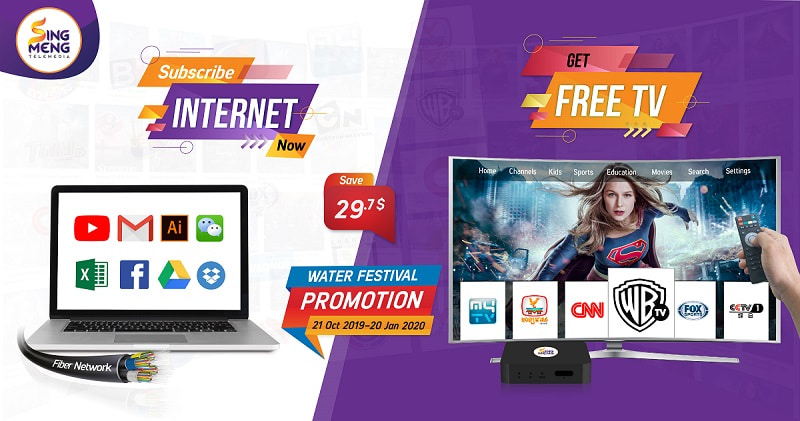 Subscribe to SingMeng Internet & Get free SingMeng TV
In less than three years, SingMeng Telemedia has become one of the major Internet & TV providers in Cambodia. The company focuses on services provision to real estate projects but its solutions and products are also available for individual users.
SingMeng Telemedia has launched a new promotion to celebrate ''Water Festival'', a significant yearly tradition, with the Cambodian people. This promotion includes three months free trial on TV solution. This promotion is available to current Internet customers. They are not obligated to subscribe to the TV solution after the trial period ends if they don't wish to continue.
Promotion details:
Subscribe for 6 months or 1 year to SingMeng Internet & Get three months free trial on TV solution.
• Subscribe 1 year get three months free trial without deposit
• Subscribe 6 months get three months free trial plus $30 deposit
• Deposit is refundable and can be used as a service fee.
• Promotion is available for current & new customers.
Learn more here! 
What are the benefits being offered?
SingMeng TV represents a new step in the TV entertainment industry. This TV solution offers multiple new benefits to its customers. Major benefits include:
• A real HD TV viewing experience
• More than 110 live TV channels
• Hundreds of movies & dramas on demand
• Time Shift Program system
• Direct access to YouTube, YouKu & iQIY Apps
• Multilingual Intuitive and Interactive Interface
SingMeng aims to provide the best TV solution and great TV viewing experiences with more benefits to the Cambodian people and their family. With these 3 months, Free trial on their TV solution, SingMeng Telemedia want to show to their audience that a better TV solution is present on the market and this solution is ready for them!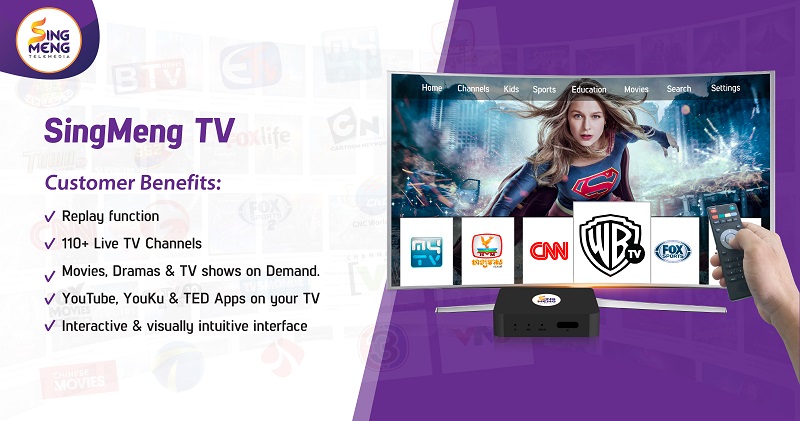 What kind of content is available on SingMeng TV?
During this three-month free trial period, customers will have access to all SingMeng TV content.
After being able to provide all the Khmer, live TV channels, the company has decided to continue to invest in this area and to offer exclusive worldwide content.
Nowadays, SingMeng TV provides 109 Live TV channels, including 21 Khmer channels, 33 Chinese channels, 53 International channels and 3 gaming channels. In less than three years, the company launched its own channels as well as several premium channels, like Fox Movies Premium, Warner TV, Fox Sports, Discovery or Natural Geographic.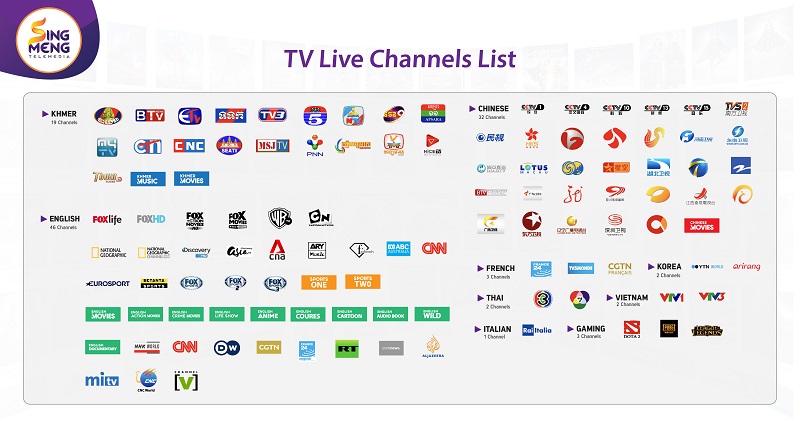 Get your free TV:
For more information:
SingMeng's website
SingMeng's Facebook page 
Hotline: +855 96 6661 888/ +855 89 966 888
Want to find out more about housing types in Cambodia? Read our Investment Guide 2019.
Registration for Cambodia Real Estate Awards 2019 is open.