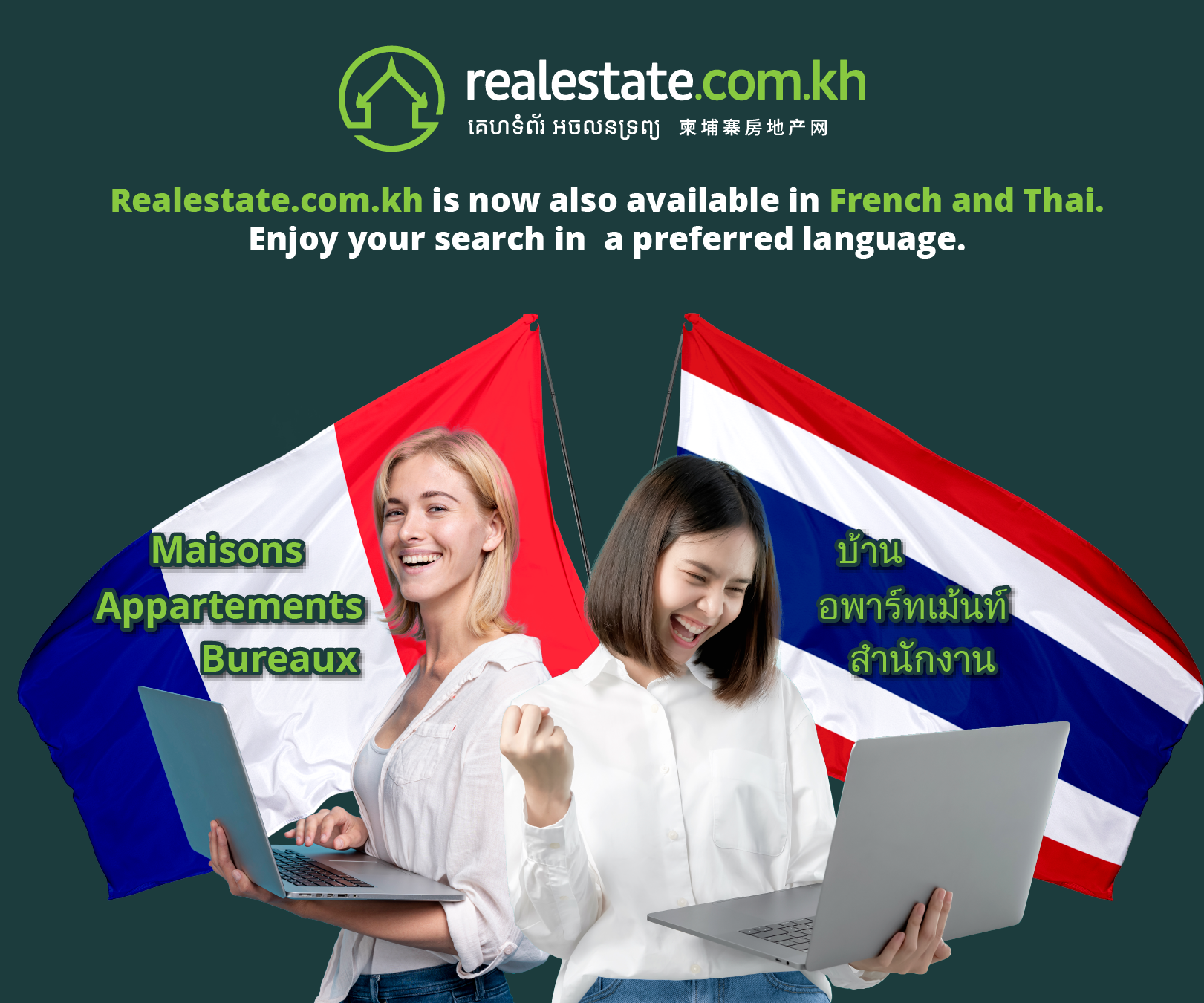 Big News! Realestate.com.kh has just released two new languages on its site and app. Now users can browse for properties and engage with agents and developers in Thai & French. The move to add these languages is in recognition of the widening cultural and economic relations Cambodia has with Thailand and France.
Thailand and Cambodia's trade relations have swelled from $6 billion in 2017 to almost $8.5 billion in 2019. The trade between the neighbours mainly consisted of agricultural products, manufacturing equipment, and especially home appliances that meet the Kingdom's increasing residential development.
"The growing trade relations between Thailand and Cambodia is an opportunity for the country's real estate sector. The government has made it easier for foreign investors to enter the country, and we feel that a Thai language domain of Realestate.com.kh would help further the interest of Thai investors in developing Cambodia's property market" according to Thomas O'Sullivan, CEO of Realestate.com.kh.
France and Cambodia have enjoyed more than a century's worth of relations. The French government, through the French Development Agency, has contributed more than €400 million to multiple sectors in the Kingdom such as infrastructure development, agriculture, tourism, human resource development, and manufacturing, particularly with garment and textiles. France is also home to multiple generations of Cambodians who largely sought refuge during Cambodia's civil war period.
"France and Cambodia have a long history of cultural exchanges between them, and each has nurtured a healthy community of expatriates within their respective borders. The introduction of French on Realestate.com.kh allows us to serve these communities better such as the French expat community living and working in Cambodia, and the Khmer community in France looking to invest in their home country," said Thomas O'Sullivan.
The introduction of Thai and French has also been integrated with Realestate.com.kh's real-time translation feature available to everyone who uses the Realestate.com.kh chat function. For the first time, Thai and French speakers can easily communicate with each other seamlessly as messages will automatically be translated into their preferred language.
This update has been launched and is live on Realestate.com.kh as of posting time.
Stay up-to-date on the real estate industry in Cambodia and get real-time updates on real estate news as they happen. Download the Realestate.com.kh App now!

Article by: