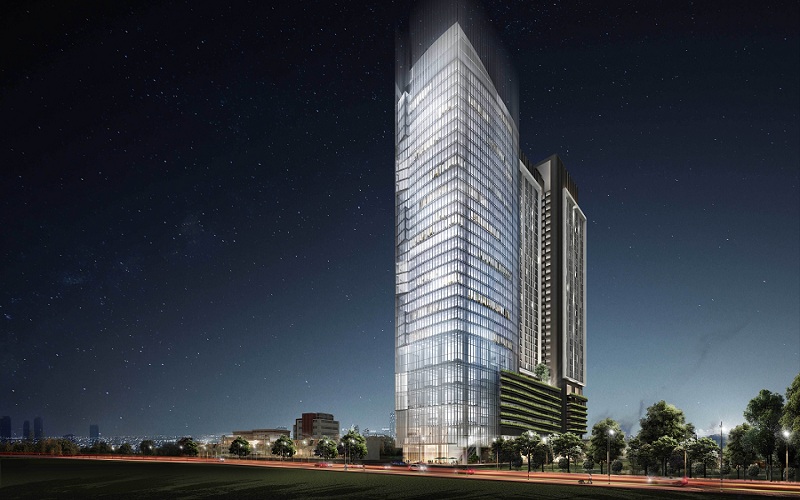 Citizens and investors of the country will soon be able to work, play, and live in The Gateway Cambodia – a prime new development property that's set to change the urban landscape of Phnom Penh city.
The Gateway will be a freehold mixed use development that will include residential, retail, and office options for local and international investors.
The development will see the rise of an ample 7-storey car park and 2-storey retail podium, a 39-storey residential tower, and a 36-storey office tower. It will also feature a sky terrace and a basement car park on its residential tower. There will be a total of 299 office units and 572 residential units in the project.
The residential units will range from one to three bedrooms and will have luxurious fittings and private balconies to match. These units will offer a guaranteed 6 percent return per annum for two years. For buyers who commit soon, there's an ongoing "Star Buy Promotion" for a limited number of residential units; One bedroom units start around $130,000 range; two bedroom units start around $200,000 range; and the three bedroom units start around $250,000 range.
The office tower will have a helipad, a double-glazing glass for heat reduction, 8 elevators, and a separate fire elevator for safety. Uniquely, The Gateway offers the only Grade A offices for sale in the Phnom Penh Central Business District area. These units will offer a guaranteed 8 percent return per annum for two years. There's also sound potential for capital return due to the high demand in the Phnom Penh office market segment currently - as the city transforms into an epicenter for inter-Asean manufacturing and trade.
The Gateway Cambodia will be carefully crafted using quality construction materials by a competent set of local and international industry experts. The developer, TACC (C.R.) Ltd., have utilized the services of 2nd Edition Pte Ltd for the interior design, award-winning Mr. Lim Koon Park of Park + Associates Pte Ltd for the architectural design, KCL Consultants Pte Ltd as the structural engineers, and United Project Consultants Pte Ltd as their M&E engineer.
The developer has around 40 years of construction experience and 15 years of real estate experience in Singapore, and is currently listed on the Singapore Stock Exchange.
The Gateway Cambodia is set to reach completion by December of 2019. It will be strategically located along Russian Boulevard. It is one of the only major roads in the country from the airport to the city centre that has no flooding potential. This transit route is also undergoing significant development to maintain its usability moving forward into the next decade of Cambodia's growth.
Located just 15-minutes drive from Phnom Penh International Airport, The Gateway will be the tallest building from the airport to the office of the Prime Minister. It's also near important establishments and amenities such as the Ministry of National Defence, the Thai-managed Royal Phnom Penh Hospital and a host of world-class International Schools and respected Universities. Parkson Mall is also underway along the same boulevard, and is set to become Cambodia premier retail mall complex.
It's also close to the Phnom Penh City Center development site, a huge tract of land under development on the former Boeung Kak Lake, which is the only area in the country with a full master plan. According to the developer's source, a future MRT station will also be built near The Gateway project.
The developer's research shows high potential for return and a doubling of capital appreciation every 5 years due to high foreign direct investment from countries like Japan, Korea, Europe, and China. There will also be a guaranteed 6 percent to 8 percent yields per annum.
Take a look at the development if you want to find a space that promises convenience, comfort, and luxury in a city that is rising dynamically in the ranks of Asean. You don't have to settle for anything other than The Gateway.