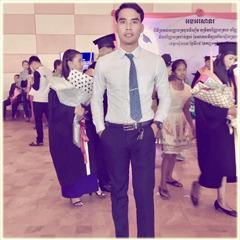 VANNPHOL CHUON
Real Estate Manager
Giant-Estate is a locally owned and established complete real estate services agency in Cambodia. We experienced and very knowledgeable about the local real estate market. We are willing to serve the needs of our beloved customers first and we have many years' experience working as an agent in Cambodia.
Because of Cambodia is a developing country, the Real Estate sector is also developing very quickly. It can be hard to keep up with the current real estate market situation. However we will try our best to find well priced properties and take them to your attention.
What we do!
Giant-Estate is focused upon the Real Estate industry in Cambodia and we specialize in listing (Both for rent and for sale) all property types including:
House
Apartment
Condo
Flat
Villa
Borey
Hotel/Guesthouse
Building/Office
Land
Warehouse
We aim to provide every client with a high quality service so that they can trust us to take care of investments that are important for them.
Why you should choose us?
Giant-Estate has a number of values that we find important to provide a high quality service to all our customers.
We are:
Reliable
Honesty
Integrity
Transparency
Commitment
Innovation
Passion
Note: Our services performance are free of charge!
Need help?