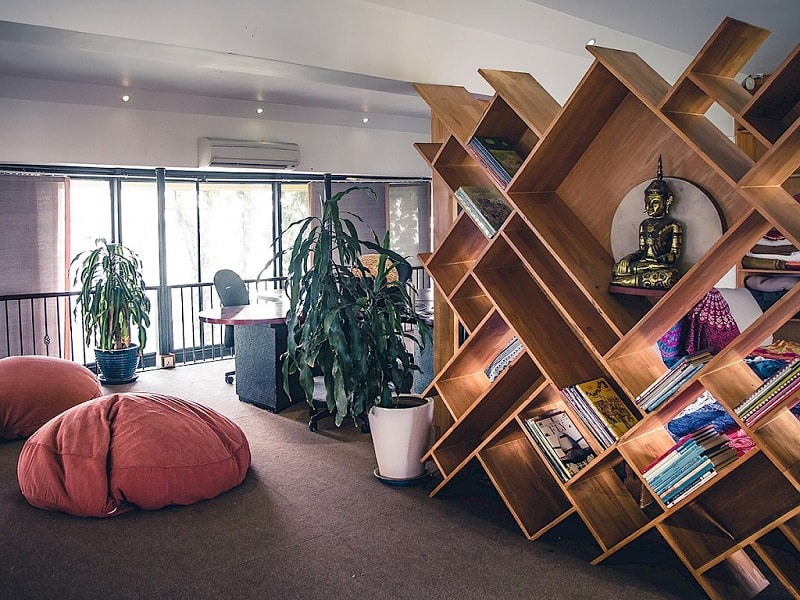 Imagine a future where no one goes to an office, but rather, does all their work via the internet. This may seem like science fiction. The independence of being a freelancer, entrepreneur or digital nomad is becoming a reality for more people every day, however.
There are a wealth of options for finding office space in Cambodia. A report from CBRE Cambodia showed that, over the third quarter of this year, office space supply grew by 4.6% over the previous quarter. What's more, occupancy rates also increased by 4.7%. Real estate sources have estimated that new projects next year will bring over 112,000 additional square metres of strata-titled office space to the market. 
On the other hand, as the population becomes more urban and more connected via tech, startup culture and opportunities for small- and medium-sized enterprises (SMEs) are growing. However, these enterprises often have trouble securing capital. Coworking spaces are mitigating this problem.
Coworking spaces usually offer up desk space, internet and other office amenities for a daily or monthly fee. They are a niche market at this point, but could soon be integrated into new mixed-use developments. Indeed, they could be another outlet for developers and landlords wanting to hedge their bets in larger complexes. Here's a guide to all of Cambodia's coworking spaces.
Coworking spaces in Phnom Penh:
Phnom Penh is where most of the Cambodia coworking spaces are. They all have a different vibe, to be sure. Luckily, we've given the most prominent ones a short profile here so you can decide which is the best one for you.
Impact Hub - The revolutionary coworking space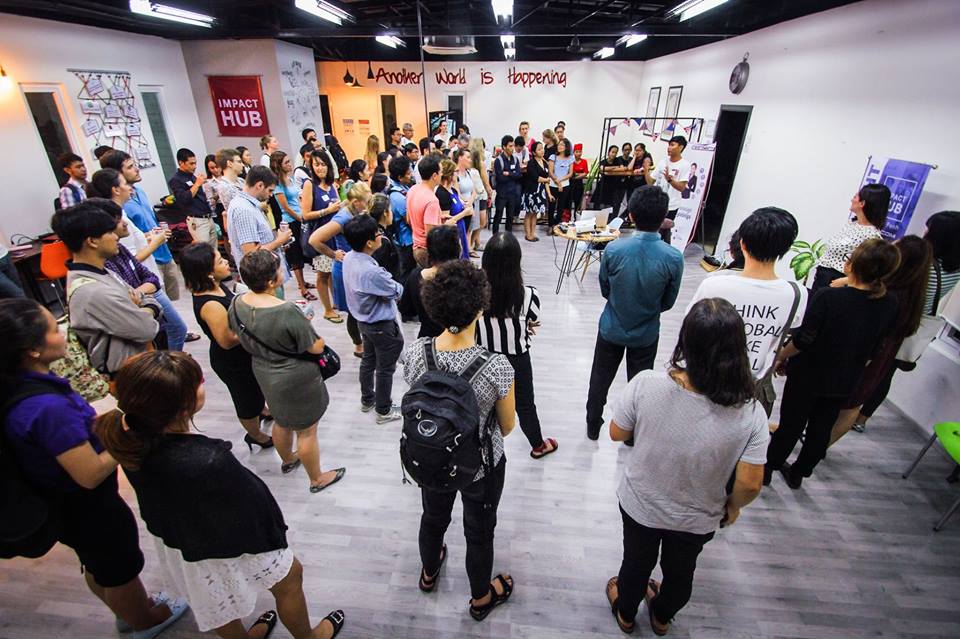 Located in the heart of Phnom Penh's BKK1, Impact Hub aims to be more than just a place to work. They have tons of incubator programs and community events. They emphasise a connection to their global network and push towards social innovation.
Impact Hub has a wide range of payment plans that cost anywhere from $35 to $275 per month. If you're only in the Kingdom a short time, they have drop-in memberships for $10 per day or $40 per week.
Weighing in on the startup culture in Cambodia, Impact Hub's director of venture support, Melanie Mossard, said the community of Khmer entrepreneurs there was mostly young graduates who were eager to bring innovation to the country.
"The most pressing challenges for local entrepreneurs are getting access to capital, building communications skills for the business sector and developing human resources," she noted, explaining that Impact Hub was adding even more programs such as mentorships, masterclasses and an Innovation Space.
The Factory - The urban coworking space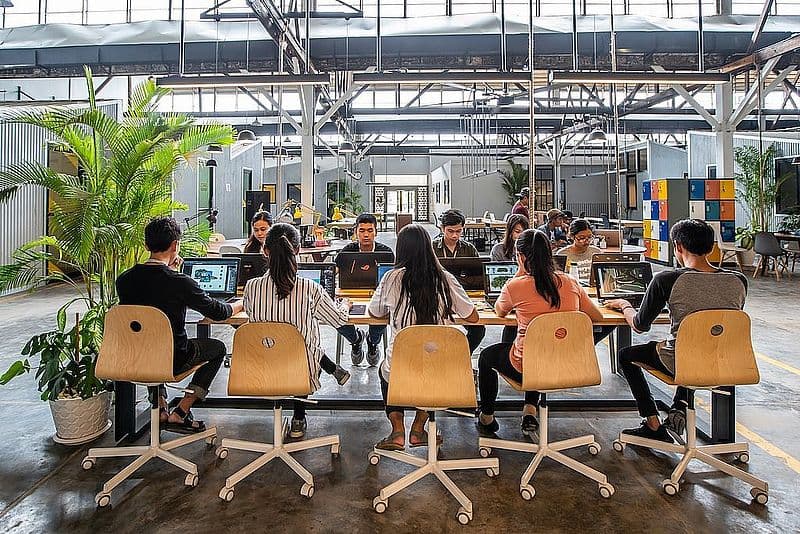 Just off National Highway 2 south of Phnom Penh, you'll find the stylish Factory complex. The name says it all as this compound was set up in what used to be a factory. Graffiti pieces adorn the walls, and there's a bike share system. To be sure, there's tons of space here, and the vibes are great.
Space at the Factory's Workspace 1 ranges from $8 for a one-day pass to $120 a month for access to more features. Full offices can also be rented for between $280 and $500 a month, depending on size. They have more long-term options as well that span as much as 160 square metres.
According to the Factory's Corbett Hix, a little over half of the visitors to Workspace 1 are foreigners, while the rest are local freelancers and startups. The rest of the campus, however, is occupied mostly by local businesses. He echoed the claim that finding financing is a significant challenge. However, Hix said that coming up with new and creative ideas was also an area that needed improvement.
"The truth is, despite the lack of a mature banking sector, there is a lot of private money floating around this country looking for an investment ...What we're trying to do here at Factory, over the long term, is provide a place of inspiration, a place that will help cultivate original business ideas," he said, adding that they wanted to provide training covering the less exciting parts of starting a business.
"For those who can demonstrate they have the drive to put in 12-hour days for months on end, make sacrifices and learn everything to transform an idea into reality, Factory is here to cheer you on."
Emerald Hub - The startup coworking space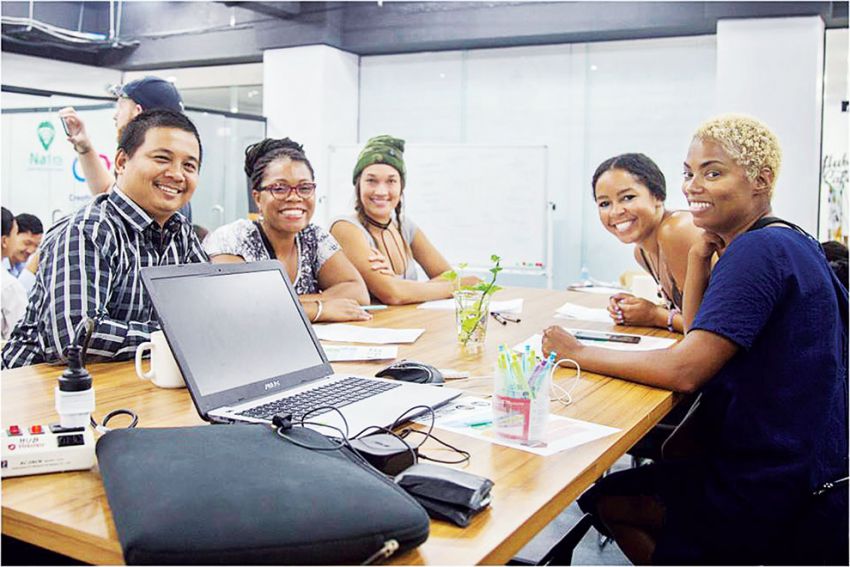 With Phnom Penh locations in both 7 Makara and BKK3, Emerald Hub's coworking spaces seem to be tailored directly to the startup crowd. They boast a ton of community programming, mentor programs and partnerships with big names such as Smart and Sabay Digital.
Day passes here are $7, but monthly passes can also be purchased for around $60. Everyone seems to be raving about the community here. You will get a feel for the local business scene if you spend enough time here. 
Chea Mara, Emerald Hub's general manager, said that 90% of the workers there are locals who are either long-time freelancers or part of established enterprises.
"I think commitment and business operations are the biggest challenges for entrepreneurs in the country," Mara said, adding that they were spearheading a program for university students called WeStartup.
SmallWorld - The original Cambodia coworking space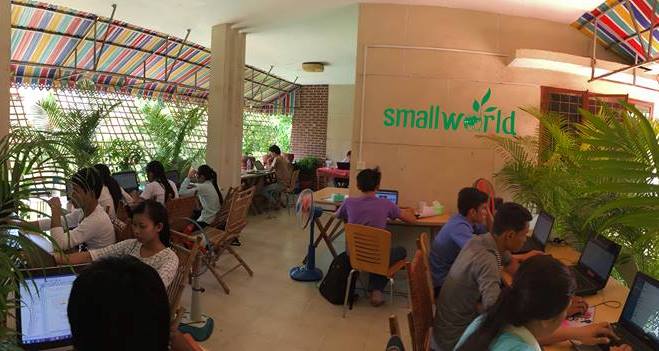 Touting itself as Cambodia's first homegrown workspace, SmallWorld is set up in the capital's Tuol Kork district. Affiliated with Emerald Hub, this place was founded by local maverick Rithy Thul back in December of 2011.
Prices here are in line with other spaces around Phnom Penh. They charge $7 a day, $30 for a weekly pass and $100 for a month. Private offices with air conditioning are also available for between $225 and $350 per month.
The Desk - The micro-office coworking space

Selling itself as a space for micro businesses in the ramp-up stage, The Desk aims to provide a community around their Tonle Bassac office. In addition to offering free mentorships, the organisation behind The Desk has ties to other coworking spaces in the region so they can facilitate travel between them for those on longer trips.
A single desk here starts at $60 a month. Other plans are tailored to larger groups, such as the private offices that cost $350 per month and can accommodate six people. 
Norith Kim, a co-founder of The Desk, said that around 30% of the patrons there are foreigners, but the rest are mostly young local entrepreneurs. He added that there was no shortage of passion or enthusiasm in the country. However, he said the biggest challenge for newcomers is often establishing an airtight plan and assembling all the necessary skills.
"Most of them are just inspired to run the business without a solid plan. They need to invest at least three to five years working for different companies so they can build their capacity before investing in [their own] business," he urged.
Sahaka - The inspiring Cambodian coworking space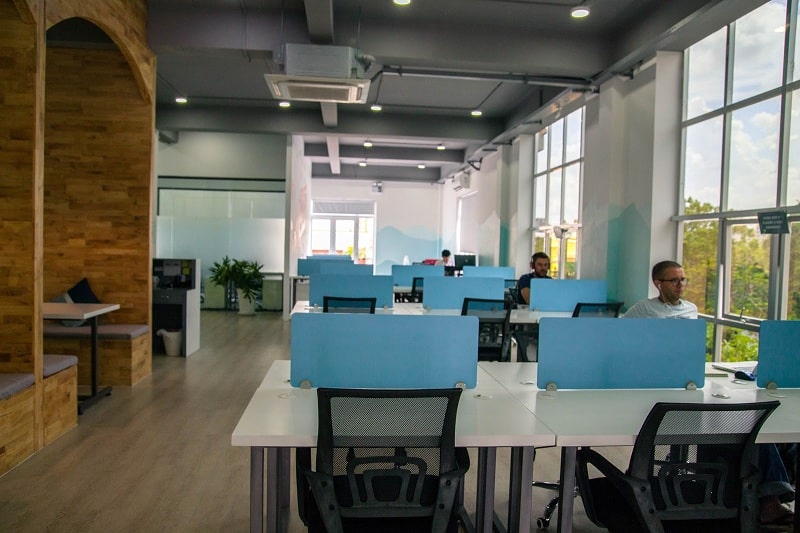 Founded by four local ladies, this space on the south end of Phnom Penh aims to bring fresh ideas to the market. Indeed, they pitch Sahaka as a space that is both affordable and professional. 
If you're keen on starting a business in Cambodia, this could be a place you want to visit. In addition to coworking facilities, they also offer consulting services on business registration and tax compliance in the country.
Prices here are $8 a day or between $50 and $350 per month. Even if you aren't looking for desk space, they host some great training seminars and lectures from regional experts.
Trybe - The Cambodia maker space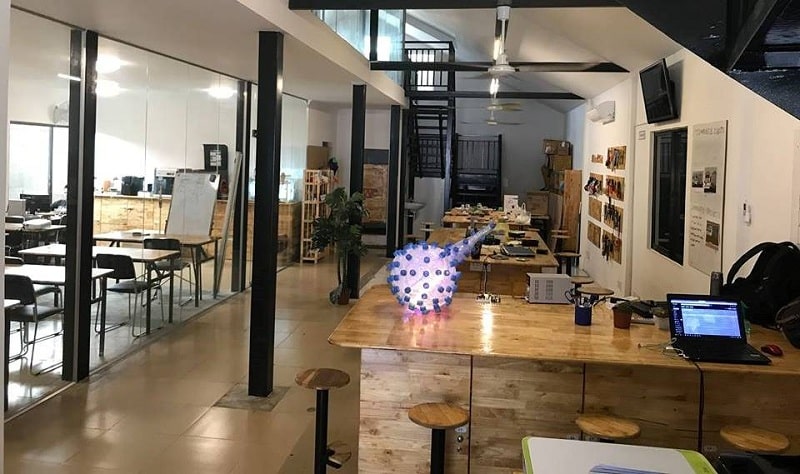 With the rise of 3D printing technology, manufacturing and prototyping are becoming easier for startups. Many voices in Cambodia have called for more value-added manufacturing and tech assembly in the country, to counter the reliance on the low-skill labour jobs in the garment industry. Trybe seems intensely focused on startups that are making and building things.
If you see yourself as an inventor as well as an entrepreneur, Trybe is probably where you'll want to be. They host 3D printing and design classes, too, as well as robotics and technology programs, so it can be a great place to learn a new skill. The space is located just off Monivong Boulevard near the French Institute.
The Outpost - The boutique coworking space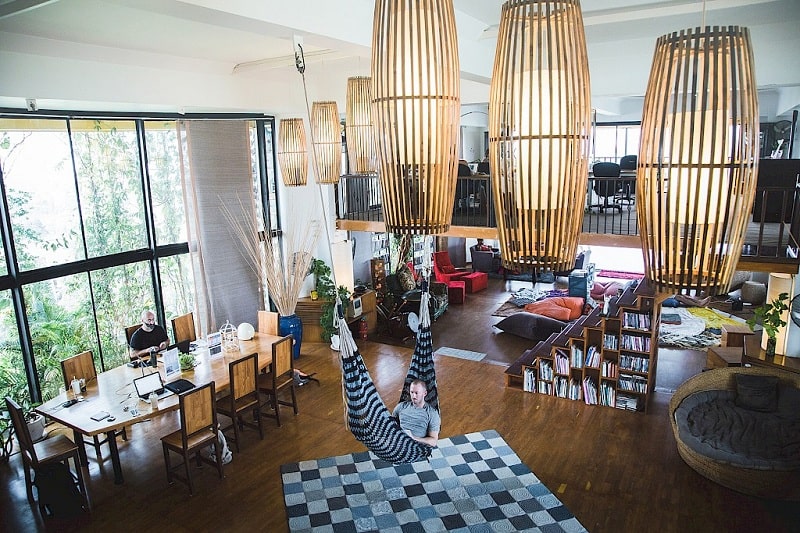 Relatively secluded on the Chroy Changvar peninsula is Outpost, a co-living and coworking space that offers up a well-tailored experience. They are on the top two floors of a green penthouse and boast balconies, a library and even meditation areas. 
Workspace here will only set you back $5 per day, $19 per week or $65 to $75 per month. Accommodation, on the other hand, ranges from $33 a night to $1,347 for three months and includes workspaces access.
David Abraham, a co-founder of Outpost, explained that after first establishing in Bali, a regional startup hotspot, the group was attracted to the spirit and enthusiasm in Cambodia.
"When the opportunity came up to be in Phnom Penh, but off to the quieter section of town, in our oasis, we decided to take the opportunity.  We collaborate with the Yellow Tower, offering our advice and thoughts on what makes a good community."
Abraham added that the living space saw a mix of first-time travellers and established entrepreneurs. At the coworking space, however, it was a vast mix of locals and visitors. He claimed that the biggest challenges for Cambodian startups are access to capital and ties to a broader market.
"There are many great ideas that should find a way to other markets.  But the entrepreneurial spirit is large, as is the passion."
Map of Phnom Penh coworking spaces:
Siem Reap coworking spaces:
Siem Reap has also seen coworking spaces flourish over the past few years. However, the venues here blur the line between business and hospitality. Here it becomes apparent, however, that coworking spaces still have to compete with the vast number of coffee shops in the Kingdom. The coworking spaces that offer accommodation have guesthouses and hotels to contend with as well.
AngkorHUB - The digital nomad space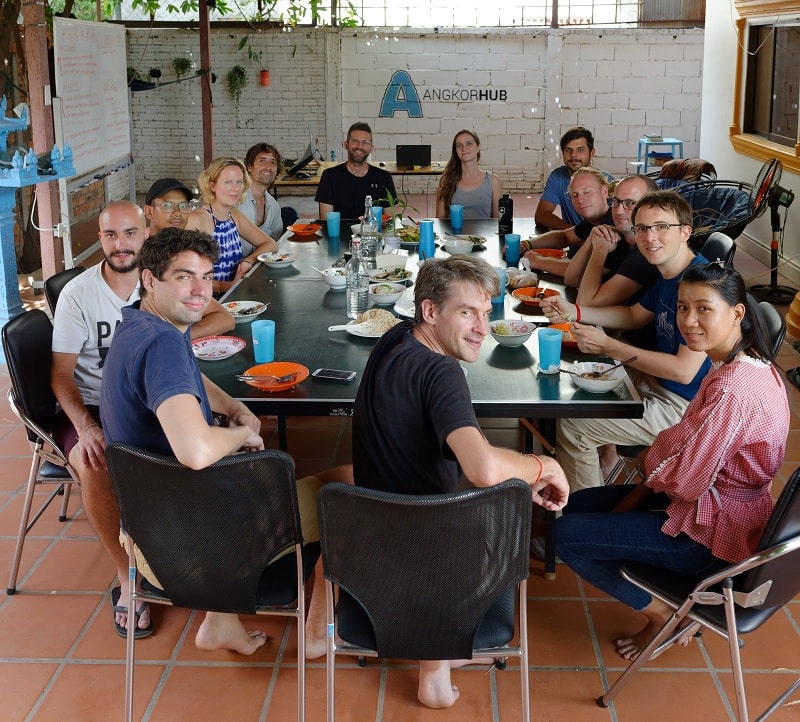 Siem Reap's AngkorHUB was one of the nation's first coworking and living spaces with a social mission when it began operating five years ago. Since it has both workspace and accommodation on offer near one of the nation's top tourist draws, it's no surprise that it attracts those who work and travel simultaneously.
Their space offers a range of features including SIM cards, airport pickup, food and even a cat named Tyler. They offer plans ranging from $5 a day up to $206 a month. It should be noted that they also have accommodation plans that include access to the working space — these range from $99 a week to $799 a month.
Speaking on the evolution of coworking spaces in Cambodia, AngkorHUB founder Jeff Laflamme said that people are still accustomed to the idea of working for free in cafes. Businesses are evolving, however, and offering more help to new entrepreneurs. Even though a large chunk of AngkorHUB's customers are travellers, Laflamme added that promoting awareness about new working opportunities was a central mission of the place.
"One of the biggest obstacles for Cambodians is that they are unaware of the opportunities of entrepreneurship. The current education system doesn't seem to be addressing the current global workplace shifts," Laflamme said.
BioLab - The coffee lover's coworking space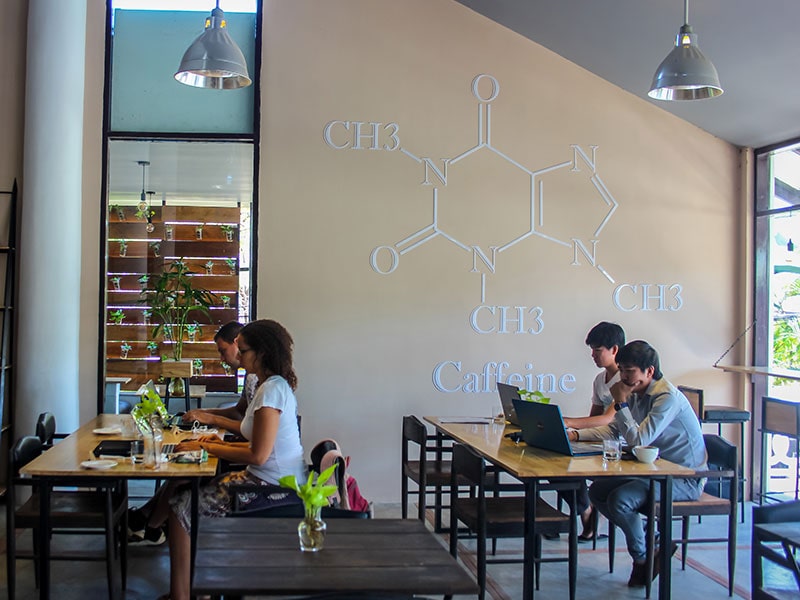 If you love that coffeehouse vibe but want a dedicated place to work, Siem Reap's BioLab may be the perfect middle ground. In addition to serving up java and snacks, this place offers a slew of productivity features. They have printing and scanning facilities as well as stationary available. 
The coffee served in glass beakers, is the focus here. It could be the best choice if you are a new entrepreneur and don't yet want to commit to a more business-focused workspace. Buying food or drinks gets you access here, so it's one of the cheapest options.
BioLab's manager Samnang Chou claimed that the majority of the patrons here are local freelancers. 
"Most of them depend on the flow of tourists. To overcome this they should focus on both local and tourist customers."
Garage Society - The on-the-go coworking space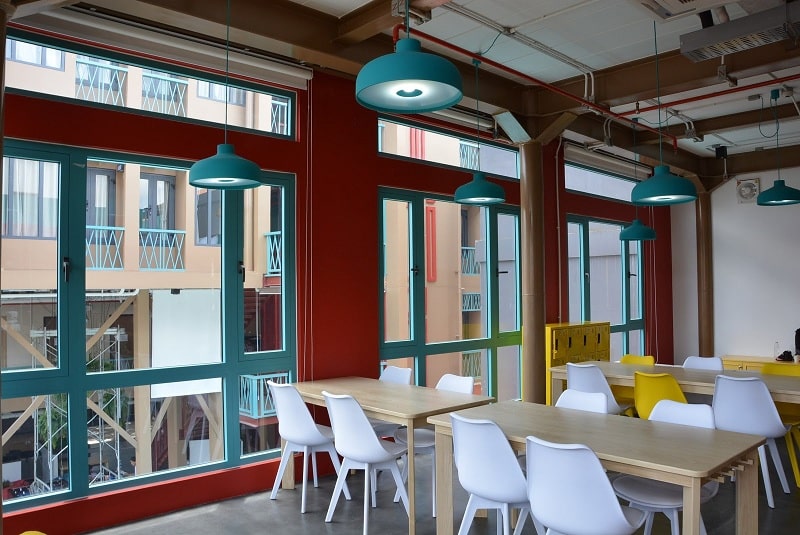 Similar to other spaces in Temple Town, Garage Society caters mainly to the digital nomad crowd. Both accommodation and workspace are available here. Prices here are affordable especially if you are looking for a desk for a few hours.
Starting at $2 for two hours, the plans go up to $25 a week or between $40 and $70 a month, depending on your schedule. Interestingly, a conference room can be rented for just $8 here. The company behind this space is based in Hong Kong. Their building has a unique feel and shows that they understand the needs of entrepreneurs.
Nancy Wu, senior marketing manager for Garage Society, said that the majority of workers there were in town for just a short time. Locals stopping in were usually either students or NGO workers, she added.
"One challenge we see is a focus on local markets and lack of exposure to an international network. Through our Garage Commons platform, we connect members in our spaces across South East Asia, Hong Kong and India," Wu stated, adding that a core part of Garage Society's growth comes from its community programming and connecting to a broader entrepreneur ecosystem.
Map of Siem Reap coworking spaces:
A niche market
It's astounding how quickly this small ecosystem has sprung up. Coworking spaces are still out of reach to some entrepreneurs and freelancers. 
One local freelancer, who wished to remain anonymous, said that she occasionally visited The Outpost, but frequently worked in cafes when work was less consistent. 
"I wanted the stability of printer access, consistent wifi and air conditioning. [The Outpost's] facilities are great because they work hard to build a community, which is something I miss with freelance work," she said, adding that fostering startups and SMEs is pivotal in the country.
Factory's Hix also reflected on the considerable impact that startups can have, provided that owners are willing to put in the work.
"Being an entrepreneur is a hellish endeavor that, more often than not, fails. But when it works, it can be much more rewarding than the financial return."
If you want to elevate your business skills to the next level, download our free Investment Guide. It's got a full rundown of everything about enterprise in the Kingdom!

Article by: