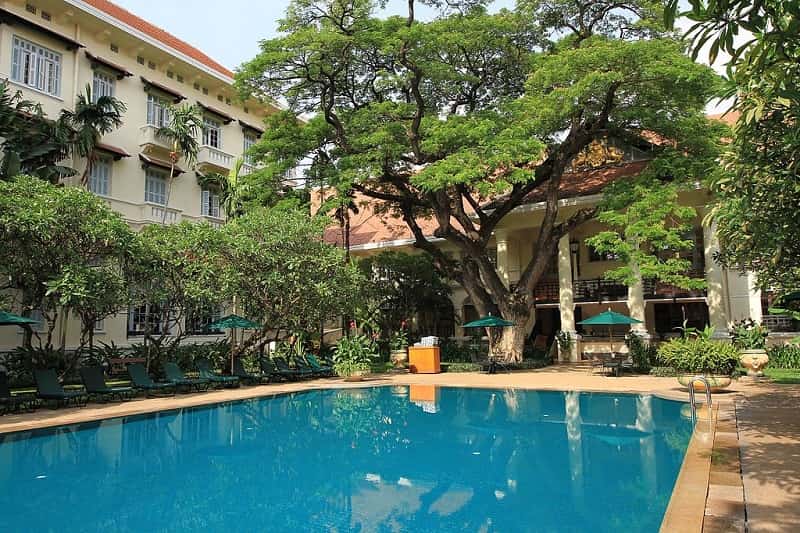 The dry season can be quite a scorcher every year in Cambodia, although it's always on the tropical side no matter the season! A favourite pastime for plenty of residents is to hit the swimming pools in Phnom Penh when it gets too hot.
Most of the big developments in the country include rooftop pools, as do many serviced apartments. But for those of you who don't have that luxury, we've got you covered.

Realestate.com.kh has put together a list of the top swimming pools in Phnom Penh. Plus, if you scroll down to the bottom we pulled together a massive list of pools open to the public in Phnom Penh and a map of pools open to the public in the capital!
We've also included their district so you can find the one closest to your home.
Some general advice for using the pools:
Most hotels, guesthouses, and resorts in Phnom Penh make their pool areas available to drop-ins (i.e. non-guests).
As a non-guest, you might need to pay a fixed fee or buy some food and drink which might waive the fee.
It's understandable that some hotels give preference to paying guests, and pools can get busy during peak tourist season. We suggest you check beforehand on the availability for using the pool.
Some locations introduced half-day room usage and pool access as a range of packages to entice customers during the low season and during the pandemic to boost business.
(Please Note: that during the COVID-19 pandemic a number of pools, hotels and residences have put in place temporary restrictions to comply with health regulations. Prices and opening times have also been adjusted. Please try and contact the venue directly to find out the most up to date information).
Our top pool picks in Phnom Penh:
DIB Club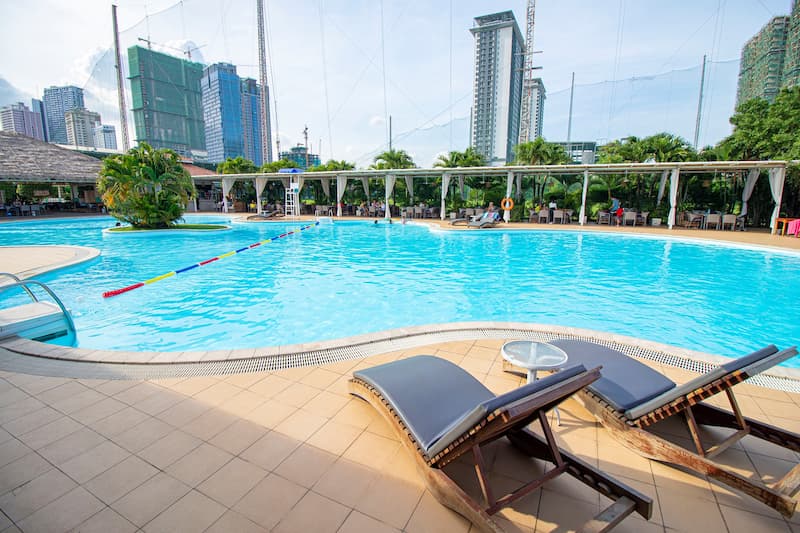 This massive pool is one of the largest in Phnom Penh -There's even a small island in the middle! DIB is family-friendly and has a kid's area and plenty of cabana tables. Located on Koh Pich, it's adjacent to astroturf soccer fields and a number of larger developments have sprung up around the pool area.

The place can get busy with families on the weekends. There is usually no fee if you buy $5 or more in food and drinks per person but they may charge extra for towels.
If you want a place for a group gathering or a lazy day of swimming and tanning, DIB could be your place.
If you are interested in living in the same neighbourhood as DIB, make sure to read our ultimate guide to Tonle Bassac - one of the swankiest districts in the capital.
Rambutan Resort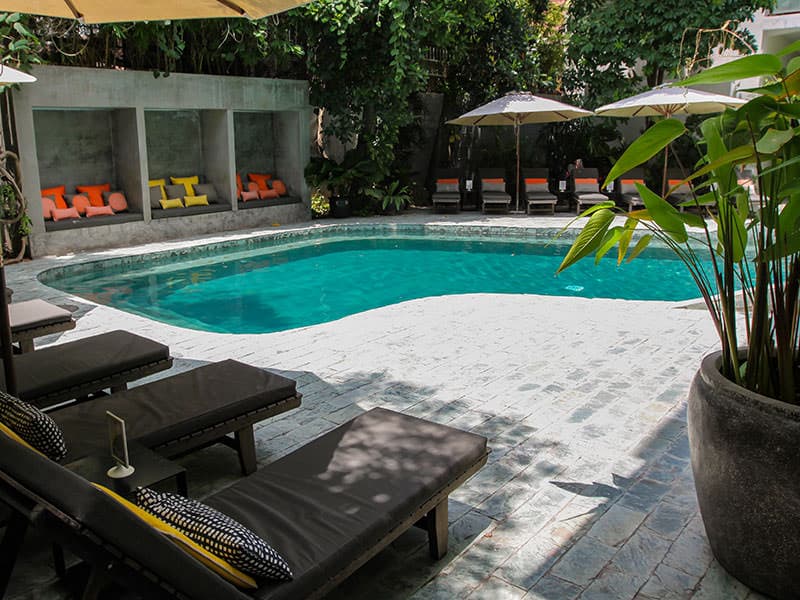 BKK1's Rambutan Resort is a gay-friendly boutique resort in the trendy BKK1 neighbourhood. Their saltwater pool area is adults only and the premises have an artsy, quiet vibe.
They've also got a well-stocked bar and a full menu and rotating weekly food and drink specials.

A day pass will cost $8 but buy an entree with a drink and the fee will be waived. The mini waterfall is also a great place to snap a photo.
In general, BKK1, 2, and 3 is where many expats choose to live in Cambodia so the pool can be a popular hangout.
Rambutan also has a sister resort in Siem Riep.
National Olympic Stadium Pool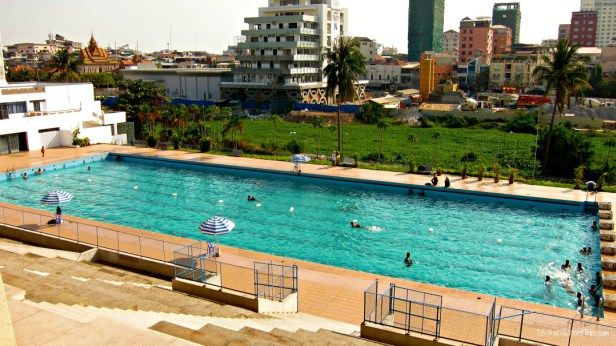 As the only full public accessible Olympic-sized pool in the country, this is where you'll want to go to do some lap training but the pool can also get busy. This outdoor pool is 50 metres long and it costs less than a dollar for a day pass.
There were plans in the works for an updated $2 million indoor facility that could be potentially free to use.

To find out more about gyms and fitness in Cambodia browse our list of the best gyms in Phnom Penh.
Mad Monkey Phnom Penh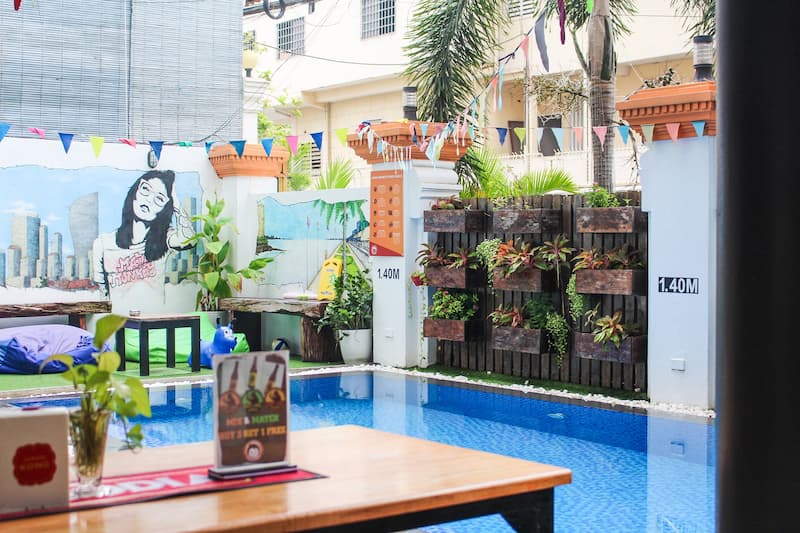 Mad Monkey is a popular backpacker chain hostel and their location in Phnom Penh features a small swimming pool, bar and full menu. They also show sports and hold BBQ and other events.
They don't charge to use the pool if you buy food or drinks. There is usually a mixed crowd if expats, locals, and travellers with a good vibe.
Aquarius Hotel & Urban Resort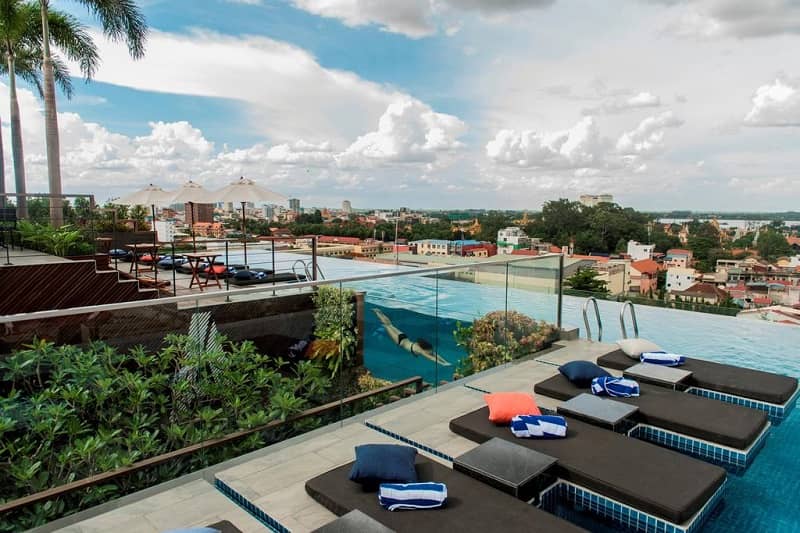 The pool at Aquarius is picturesque and offers some great views from the saltwater, glass-walled, rooftop infinity pool. What more do you need to say? Oh yes, sky bar, maybe?

It's also a popular place for a mini staycation near Phnom Penh's riverside. There is free swimming pool access if you spend $12 on food and drinks.
If you're addicted to Instagram, this is probably the place for you. And while you're there, follow Realestate.com.kh on Instagram.
There are many similar fantastic rooftop & infinity pools in the city such as at Sun & Moon Hotel, Patio Hotel & Urban Resort, or Penh House.
The Balé Phnom Penh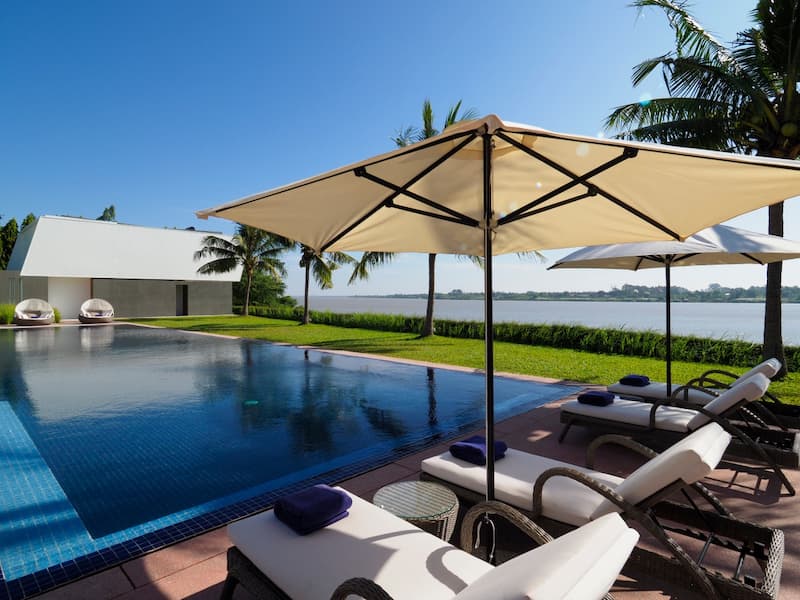 The Balé Phnom Penh is slightly further from the capital's centre and is a more luxurious retreat and resort getaway that has proven popular with expats.
The views of the Mekong Delta landscape from the resort's pool is beautiful and access is open to non-guests for only USD $15net per person.
There is also a gourmet dining selection and the pool is perfect for a romantic getaway and some tranquillity from the city.
Some other classy and luxury pools which you can access at hotels and resorts in Phnom Penh include those at The Plantation, Palace Gate Hotel, Marriott Courtyard, Baitong Hotel, and the Hyatt Regency Phnom Penh.
Pools open to the public in Phnom Penh
Still didn't find what you were looking for in the five swimming pools above? Well, here's an updated list of all the swimming pools in Phnom Penh that are currently open to the public. Find the ones in your neighbourhood, grab your towel, and let us know what's the best swimming pool in Phnom Penh!
Map of pools in Phnom Penh
It's cool to hit the pools in Phnom Penh
If you've been in Phnom Penh for any length of time, you know it gets hot. Entertainment options are growing day by day in the city.
However, lounging at the nearest pool while sipping a cold beverage is still a go-to activity for most city dwellers.
So, after reading this guide you should know all the ins and outs of pools in Phnom Penh. Now just grab the sunblock and find an open lounge chair.
To find an apartment building that has a pool of its own start browsing apartments for rent in Phnom Penh.