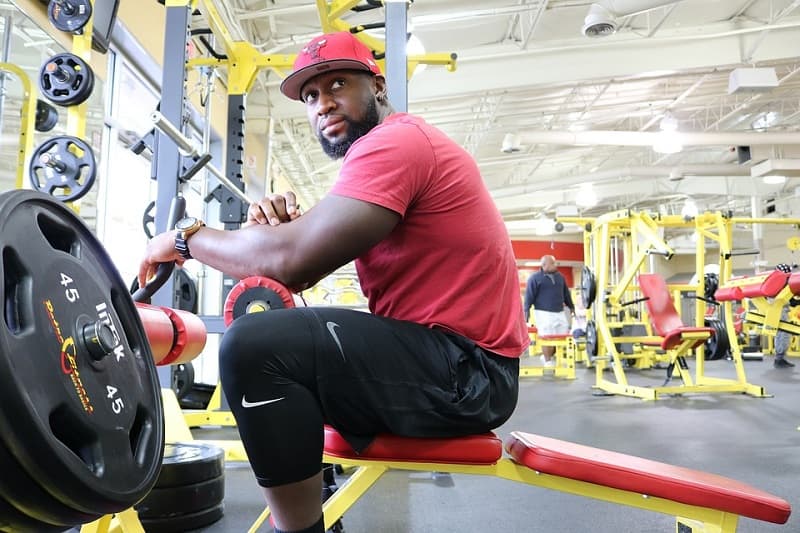 More than ever, people are interested in staying fit and increased physical activity, whether it be through social sports, Kun Khmer classes, high-intensity cardio or lifting iron at the gym.
Many of the biggest new developments in Cambodia feature fitness centres and gyms in their buildings. But if you want something optimal gym gear and access to trained professionals, you're probably looking for the best gym in Phnom Penh.
We have plenty for you to choose from, scroll down and check out the map of the best gyms in Phnom Penh.
Please Note: During the COVID-19 pandemic, a number of gyms and fitness centres had to enforce stricter health and safety requirements and adjust opening times. We suggest you contact these locations beforehand.
Here's our pick of the top 10 gyms in Phnom Penh:
Olympic Stadium - Phnom Penh's budget gym

If you want to work out but are strapped for cash, just head to the city's Olympic Stadium which is centrally located in the capital.
There you can kick around a soccer ball, jog on the stadium concourse (sometimes even on the track) or even do some aerobic dancing! There are almost always people there exercising, especially in the mornings and at dusk- but there is plenty of room to roam.
If you're there in the evening you can sometimes sit and watch a local football match taking place on the pitch, even the national team plays their home games at Olympic Stadium.
Although Cambodia has never hosted the Olympic Games, the stadium and the surrounding spots facilities are iconic in the city.
The Place - Phnom Penh's eclectic gym

With locations in BKK1, Toul Kork, and at AEON 1 Mall - The Place offers members a little bit of everything with its modern premises and equipment. The weekly schedule at The Place covers everything from yoga to cardio boxing and two branches have pools
The facilities are well equipped but the gyms are known for being the place to be - and to be seen.
Passes can be purchased for single visits, or memberships for two years are available. They've also got tons of professionally trained personal trainers ready to whip you into shape.
Toul Kork is a new hotspot for residential life. Read more about it in our profile of Toul Kork.
Banteay Center - The Modern Multi-purpose Fitness Centre

Situated in Toul Kork, this modern fitness centre offers a world-class athlete development facility & elite fitness facilities. The international and local trainers provide training, education, health services a mix of individual and group classes for S&C, cardio, yoga, pilates and an area for weights.
There is an indoor Signature Jogging Track, Battle Ropes, Resistance Bands and a range of useful equipment which marks it out from most gyms in the city.
The community centre marked a dynamic shift in the types of gym facilities being offered when it opened.
To learn more background about the Kingdom in our Investment Guide.
Yoga Phnom Penh - For Cambodia yogis

This facility, run by the Azahar Foundation, offers up classes in almost every style of yoga. Their studio is centrally located in Tonle Bassac district and they operate every day of the week.
No worries if you're new to the ancient Indian discipline either. They've got beginner classes and drop-in classes are just $3 for locals and $7 for foreigners.
The organisation is a local not-for-profit that also taps into local Cambodian arts and culture and there are classes for Bokator and even modern Fly Yoga.
They have a sister site in Siem Reap.
You can find all the properties for rent in the popular Tonle Bassac area.
SuperFit - Phnom Penh's family health gym

Located just off Mao Tse Tung Blvd near Russian Market, is the SuperFit health club which features a massive pool and plenty of high-quality training equipment. \
It's a popular gym with locals and expats and the occasional local Influencer and Insta model - so it can be fun to come here if you want to just do a little bit of everything.
Watch out for discounts and family packages here. Drop-in rates are pretty affordable but if you plan on coming regularly it can be worth it to get a membership.
Physique Club - Phnom Penh's riverside gym

Part of Hotel Cambodiana, the Physique Club offers up fitness facilities and various membership packages, access to the pool is one of the real benefits of this iconic hotel in the Phnom Penh riverside.
There are tennis courts, aerobics and yoga classes, in addition to all the typical gym facilities. If you live in the Riverside area this is one of the best options around.
It's also great if you want a really spacious and modern place to exercise and the facilities have been renovated.
For other offerings in the area, check out our Daun Penh guide. 
Muscle Fitness - The no-nonsense Phnom Penh gym

This compact gym is popular with both locals and expats alike. Located in BKK3, it has treadmills, bikes, lifting racks, equipment and even a small area for stretching and the like. They will even whip up protein smoothies for you at the front desk.
Affordability is the name of the game here. A single entry is just $4 but monthly passes are also available. If you plan to work out on your lunch break or after work, this is a great venue. 
There are a number of similar local gyms in many Sangkats such as Core Explore Fitness and Keven Fitness in TTP.
Many basic local Cambodian gyms have drop-in rates for as little as $1 for foreigners and slightly less for Cambodians. These can be more basic and less clean so try out your area.
Phnom Climb - Cambodia's Community Climbing Gym

Sure, Cambodia isn't exactly in mountainous terrain. But that doesn't mean rock climbing isn't a good growing sport and hobby.
Phnom Climb, occupying a warehouse-style space near Russian Market, has both bouldering walls and full top-rope facilities. If you've never done bouldering before it's basically climbing without a rope. Don't worry! There are thick mats to cushion if you fall.
There are also kid-friendly activities and group/corporate activities. With one-day passes, or if you're really into the climbing lifestyle you can opt for a year pass - and they also host excursions if you want to try your skills on actual rock faces.  
A staff member at Phnom Climb said that the gym attracts a unique community. "Climbing is a lifetime sport, therefore we have people of all ages. We have expats and locals. Many of our locals and expats that live here are members. We also have quite a few drop-ins from travellers who are only in Phnom Penh for a few days."
To discover all the other offerings in Russian Market, read our quick guide to the vibrant area.
Crossfit Amatak - Phnom Penh Crossfitters Rejoice

CrossFit Amatak is the first CrossFit™ affiliate in Cambodia and is located near Russian Market. At one point several CrossFit gyms opened in the capital but Amatak survived and is the go-to place for CrossFit enthusiasts.
There is a range of sessions and classes run for 60 minutes long, while there are also boot camps and competitions. 
The on-site Kettlebell Cafe also offers healthy, nutritious food to fuel workouts and aid post-workout recovery.
Fly Phnom Penh - The Trampoliners Delight

Fly is Cambodia's first and only free-flying experience on a trampoline park and is based at the popular Factory to the south of the capital.
The trained team can show you how to have the most fun safely and groups, kid sessions and event bookings are all possible. It is a great place to get your bounce on, on your own too, or bring a group along.
Map of the best Phnom Penh gyms:
Work it out in Phnom Penh's gyms
There you have it! Whether you want a place to do yoga or a place to practice your punches, Phnom Penh has something for you.
There are also loads of sports clubs for martial arts, BJJ, running, cycling, soccer, rugby, AFL, hockey, dodgeball, ultimate frisbee and so much more!
If you want to find out more about living in Phnom Penh as an expat, read out Expat Guide!
Browse the rest of Realestate.com.kh's guides. We have rundowns of everything from Cambodian casinos and co-working spaces to coffee shops.