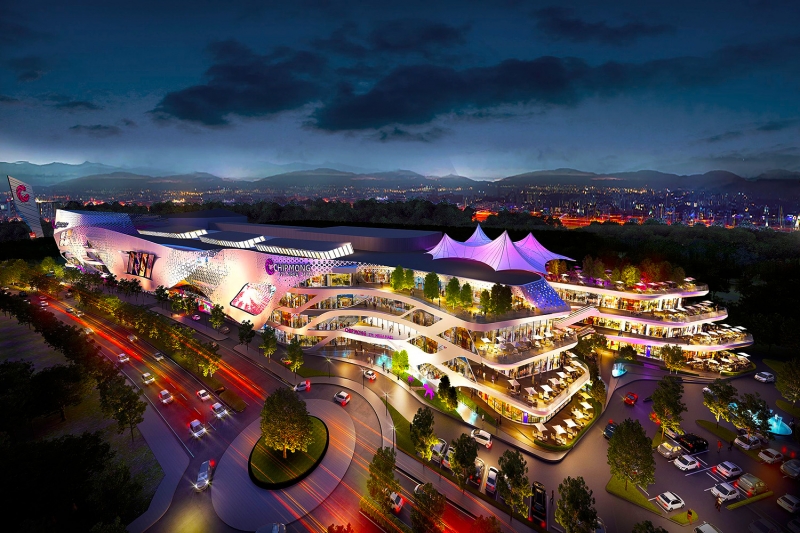 (Malls in Phnom Penh are growing larger with every new launch. Photo: Chip Mong 271 Mega Mall. Courtesy of Chip Mong Group)
If you still think Cambodia is just about Angkor Wat, pagodas, and food hawker stands, you're sorely mistaken! The country's capital, Phnom Penh, is home to several retail shopping malls that house both international brands and local up-and-comers which serve Khmers, expatriates, and tourists with everything they need.
In this guide, we'll take a quick look at the most popular shopping malls in Phnom Penh.
Popular shopping malls in Phnom Penh
Chip Mong Noro Mall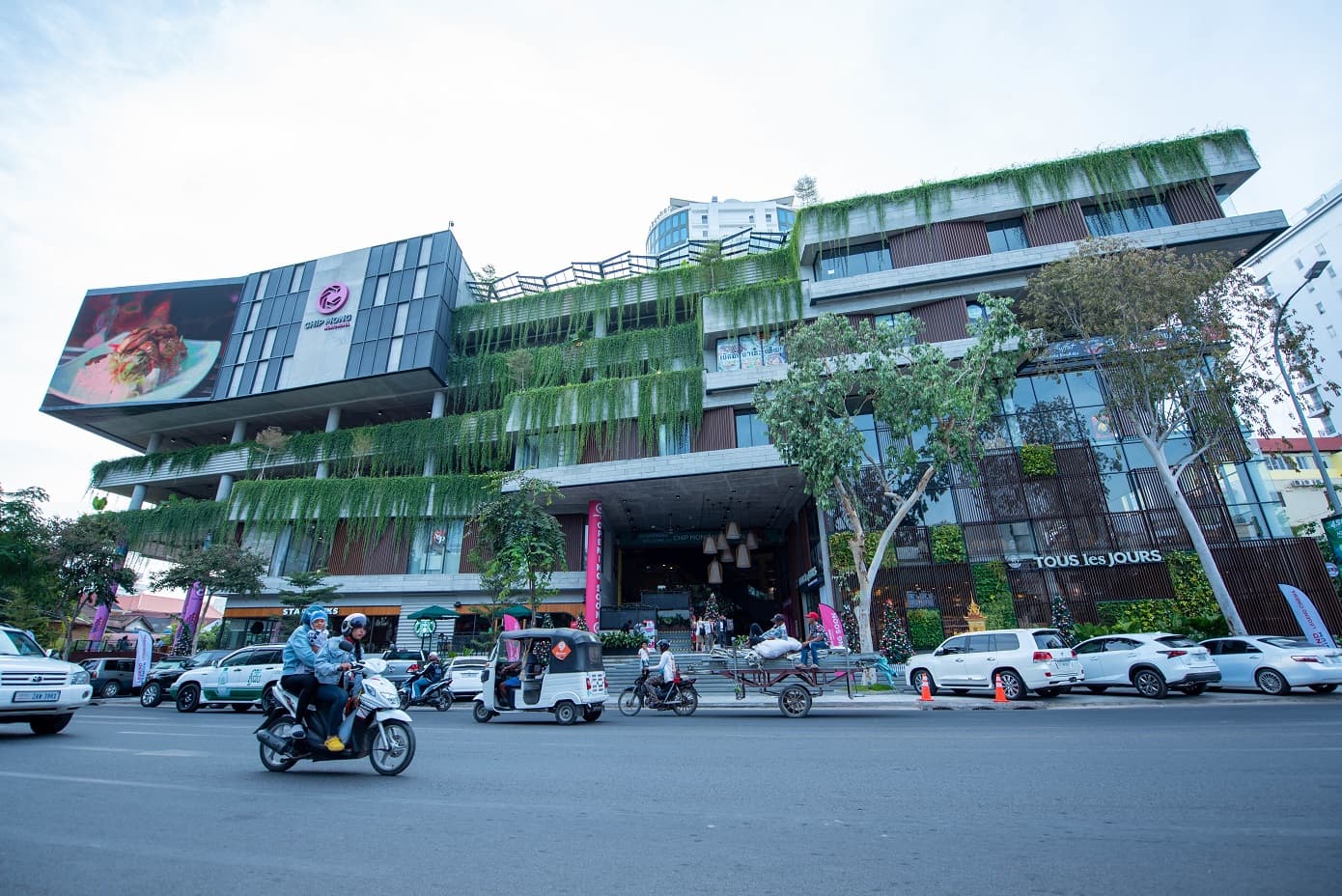 (Chip Mong Noro Mall sits along Preah Norodom Boulevard - the retail offerings are complemented by BKK1's many commercial establishments / Supplied)
Operating hours: 9 AM - 10 PM
Location: #199 Preah Norodom Blvd (41), Phnom Penh
The Chip Mong Noro Mall is one of the more compact malls on this list. But what it lacks in size, it makes up for in its enviable location. Located in BKK1, right along Preah Norodom Boulevard, Chip Mong Noro Mall offers a supermarket, restaurants, selected retail stores, and still manages to include a parking area and cinema with multiple theatres. The mall was officially opened in December of 2019.
The Chip Mong Noro Mall's design is easily accessible from BKK1, which is a popular commercial area home to schools, office villas, embassies, restaurants, and other retail stores.
Notable shops in Chip Mong Noro Mall:
Starbucks
TOUS les JOURS
S&P Thai Restaurant
Louisiana Fried Chicken
Dim Sum Emperors
Santa Fe
Chip Mong Noro Mall has all the key essentials for what customers need when shopping. So, if you live around the BKK1 area and want to avoid the bigger but more crowded mall options, then a trip to Chip Mong Noro Mall could be of great convenience.
AEON Mall 1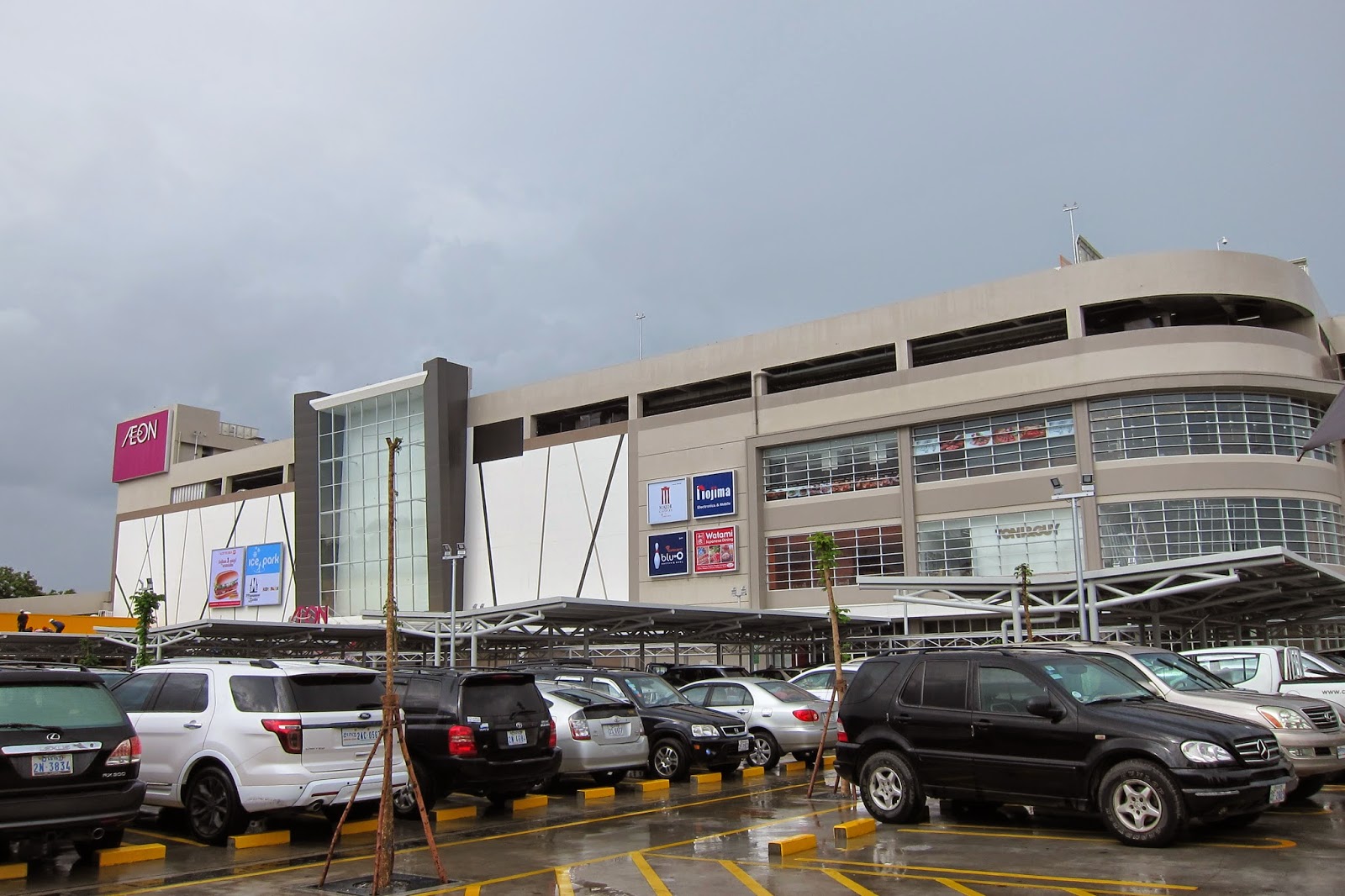 (AEON Mall 1 was the first international mall chain to enter Cambodia. Photo courtesy of TheLostPinay WordPress)
Operating hours: 9 AM - 10 PM
Location: 132 Samdach Sothearos Blvd (3), Phnom Penh
If you've spent enough time in Japan, then you're probably familiar with AEON. The Japanese giant first entered the fledgling Cambodian shopping mall scene in June of 2014.
The AEON 1 mall has since become a household name among inhabitants of the capital, resulting in reportedly several thousand visitors per day (peaking around the weekends and holidays).
Notable shops in AEON Mall 1:
Superdry
Starbucks
The Body Shop
Swensen's Ice Cream
Pedro
Potato Corner
Nojima Electronics Store
Pandora
Lotteria
Akemiuchi
AEON Mall 1 hosts fast-food chains, restaurants, a large supermarket, appliance stores, retail outlets, and a cinema with multiple theatres. There is also a bowling alley, and a gym is situated on the top floor.
It was the biggest purpose-built shopping mall at the time of its opening and is a testament to Phnom Penh's growing development diversifying taste for modern goods and services.
AEON Mall 2 Sen Sok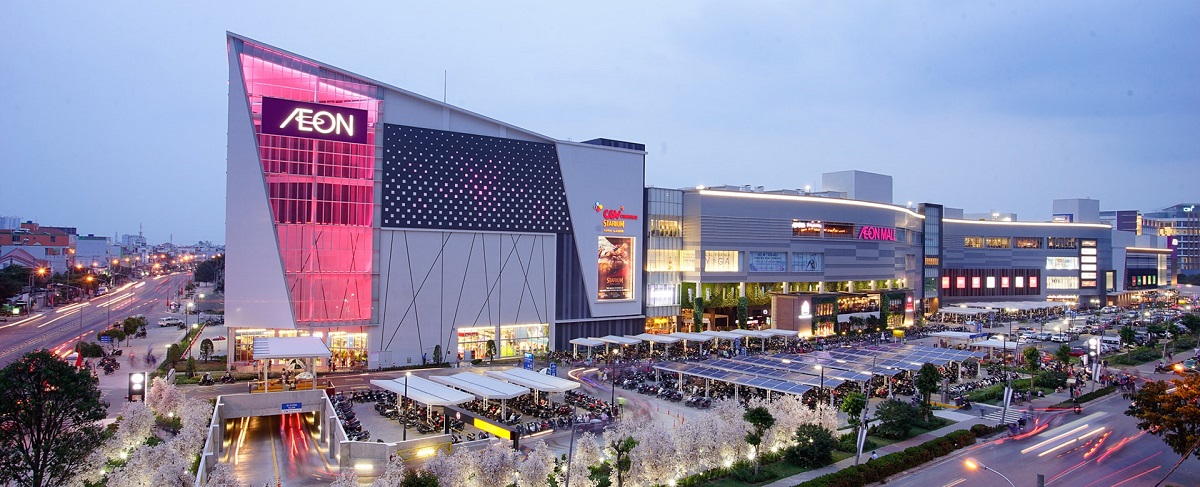 (AEON Mall 2 in Sen Sok is the biggest shopping mall in Phnom Penh today (as of 2021). Photo courtesy of SenSokTown.com)
Operating hours: 9 AM - 10 PM
Location: St No. 1003 Village Bayab Commune, Phnom Penh
AEON Mall 2 opened in 2018 and is the capital city's biggest purpose-built retail mall (as of 2021). Situated within Sen Sok, a district in the northwest of Phnom Penh's city centre which in recent years has become an area renowned for its rapid urbanisation and modernisation.
Notable shops in AEON Mall 2:
Versace
Black Canyon
IMAX
Decathlon
Krispy Kreme
Carl's Jr
Kinokuniya Bookstore
Nojima Electronics Store
Pandora
Ajisen Ramen
Akemiuchi
AEON Mall 2's outlets do not differ much from AEON Mall 1, with many famous retail outlets, restaurants, a large supermarket, and an even larger cinema (which also has the first IAMX theatre in the country). AEON Mall 2 is situated close to many other large warehouse-style outlets and has become a popular shopping destination for the residents of Phnom Penh.
Look up properties available in Sen Sok now.
The third AEON Mall is under development in the south of the city and will be the largest of the three AEON Malls in Cambodia. It is expected to be completed in 2022/2023.
Olympia Mall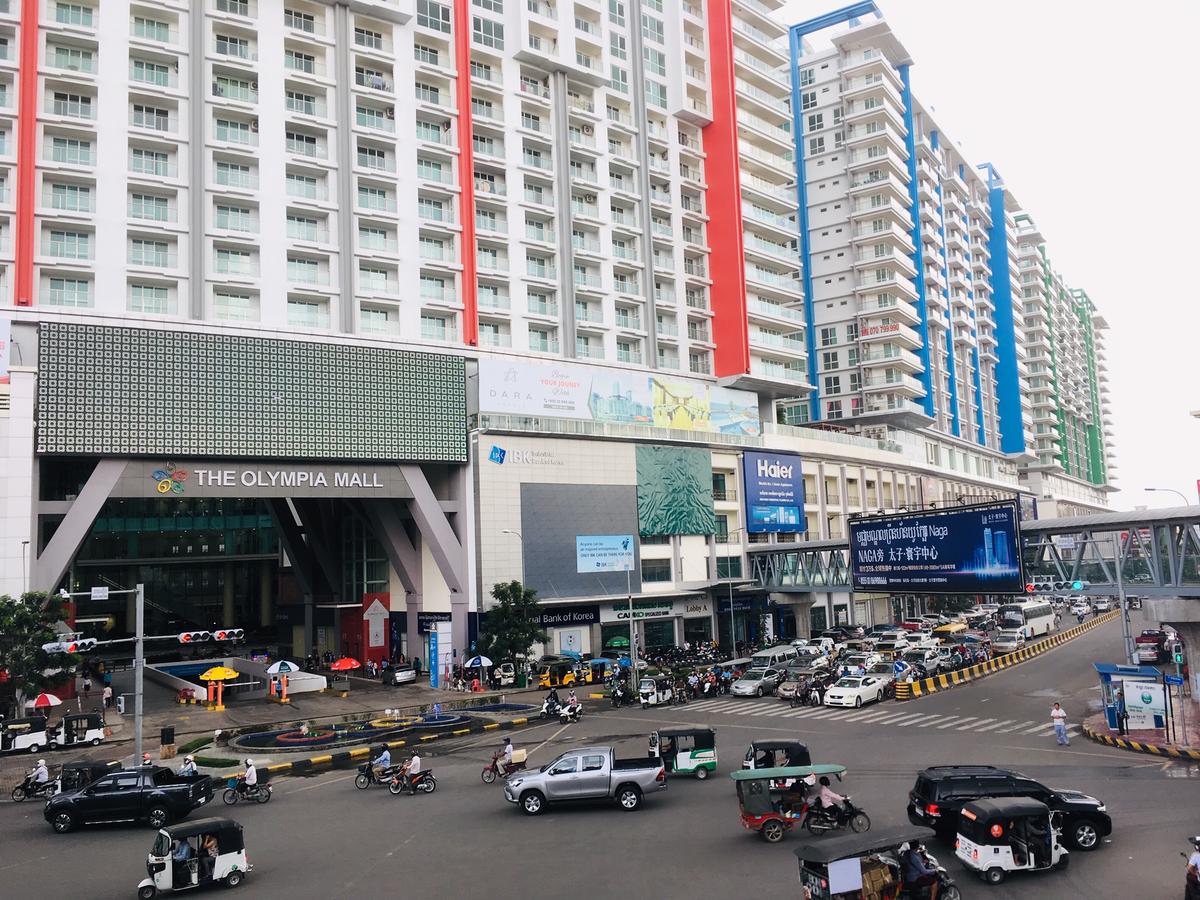 (Olympia Mall is a landmark development in 7 Makara flanked by the Olympic Stadium, a range of condominiums, and local markets. Photo courtesy by Booking.com)
Operating hours: 9 AM - 10 PM
Location: Monireth Blvd (217), Sangkat Veal Vong, Khan 7 Makara, Phnom Penh, Cambodia 
Olympia Mall is a mixed hybrid retail space becoming more popular in industrialising countries as it includes a residential condos in the development.
The location is in the busy 7 Makara district, an area with high foot traffic surrounded by apartments, condominiums, hotels, embassies, and local markets. The mall is adjacent along Monireth Boulevard, a major road cutting through Phnom Penh from the southwest to the northeast right into Daun Penh.
Notable shops in Olympia Mall:
Ice Watch
Nautica
Herschel
Lacoste
Miniso
Helen Keller
Bering
Pandora
Revlon
Jansport
Olympia Mall has all the essentials you would expect from any modern mall: fast-food outlets, dining restaurants, retail choices, and a cinema.
In late 2019, Olympia Mall's developer has announced a further expansion of the mall as part of a "second phase" development. If you're living in the 7 Makara district, Olympia Mall is your definite go-to for big retail options in Phnom Penh.
TK Avenue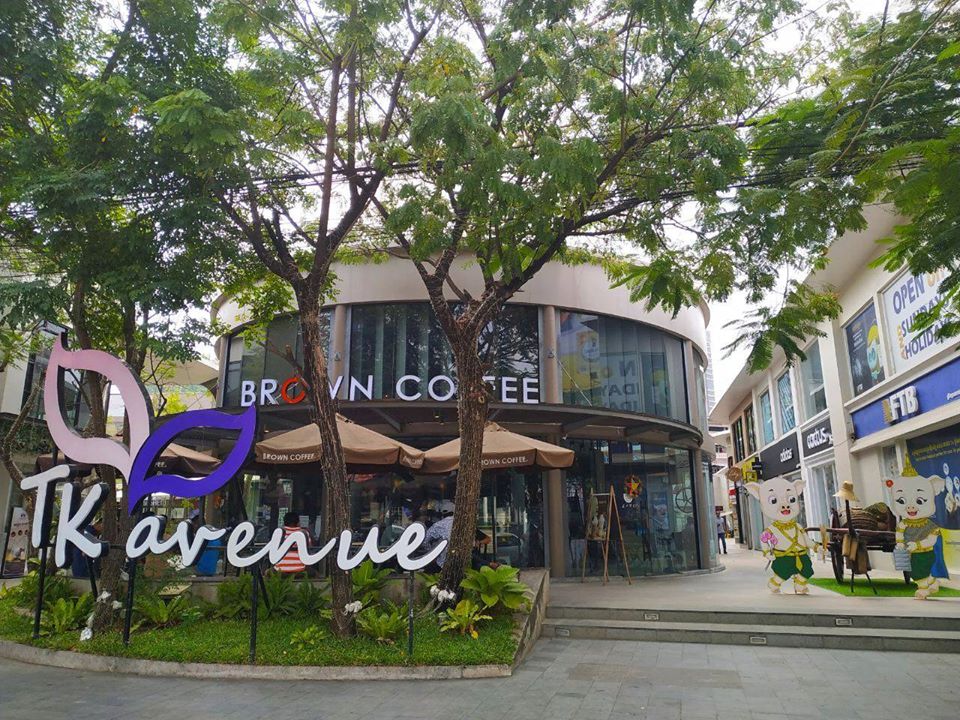 (TK Avenue is a must-visit if you're looking for a urban mall with open pathways between shops / Realestate.com.kh)
Operating hours: 9 AM - 9 PM
Location: Corner Street of 315 & 516 Phnom Penh, 12151
TK Avenue features an "open space" aesthetic and is one of the first upscale and urban boutique malls in the capital. As its name suggests, the mall is designed like an avenue where clusters of shops are separated by pathways for people instead of cars.
Its layout fits quite well in Toul Kork, a recently developed district with a reputation for residential and commercial properties.
Notable shops in TK Avenue:
Shisiedo
Adidas
Havaianas
The Saem
Crocs
T-Shop
Metro
The Alley
Auntie Anne's
Goldland Ice Cream
TK Avenue has a good selection of coffee shops, bars, fast food chains, dining restaurants, supermarkets, and even a small cinema. Compared to purpose-built shopping buildings.
The open-air design and limited greenspace allows you to simply sit back and enjoy the surroundings.
Eden Garden Mall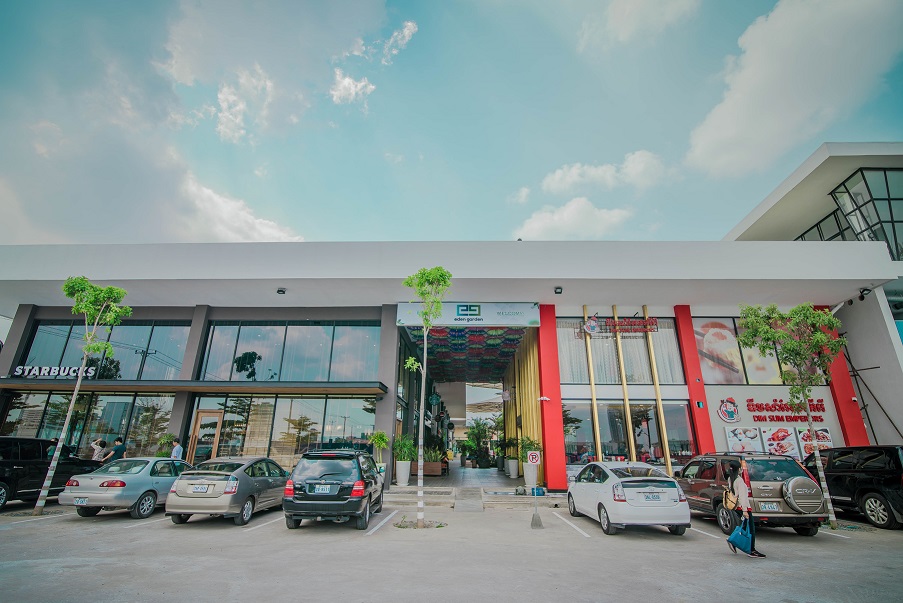 (Eden Garden Mall seems indeed like the garden of Eden in Phnom Penh's expanding concrete jungle. Photo courtesy of EdenGarden KH)
Opening hours: 24 hours
Location: City Center Boulevard Phnom Penh, 12201
Eden Garden Mall opened in 2018 and is one the of new trending malls utilising an open-air design in the layout. Eden Garden Mall features plenty of green space that complements its shops and food and beverage outlets. A supermarket is also present that provides for the residential projects being developed around the area.
Notable shops in Eden Garden:
Yellow Cab Pizza
Mumuso
S&P Restaurant
Starbucks
Dim Sum Emperors
Hops Craft Beer
Lobster Bay Seafood Restaurant
Two Cows Restaurant
Legend Cinema
Its location in the northern portion of Daun Penh - an area mainly populated by new boreys and condominium developments. Other new commercial properties are also present which are starting to attract residents looking for alternative options from the conventional shopping locations.
If you're looking for a chill place to hang out without being too far from the city centre, then Eden Garden is a place you definitely need to check out.
You can search through all of the properties for rent in Daun Penh here.
Midtown Mall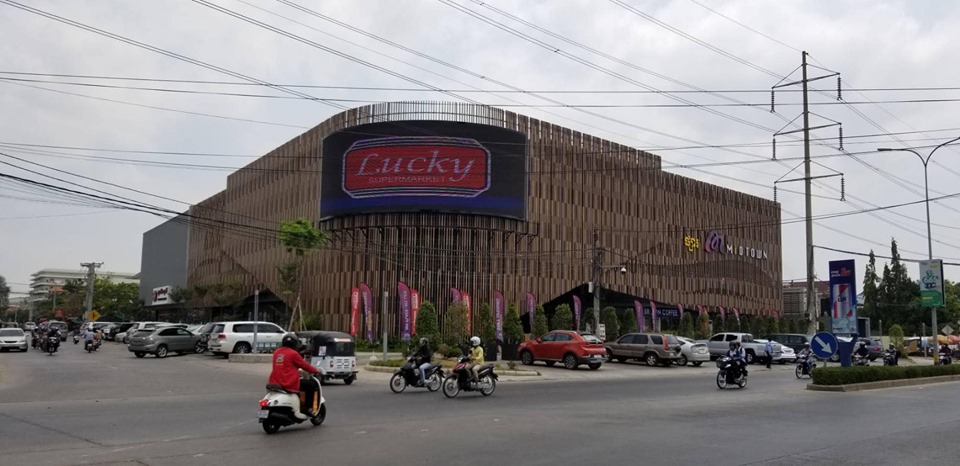 (Midtown Mall sits along a major road surrounded by big boreys and international schools. Photo courtesy of TripAdvisor)
Opening hours: 8 AM - 9.30 PM
Location: City Center Boulevard Phnom Penh, 12201
Midtown Mall is a community shopping mall located along St.2004 in the capital and its design allows for natural light to flood sections of the mall - with its mix of wooden and metal aesthetics adding a premium touch to it.
Notable shops in Midtown Mall:
Brown Coffee
The Asian Kitchen
Handcrafted Beverage
53 Central Coffee & Pho
Sake Restaurant
Legend Cinema
Sake Restaurant
As Midtown Mall's immediate market is primarily suburban (consisting of big boreys and schools), the mall provides a large supermarket, fast food chains, dining restaurants, coffee shops, retail stores, and a cinema.
Its strategic corner location along a major road makes it very accessible to visitors, even those coming from areas outside the southernmost portion of Khan Sen Sok. 
Malls opening later in 2021 and beyond
The great reception of retail malls has shown investors that the Cambodian market is ready for more development in this sector - something that is being answered in kind by developers. Here are a few of the upcoming shopping malls opening in Phnom Penh this 2020 and beyond.
Chip Mong 271 Mega Mall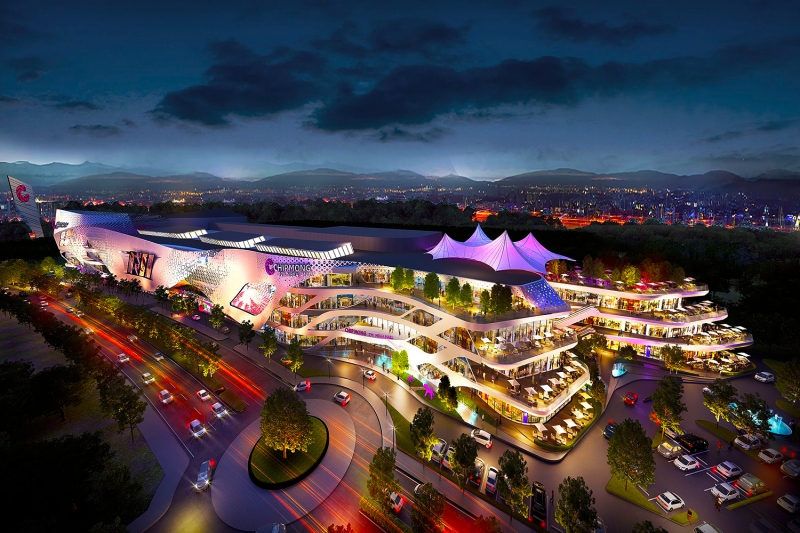 (Chip Mong 271 Megamall is one of the biggest malls in Phnom Penh and is expected to breathe new life into the growing district of Meanchey. Image courtesy of Chip Mong Group)
Chip Mong Group is gearing up to be the leading mall chain in Cambodia with the amount of retail and land development projects they have lined up. Their biggest mall project (yet), Chip Mong 271 Mega Mall, broke ground in 2019 in Khan Meanchey.
It is reported to have 160,000 sqm of floor space to rival the biggest malls in Cambodia. Chip Mong 271 Mega Mall is expected to open in 2022.
Phnom Penh Mega Mall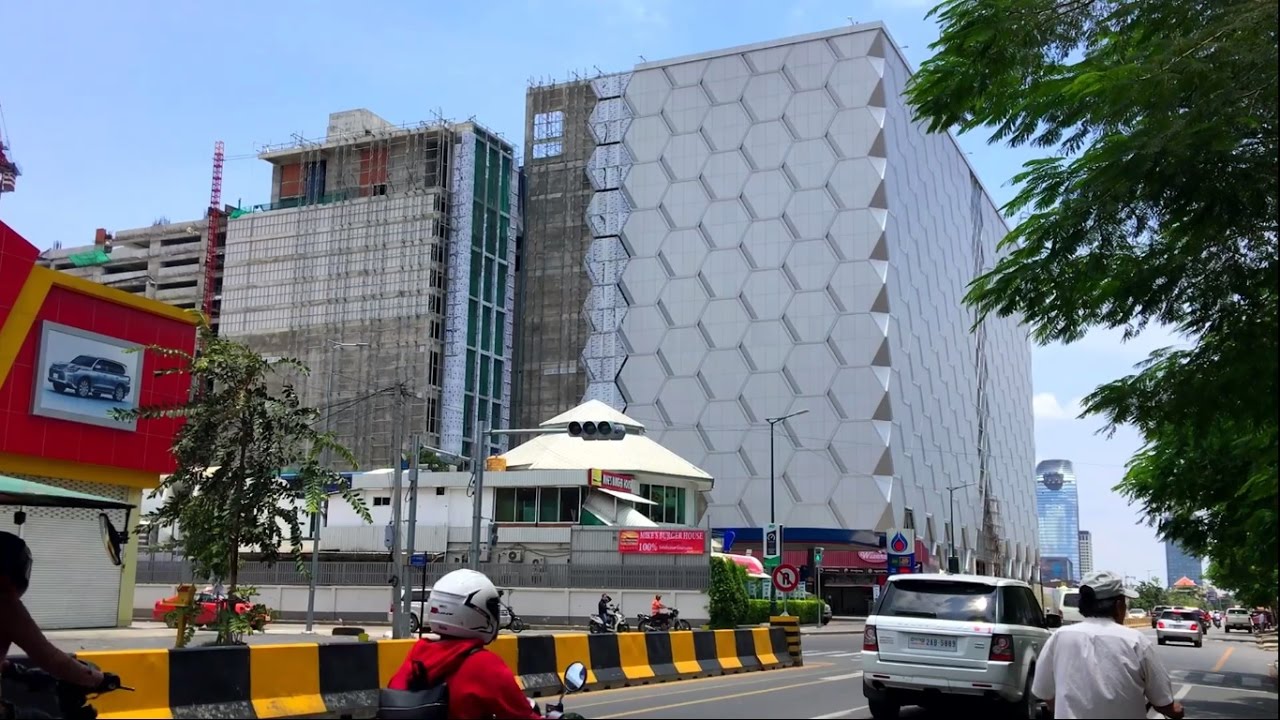 (The highly anticipated Phnom Penh Megamall was set to open in late-2020 but has been delayed. Photo courtesy of Skyscraper City)
Despite several delays, the One Mall is still under development along National Assembly Road. 
The building comprising 11 storeys, including two floors below ground an its retail outlets are said to include, supermarkets, a food court, cafes, fashion, jewellery, cosmetics stores, restaurants, electronic stores as well as child-oriented shops.
AEON Mall 3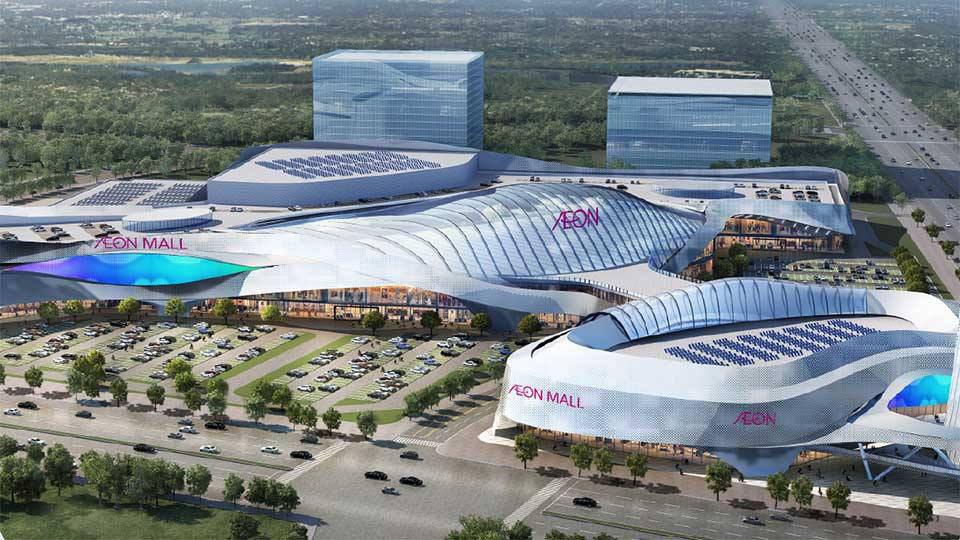 (AEON Mall 3 is expected to be the biggest mall in Cambodia once it opens in 2023. Photo courtesy of Cambodia Properties)
AEON was the first international mall chain to recognize Cambodia's potential as a new investment market and they've certainly reaped the rewards.
They are now building a 3rd AEON Mall and is set to be the biggest mall in Phnom Penh at 174,000 sqm. AEON Mall 3 was recently approved to begin construction in Khan Meanchey and is set to open sometime in 2023.
YT Mall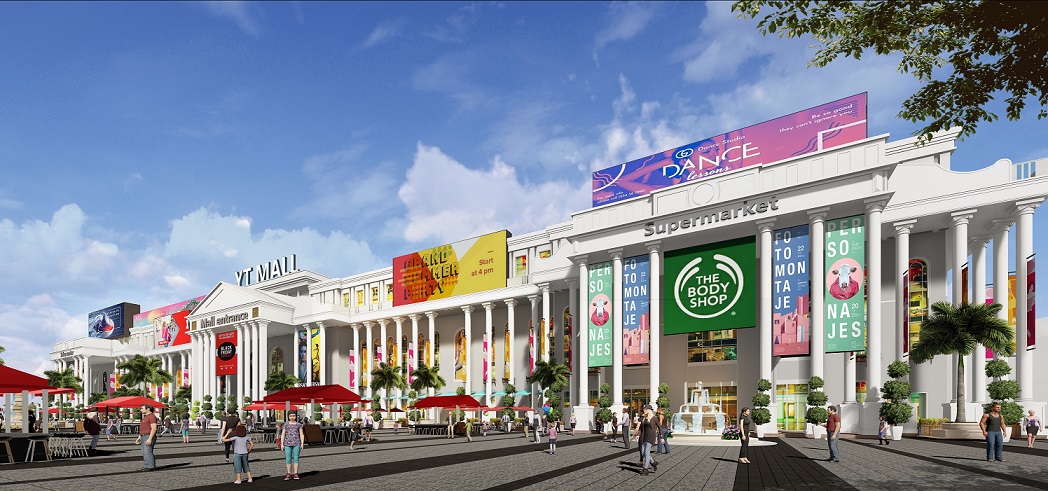 (The upcoming YT Mall will feature an indoor zoo - something that will set it apart from the increasingly competitive retail space in Phnom Penh. Photo courtesy of YT Group)
The YT Mall is an upcoming mall in Steung Meanchey commune developed by Yuetai International Group (YT). The YT Mall's design is reported to include an indoor zoo - something that's definitely going to be popular with the kids. The YT Mall was expected to open in 2020 but updates have been scant.
There are more than a dozen other malls opened and under construction in 2021. With plenty of shopping malls still coming to the city, there will be great competition and new brands and franchises to appeal to shoppers!
Stay up-to-date on the real estate industry in Cambodia and get real-time updates on real estate news as they happen. Download the Realestate.com.kh App now!

Article by: