Kampong Cham Location Profile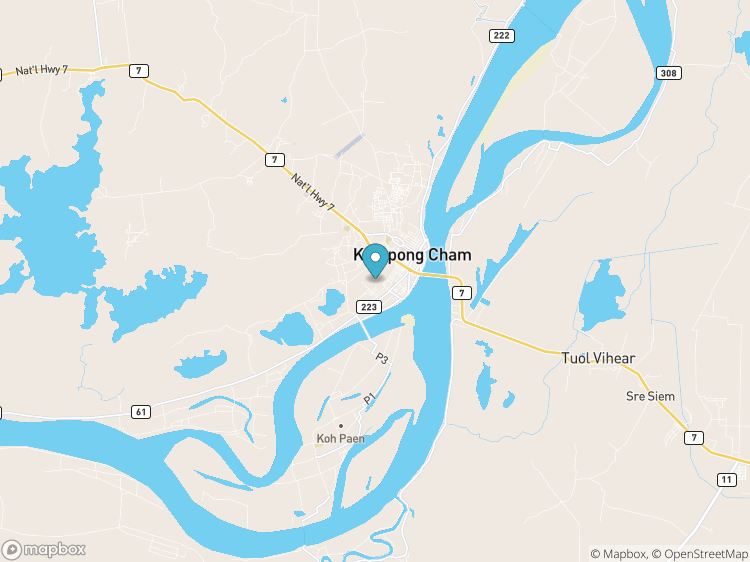 Overview
Kampong Cham means "Port of the Chams" in Khmer. Kampong means port, harbor. Cham refers to the ethnic Cham people living in the province. A symbol the province is known for is two snakes wrapped around each other, which located at the capital city bridge, Kampong Cham.
Kampong Cham province is located in south-eastern Cambodia and is part of the lower Plains of the Mekong River, this Southeast Asia's mother river, which runs through the province. Kampong Cham is also 124 kilometres away from Phnom Penh. Kampong Cham can be reached by boat or highway. It's about a two-hour drive from Phnom Penh to Kampong Cham, and about two and a half hours by boat.
Kampong Cham has long been known as the agricultural centre of Cambodia. Over the years, agri-business has driven our local economy and enabled Kampong Cham to prosper economically and socially. Agri-business has also provided the foundation for further economic development and investment opportunities.
Kampong Cham is also the second most populous province in the country. It has a town called Kampong Cham. Kampong Cham is a charming little town with around 60'000 habitants. There is not much traffic, way less motorbikes and tuk tuks which makes it overall a quieter place. Also, the people seem more relaxed and friendlier. It stands out for its colourful painted colonial buildings, its nearby Koh Pen island and some ancient temples.
Things To Do in Kampong Cham
Explore the Area
Kampong Cham is located in eastern Cambodia, 124 km from Phnom Penh on National Road No. 6A and No. 7. The eastern part of the province shares a border with Kratie and Vietnam, western part borders Kampong Chhnang and Kandal, the northern part Kampong Thom and the southern part with Prey Veng, Kandal and Vietnam again. The province has143 km of international border with Vietnam and two districts containing those borders; Memot and Poghnea Krek Districts.
Kampong Cham province is primarily lowlands. The main river is the Mekong River which forms the eastern border of the province, separating it from Tbong Khmum province. Kampong Cham province is divided into 16 districts, 173 townships and 1,748 villages.
Kampong Cham city is southeast of Cambodia, the capital of Kampong Cham Province. It is located in central Kompong Cham province, west Mekong River, 72 kilometers southwest to Phnom Penh. Kampong Cham is located at 11.59.32 degrees north latitude and 105.27 degrees east longitude, 124 kilometers northeast of Phnom Penh.
Kompong Cham province, located along the Mekong River, is home to the world's longest bamboo bridge. In the 10th century, the province was surrounded by a Brahmin temple called Nokaur. Kompong Cham is regarded as the local land and water transport hub. Kampong Cham province is somewhat of an intersection on Cambodia. Kampong Cham province is a frequent stop for those who are going to Mondokili, Ratanakiri, Sheung Tin and Kaya Jing provinces.
---
Real Estate in Kampong Cham
---
Price Trends for Properties for Sale in Cambodia
---
Price Trends for Properties for Rent in Cambodia