Realestate.com.kh spoke to the leaders of the Cambodian real estate market to find out what type of trends we are likely to witness in the property market in 2016.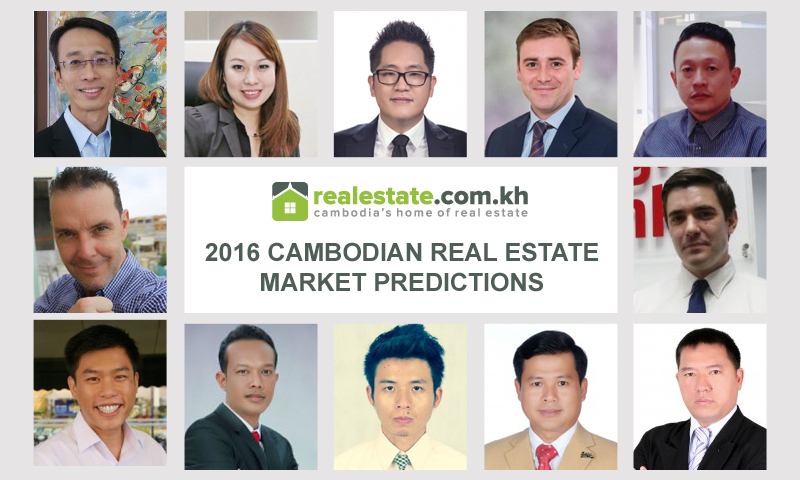 ---
Sunny Soo, managing director of Keystone, Savills Cambodian associate:

"For the last 6 months, the speed of apartment transactions have softened significantly in Cambodia, especially those projects heavily targeting foreign buyers - and one would only assume this trend to continue into 2016, especially when the volatility of regional economies continue to be a challenge and the Cambodian economy as a whole moves slower than the real estate market boom, the market will eventually face adjustment. The coming election in 2018 may also prompt some developers to start considering holding onto their development plan for now, unless 2016 proves to be a good year for transaction. Nevertheless, it seems that landed developments as well as projects targeting locals will continue to see higher demand as the middle income group continues to grow bigger. All in all, there are still good opportunities for real estate developments in middle-end offices and hotels. The Cambodian market will continue to remain significant for investment consideration among the countries in this region in 2016."  
Simon Griffiths, associate director at CBRE Cambodia: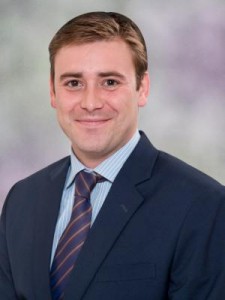 "For 2016, confidence in the Phnom Penh real estate market, with particular reference to the condominium market, will be low within Cambodia with commenters stating oversupply and too-rapid growth causing oversaturation, ultimate leading to exposure to risk.
Interestingly, this sentiment will not be reflected outside of Cambodia, in particular relating to Taiwan and China where inbound investment is expected to grow from consumers and developers alike. However, Singaporean investment is likely to cool.
Developers who have not launched schemes pre-2016 are likely to continue to progress with development plans but unlikely to consider exclusively condo developments.  Mixed-use schemes, as well as freehold strata title office and retail space, are likely to become more popular as the potential returns in these sectors are realized both locally and internationally.
Hongkong Land Development's "Exchange Square" shall be ready for tenants to fit-out in November 2016, bringing a second high quality Grade A building to Phnom Penh and a very interesting life-style mix for tenants."
June Zeng, investment adviser at Da Yu Real Estate: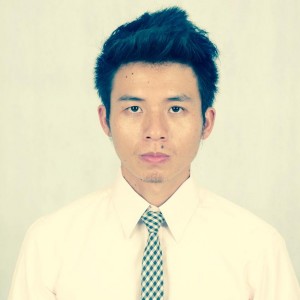 "In my opinion, 2016 will be a rather different year for property developers and real estate agents alike. The major fact everyone has to face is that gone are the days when anyone who had a piece of land in town could make a fortune simply by building something on it. The age of professionals have come, which consequently means Adios to the amateurs.
In the city of Phnom Penh, market performance will strictly favour the few projects that score high in two aspects: excellent product and professional marketing. Anything short of either, I'm afraid, is very likely to bring about disappointment.
The immediate question Phnom Penh is soon to face within this year is not whether or not there are too many condo units in the market, but why aren't there enough small-sized and affordable units for the young middle class and expats.
So, 2016 is the year for many to re-examine demand, which isn't a bad thing at all as that's how a market learns to mature. Despite Phnom Penh's new challenge, the nearly uncharted waters of other provinces are still fresh. 2016 is also the year we might hear major success stories from other fast-growing cities - Sihanoukville, to name the most potential one." 
VA Vireak, chairman of Century 21 Fortune Investment: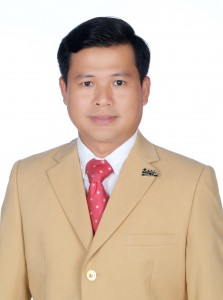 "Cambodia's property market in 2016 is very challenging and it's very hard to predict about its future for this year and beyond.
On one side, there are some challenges with increased supply (houses, condos, apartments, offices, …), and the possibility of global economy impacts (mainly from China and the region), the interest rate and bank loan policy (which may be changed), the exchange rate from US Dollars to other currencies (the strong US Dollar), etc.
On the other side, Cambodia's economy can maintain the growth of around 6.9% till 2018, the population growth rate in the urban areas as well, and the AEC (ASEAN Economic Community) integration.
Economic growth means more income to the country and to the people as well, therefore the GDP per capita will be increase, so people can have more money to buy the property - of course if there is not too much inflation. Population growth in the city triggers the demand for the housing, as most developments are based in cities only. The AEC integration will bring more skilled workers and specialist, so this new labour pool can help to boost the demand, especially for the condo, apartment and office space.
All these factors can help to balance on the real estate market."
Van Chanthorn (John), managing director of TownCity Real Estate: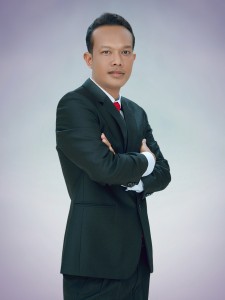 "The property market in Cambodia will be better than in the previous years for the following reasons.
The ASEAN Integration will bring more expatriates to Cambodia. When expatriates come, whether tourists, investors, employees, students, workers or interns, the first thing that they need is accommodation, a place for business, an office, or hotel for a temporary stay. So when they come, it is not only a direct benefit to Cambodia but indirect as well. Cambodians can earn more money and will have the purchasing power to buy other products. When this happens, finally the locals will have enough money to invest in property.
Cambodian Returnees who have stayed abroad for a long time have now graduated in their adopted countries and look to Cambodia with new, innovative ways of doing business. When the new businesses enter the market, the properties and offices are their first requirement. These returnees and expats will also seek a higher standard of living, meaning condo demand should pick up also.
Bank policy is also changing, and this will boost the lower income real estate market. For the previous 5 years, the banking sector has increased year by year, and still more banks will come. As more competitors come, the policies of the banks are becoming more and more accommodating to Cambodian investors and young couples seeking their first home loan. More appropriate loan policies will drive up demand for low to middle range flats and villas across the market.
Government Policy to encourage international and local Investors will also develop in 2016. When the government implements new policies to encourage the private sector, more businesses will come - and when businesses come, people have jobs, better salaries and a higher standard of living. Thus, there will be greater demand for property investment and homes for stay as well. In particular, the real estate sector is monitoring the government's plans to expand the city, and develop infrastructure in suburban areas."
Sharon Liew, ceo of Huttons CPL: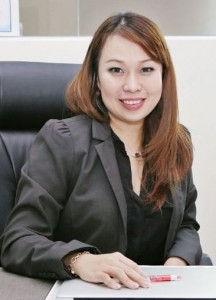 "2016 will be a very challenging year for the property market in Cambodia. With owners and investors spoilt for choices for condominium and the country's upcoming elections, buyers are getting more cautious on their purchase. Personally, I feel this is a better start as cautiousness leads to more informed buyers, and this also helps to prevent the exploitation of over-promising developers. The market has upgraded more to commercial properties as is the current trend, and this is another challenge for local buyers needing to absorb the commercial investment value which is rather new in this market. Overall, through experience, I always believe that "Prime property will hold it's value" and "the Early & well-informed bird always catches the worm"."
Chee Yap, project director at Grand Phnom Penh International City: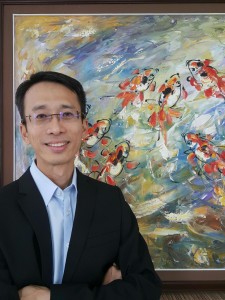 "Currently, there are so many unknown factors within the country, and both regional and global issues.
First of all, I suggest the "actual" absorption and digestion of exponential land price growth in 2015 will be something very interesting to watch in 2016.
Meanwhile, various factors will exert pressures on the local real estate market, in uncertain ways: such as minimum wages rising to USD 160 per month; local undercurrent political issues; Cambodians adjusting to improving regulations ( i.e. Traffic Law, Tax Law, Forestry Law etc.); the dropping of oil prices below USD 30 per barrel; the appreciation of the USD currency against other major currencies in 2016; and the regional influence of a booming Jakarta and increasing demand in other major regional centers.
With these things on the horizon, be prudent and conservative for 2016.
Last but not least, Grand Phnom Penh's Fantastic Water World Waterpark will be completed in mid-February this year and will be the talk of the town during Khmer New Year."
Ross Wheble, country manager of Knight Frank Cambodia: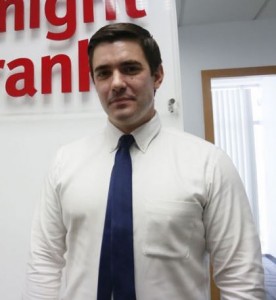 "With signs of softening in certain sectors, some developers are diversifying. Whilst the supply of retail and office space will approximately double by 2018, the supply of condominiums will increase by more than six-fold. This has led to a recent slowdown in sales rates of condominiums and developers are looking at alternative asset types to appeal to investors.
TC Royal Asset Manor was one of the pioneers in this area with the launch of stratified office units in their TK Royal One development. This has been followed by a raft of new stratified office developments as developers seek to diversify away from the condominium sector and we expect this trend to continue into 2016.
Equally, with more funds being allocated to infrastructure improvements, we are seeing increasing investment in the industrial sector as multinational companies assess the benefits of setting up operation in Cambodia, particularly along the border with Thailand.
We also expect to see growing demand for agricultural land as foreign companies seek to take advantage of a more mechanised approach to farming, providing higher crop yields and better returns than the more traditional methods currently used in Cambodia."
Alex Evengroen, general manager of Khmer Real Estate: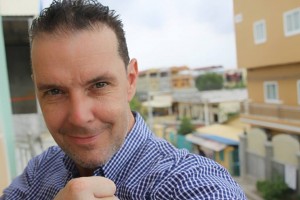 "My forecast for the property market in 2016 is that there will be a large shift from buying properties to investing in land.
Cambodia became part of ASEAN and this means that the country will be flooded with highly skilled and hungry Real Estate professionals and investors with a lot of inside knowledge. 
The M2 price keeps going up and so it is inevitable that at one point people start to look at other and more creative options….This is in my opinion land. There will also be a change in demographics regarding the land market. More will look for (low priced) land in the other provinces like Kep, Kampot, Sihanoukville and others closer to the borders. 
One of the issues I expect is the oversupply of mostly condominiums which will at a certain point lower the prices and will have an effect on the investments people make to buy these properties.  If this is not well monitored and guided many people could get into financial difficulties. 
One very important positive change that I see will be the unification of the official Real Estate companies under the scepter of the CVEA. This will result in a better understanding and sharing of upcoming and expected changes and needs within the Real Estate industry, and will also eventually eliminate the people who do Real Estate on the side without the proper papers or required knowledge. 
We do have to understand that we have to work hard and smart to keep going in the right direction, the direction that will benefit the people of Cambodia and safeguard their investments in the industry. This also means that it is important to keep communicating frequently and act on decisions made to reach the required upgrades."
David Kim, ceo at Informax Property: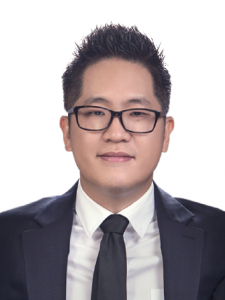 "The core sector of new developments will shift from pure residential toward mixed commercial and residential developments in 2016, a trend we are already beginning to see.
Due to new residential shifts during 2014 and 2015 to the suburbs of Phnom Penh, these areas now need commercial facilities such as shopping centers, hospitals, offices and schools.
Expect to see a rush from mainland China. While Singaporean and Taiwanese developers were the main developers for 2015, now mainland Chinese developers with large capital are starting to launch projects in Cambodia. When they start promoting these projects in China, more and more Chinese investors will consider investments in Cambodia.
Industrial development along the borders of Cambodia will enjoy the benefits of the AEC. Cambodia has a good business environment for regional expansions such as low tax, low labor cost, freehold property, and prime logistical connectivity to other member countries of the AEC. When the AEC goes through, the biggest handicap of Cambodia - namely it's small domestic market - will not be handicap anymore.
These 3 issues will be main things to watch in Cambodia's real estate market in 2016."
Kim Heang, president of the CVEA: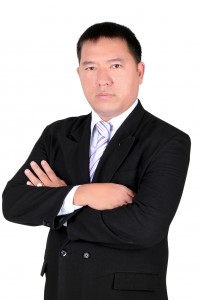 "I name the Year 2016 as "the Year of Condo Construction" as you can see the construction of Condos across the City, especially in Khan Chamkarmon, Daun Penh, 7 Makara and Khan Toul Kork.
There will be around 18 000 to 20 000 Units of Condo by 2018, this amount is too much for the local market but it is still a small amount for the ASEAN Market. Developers need to find out their own market or create their own market for their product. Also, the Cambodian Government needs to attract more investors to help the Condo industry.
The land price has increased too much in 2013, 2014 and 2015 - so the price in 2016 will not increase too much. It should be just 5 to 10% for land in down town, and still around 20% for land outside the city.
Boreys for the Middle Class and High End clientele have reached their limits, so it is better for the developers to focus on the lower income and new family markets, especially for the flat house at around 30 to 45K - instead of flat houses at 80 to 100K for the middle class, or 200 to 300K for the high end client.
Warehouses need to be moved from downtown as the price keep increasing for their land. The savvy warehouse owner needs to sell their land for big money and shift their business elsewhere!
Serviced Apartments in prime locations such as BKK1 and nearby areas are doing good business. However, lower standard apartments will disappear and be replaced by higher end apartments.
There will be investors coming to buy factories in Cambodia as we have great advantages for industry. In particular, no tax to the EU, USA and other Asian countries, and low labor costs. However, there are too many demonstrations in the industrial industries recently - thus, the Government needs to take the action and find a solution to the issues of workers."
Desmond Yap, general manager of Yong Yap Properties: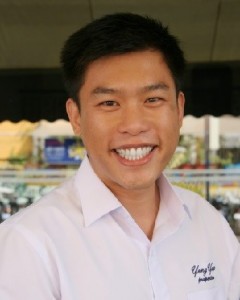 "Cambodia will continue to be an investment hotspot - especially with its continual integration into ASEAN and the government enforcing laws to ensure a cleaner business environment."