The change of the weather season in Cambodia around this time of the year often heralds a changeover of expats in Phnom Penh, particularly over the coming months as many who have been working on fixed contracts, studying, or families leave (temporarily or permanently) while foreigners also seek to move to the Kingdom for the first time.
The reason people leave is the Summer season which sees many flock to the European climate or elsewhere within Asia for extended summer breaks to catch up with family, and start or complete university and school - the latter of which also leads to expats exploring new opportunities abroad in Southeast Asia and Cambodia.
We look at some of the latest market sentiments among property renters in Phnom Penh, and at some of the best tips for renting in the capital of Cambodia.
Realestate.com.kh Annual Real Estate Consumer Sentiment Survey 2023
The most recent source of rental sentiment can be accessed via the results published in Q1 2023 by realestate.com.kh
As many as a third of respondents of the survey were foreigners and the two dominant age brackets were 21-30 & 31-40 years old respectively - which probably reflects most of those looking to rent in the city, whether you are new or currently looking for a change of accommodation in the city.
What Can You Expect To Pay To Rent A Condo In Phnom Penh?
Most respondents suggested they earn a combined family income of over USD $2,000 per month. Among foreigners who responded, there is generally higher spending power and at the top-end, 42.5% indicated an income bracket of over USD $5,000. This opens up the rental options of condos, villas and some of the larger borey units.
Those who partook in the Realestate.com.kh Annual Real Estate Consumer Sentiment Survey 2023 also represent a broad cross-spectrum of professions and industries. 
A third of expats are looking for properties under $500 per month, while just under a third of all respondents (including all nationalities) have a budget of USD $500-$1,000. This price range should be suitable for serviced apartments (condos) in Phnom Penh, which on average can start from USD $700 per month.
The rental prices in Phnom Penh depend on factors such as the type of property, number of bedrooms, amenities, services and location. Tenants can pay anywhere between $1,000 to $2,000 monthly for houses or villas within Phnom Penh but for condominiums, the range is comfortably between $500 to $2,000 monthly.
Daun Penh and the Phnom Penh riverside area rental costs are estimated to be:
1 bedroom: USD $400 – USD $1,000
2 bedroom: USD $900 – USD $1,300
3 bedroom: USD $1,300 – USD $2,000
Expat Renters in Phnom Penh Preferences
As many as half of foreigners who took part in the survey indicated that they live with family or a partner, while a third live alone - by far the biggest groups represented. A small minority indicated that they live with friends which is common among many Western expats - in particular those who might be on internships and seeking to be more budget-conscious.
This guide is an essential read before you start your property search in Cambodia.
Condos and apartments are the most popular property types among all renters with half indicating this choice. Among foreigners alone, condos and apartments gained 74% of the votes! For a hassle-free living experience, it makes sense as condos will often include security, parking access, a swimming pool, and even a gym (albeit often basic). 
Some tips for locking in paying your rent are:
Negotiate rent prices - most landlords will probably be open to some level of negotiation and most will offer discounted rates for longer leases.
Most landlords will now prefer payments by the banking apps - it's just more convenient for everyone and instant.
A deposit is usually for 1-2 months' rent which is paid upon signing contracts and can be refunded after the final inspection by the landlord when you leave the rental.  Many tenants will give notice and ask for the deposit to be used for the final month/s rent which is something you should ask your landlord about.
Checking actual costs for amenities (electricity, water, gas, cable TV, internet etc) is key - ideally you want to be paying the rate from the utility supplier even though many condos will have their own rate. Most utility bills can be paid via the banking apps.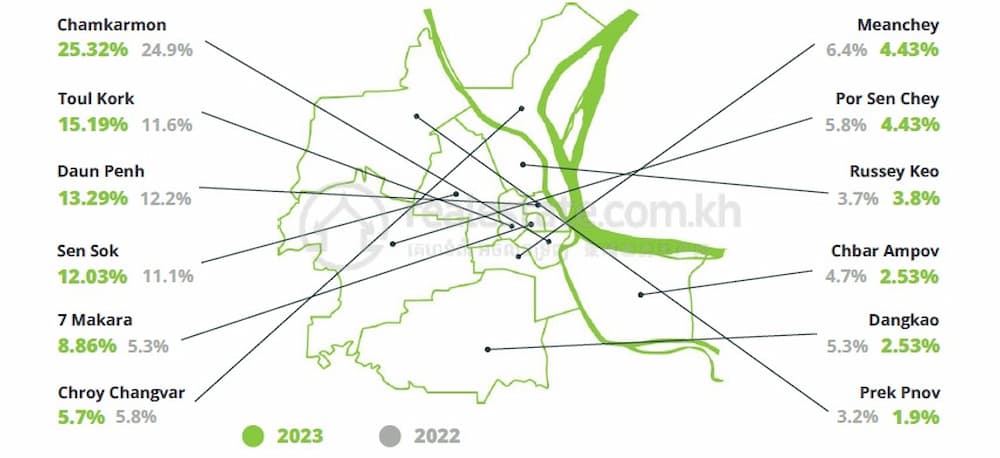 Where To Rent In Phnom Penh?
The preferences for the most popular areas in the capital have largely remained unchanged and many areas saw the same level of interest in previous years. There are some fluctuations in the city as outlying areas develop but some key central Sangkats remain the most popular and therefore demand a higher price - they have the easiest access to the most popular food and beverage areas, social hotspots, tourist attractions and a populous expat community.
New outlying areas are seeing new small and large malls, better infrastructure and access routes - while you should also be aware of new significant projects such as airports, highways, bridges etc which may impact an area.
Outlying areas such as 7 Makara, Chbar Ampov, Dangkao, and Prek Nov all saw noticeable declines of interest but Chamkarmon / BKK is still the most popular among all respondents but especially for foreigners - with 58% indicating the areas as their top pick to rent. 
Daun Penh is second most popular for foreigners with 35% selecting this always popular area of the city.
What To Consider When Renting In Phnom Penh
Some of the main considerations for choosing the right rental property in Phnom Penh would be the same as any other city - what suits your needs, comforts, location, and budget?
Among the key considerations for those looking to rent in the capital were security (46.3%), followed by price (30.2%), noise (21.3%), and services (18.4%).
For Phnom Penh, the most popular areas of the city are relatively safe but well-lit entrances, peace of mind with onsite security and secured parking are all considerations when visiting a property or asking questions about a rental property. 
Noise is a particularly unique issue in Phnom Penh - partially due to the rapid development of the city with new buildings and properties being torn down to make way for bigger, taller structures.
There are also cultural aspects to consider when it comes to noise in Cambodia -  from street weddings and funerals, ground floor restaurants and open-air BBQ, clubs and other venues which only really come alive at night time - so visiting an area and property at daytime and at night time (even over weekends) are strongly encouraged before signing a lease.
It is still required to be registered on the FPCS (Foreigners Present in Cambodia System) which was introduced in July 2020 but it is hit and miss. It is the responsibility of the landlord to register you as a foreigner and to avoid issues you should follow up on this and ask for a screenshot of the registration. Most recent visa renewals might require to see a copy of a lease agreement and the FPCS registration.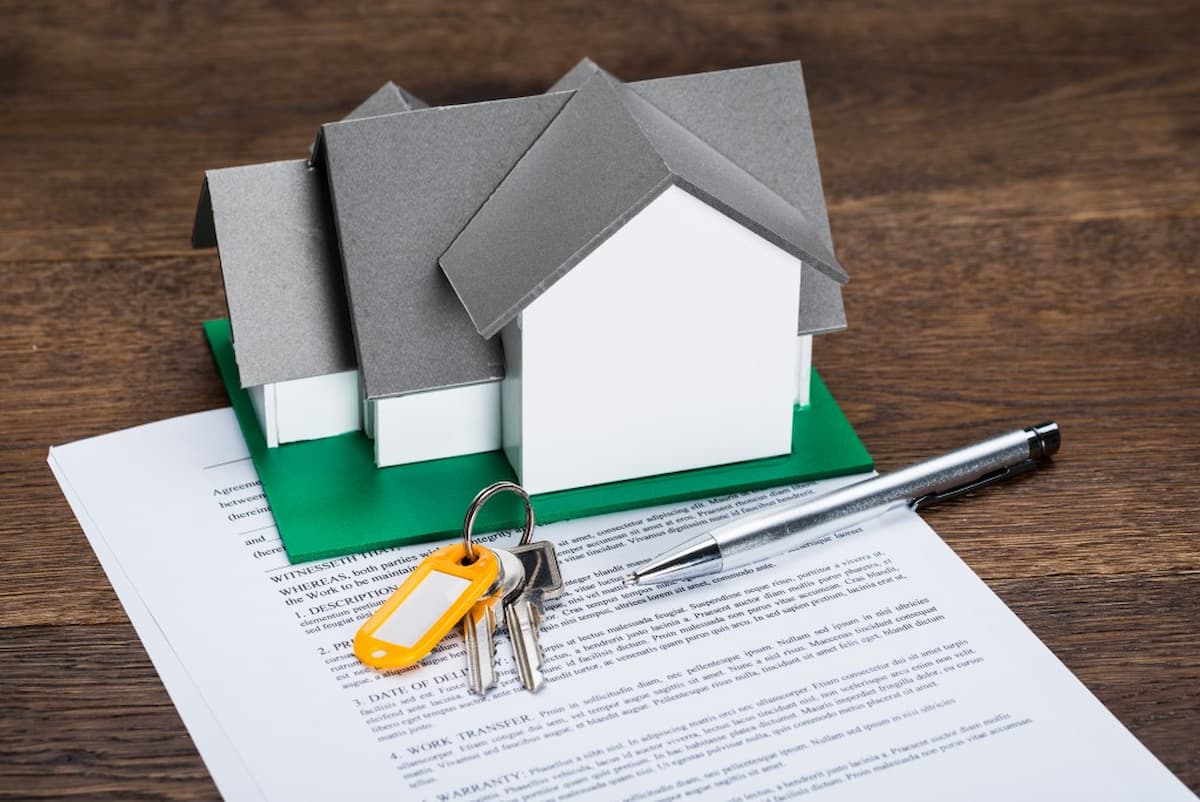 How To Find The Right Rental Property?
Picking the right real estate agent is certainly one way to go to find the right rental property in Cambodia and real estate agents play a vital role in Cambodia's property sector.
In the survey, respondents valued reputation, professionalism, knowledge, response time, honesty and commission fees, however, the most dominant reason for selecting an agent was honesty, followed by response time to inquiries and then market knowledge. 
Realestate.com.kh for example continues to be the main source of property information in Cambodia and lists all of Cambodia's available real estate - offering easy-to-use online search functions, as well as regularly updated content on the sector.
Other sources for sourcing a rental property might include using social media (Facebook Groups) or event targeting desired areas to live by walking around with someone who can speak Khmer to enquire about available properties to rent which certainly is more time-consuming.
Finally, before you sign any lease agreement in Cambodia, have a read of these tips which cover a broad base of important aspects to consider.