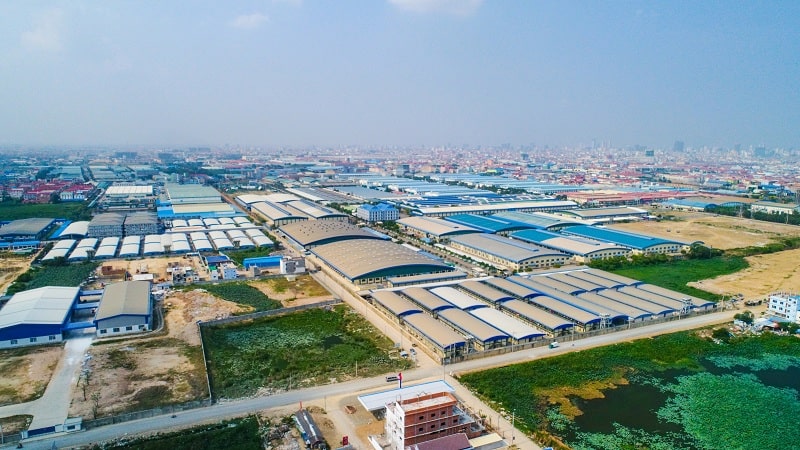 The speedy development of Cambodia's real estate sector has been a key factor in the country's constant GDP growth of around 7%. Indeed, growth has hovered at this level for nearly a decade. 
Currently, tourism, agriculture and manufacturing all seem to be pushing the demand for property and building in the Kingdom. Garment manufacturing, which is a lynchpin of the country's economy, is inextricably linked with the real estate sector. Factory premises are the foundation of any such business, after all.
According to the Ministry of Industry and Handicrafts, Cambodia's industrial sector employs nearly one million people, 800,000 of which work in garment factories. Of the 1,522 registered factories operating in the country last year, over a thousand were making garments. Secondary industries included food and beverage, chemical rubber, plastic, electronics and paper.
Most of the Kingdom's factories are located in the vicinity of Phnom Penh. However, they can be found across the nation, in locations such as Preah Sihanouk, Kampong Speu, Kandal, Svay Rieng, Kampong Chhnang, Takeo and Kampong Cham provinces.
As factories are built, the population in the nearby area grows along with economic activity and, in turn, real estate values.
James Whitehead, CEO of yula.la, Laos' leading general classifieds website and laorealestate.la, Laos' first specialised real estate portal, noted that Phnom Penh hosts many of the Kingdom's factories. Laos, in contrast, he said, relies more heavily on hydropower and natural resources. These industries aren't as labour intensive and don't necessarily lead to urbanisation in the capital of Vientiane. Cambodia's garment industry, however, requires centralised labour.
"The manufacturing sector has a huge effect on real estate growth because many people come to urban areas specifically to find work," Whitehead said, adding that most of that growth is concentrated in Cambodia's capital.
"The huge number of people push the city to grow and expand in terms of infrastructure, housing, services and amenities," he added. With a larger population, demand for food, accommodation, entertainment and services also grows.
Sorn Seap, founder and CEO of Cambodia's Key Real Estate, said that garment factories have been essential to the growth of the real estate sector. 
Seap elaborated on this connection by saying that economic growth feeds the property sector. Growth, in turn, is mainly fuelled by manufacturing.
He explained that, in many cases, miniature economies sprouted up around factories. Food vendors and retailers often pop up in the area to cater to the vast amount of workers.
"It leads to huge demand for rental houses in the city's suburbs," Seap claimed, adding that affordable real estate is pivotal for fostering the growth of small- and medium-sized enterprises, especially on the outskirts of the city.
Sharing Seap's view, Whitehead said that garment factories mainly impact the market for low- and middle-tier real estate.
Bringing about positive changes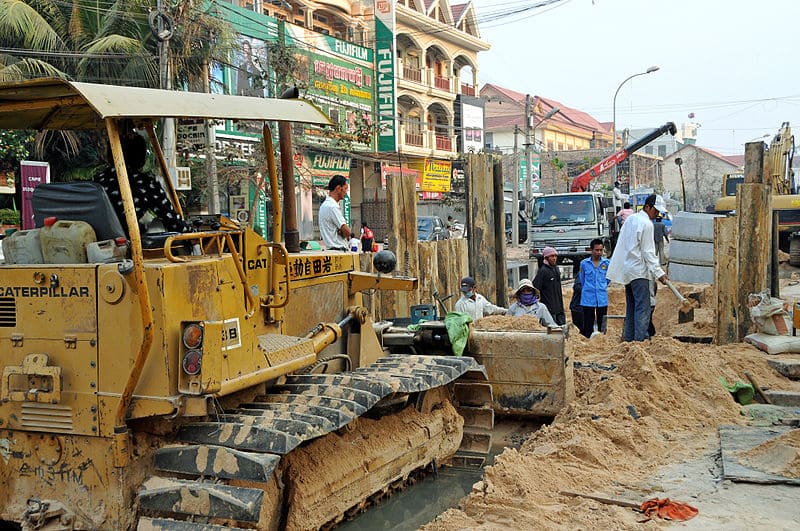 In the past few weeks there has been talk about the European Union (EU) discontinuing the Kingdom's duty-free trade preferences under the Everything But Arms (EBA) pact. This has led to concern over whether the real estate sector will take a hit in the coming months.
Commenting on this market shift, Whitehead claimed it could shake up the market, but would ultimately create positive change. He said that jobs should evolve beyond low-skilled labour and bring more value to the economy by entering more lucrative segments of the market.
Diving deeper, he said that Cambodian factories made most of their money from low-level consumer products for the huge EU market. Moving toward high fashion items, or even electronics would require workers with more education and more training. Shifts like this, he said, are already taking place in nearby Vietnam and China.
"[The sector] needs to boost the value chain and train staff for higher level manufacturing," Whitehead said, adding that electronics or diamond polishing were two options that could prove fruitful.
Further, the government can assist by creating more high-level industrial plans so that opportunities in these industries can be developed sustainably.
Seap echoed these claims, saying that tax preferences were, indeed, helpful. However, education and development were important for creating growth within the country.
Other predictions for the outcome of EBA cancellation have been quite dire.
According to local media, economist Ngeth Chou said that, without tax preferences, the garment sector will take a hit, as will other export sectors. 
Chou claimed that if a significant number of investors closed their factories in the country, there could be a domino effect. 
"Workers rent houses and their landlords have mortgages with the banks. If there are no workers then landlords end up losing business," he said.
Realestate.com.kh, Cambodia's home of real estate, has the most up to date information for buyers, sellers and property enthusiasts! Sign up for our newsletter today and stay up to date with the latest info…