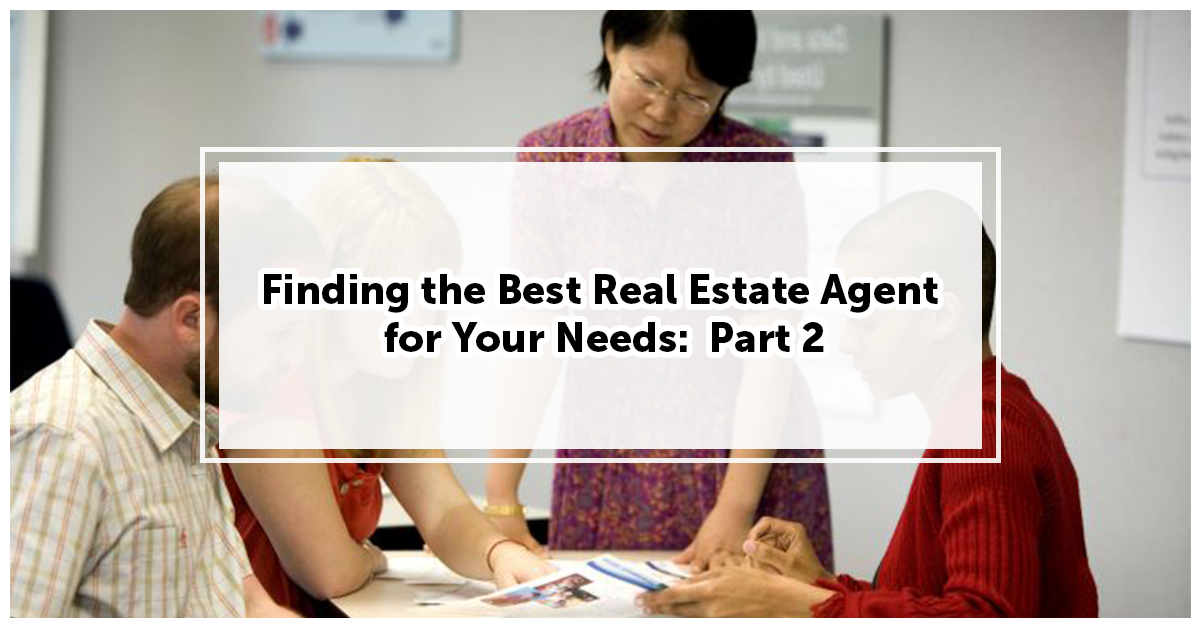 Selling or renting a property that you own is unlike any other transaction we undertake in life; as ultimately- most people's biggest asset is their home. Last week in Finding the Best Real Estate Agent Part 1 we explored the first steps in looking for the best real estate agent for you needs; namely where to begin your search and the 'interview style' questions you should ask your potential real estate agent.
This week, we are going to delve a little deeper into these general traits that a good real estate possesses, the importance of doing your own research and how to the performance of your real estate
Below are some more factors to keep in mind, thanks to Realestate.com.kh!
Doing Your Own Research:
Due to their industry insight and experience, a good real estate agent should be able to answer the critical questions relating to your property and achieving your goal. However, it is also important that you conduct your own research and have some idea of the price range you can expect to receive or pay for your property.
For example, if you were selling your property, it is important to do an appraisal of the selling price of other 'similar' properties in your neighbourhood. Although amenities and the quality of the property will lead to price variations between properties, there should not be too many differences between what other properties in your area are selling for.
A good real estate agent should provide an analysis that roughly matches your research, and if there are some major differences between your research and their proposed price, they should be able able to give you valid reasons why - and backup their claims with research.
In terms of the price you will pay the real estate agent for their services, you will need to research this too. In the interview stage (or any stage prior to committing to a formal contract) ensure you have an idea of what the agent is proposing to charge you and identify any potentially 'hidden costs' that you could be subject to pay. Talking to buyers and sellers who have been through this process can be a helpful tool in ascertaining whether the price you have been quoted in fair.
Again, there may be some variation between agencies with price, but you need to ensure that you are getting the best value for money, and know exactly what you are paying for.
Making the Decision:
Once you have reviewed your options and decided on the agent/agency who you believe will look after your interests, you need to enter into a formal agreement.
The written agreement should clearly outline the terms and conditions of appointing the real estate agent. You should ensure that you read this agreement carefully, and raise any questions with your proposed agent prior to signing. A proper agreement should contain an estimated sale or rental price, the total commission payable (in Riel or USD figures), fees and charges, and marketing expenses.
Assessing the performance of your real estate agent:
Once you have entered into a formal agreement, it is important to monitor your selected agent closely to ensure that they are delivering the service that they promised you. There should be consistent communication and updates about the progress of your home transaction. A real estate agent that is performing well should;
Provide you with regular updates regarding the number of buyers and tenants they have been in contact with.

Have a screening process to determine a tenant or buyer's suitability for the property (for example reference checks, confirmation of their job etc.).

Deliver ongoing marketing advice regarding the number of inquiries your property is receiving and how to increase its appeal to renters / buyers (for example, conducting advertising, furnishing the property, altering the agreement terms slightly, etc.).

Competently handle the negotiations of the monthly rental or the sale price of your property. This is probably the most important job of a real estate agent and a good real estate agent will be an expert negotiator.

Demonstrate experience at handling the legal and financial process of managing the rental property and/or conducting the sale.
Ultimately, with a vast range of professional agents and agencies throughout the Kingdom, it is likely that you will find a quality real estate that can deliver your expectations regarding your property. Although these may seem like a lot of factors to take into account, with a transaction that has the ability to have such an impact on your life, it is important to put yourself in the best possible position to achieve our desired result.
Want to find the best tips for your property investment, visit Realestate.com.kh