The Cambodian government-approved Funan Techo Canal, which will be the first capital-coastal waterway in the Kingdom of Cambodia, is the latest large-scale infrastructure project set to transform the Southeast Asian nation into a new logistics and economic hub in the region.
The estimated cost for the development project is expected to be USD $1.7 billion and it will take approximately four years to complete.
The announcement follows the news of a targeted extended list of investment projects which are set to redefine the infrastructure in Cambodia which is trying to better provide much improved and modern transport routes including major expressways, international airports, seaports and waterways - driving diversification and economic development as well as promoting the country as a potential destination for logistics and shipping. 
With the combination of infrastructure and logistics projects, and significant investment in the sector (and Foreign Direct Investment), Cambodia is positioning itself to challenge and become a major player in regional trade and commerce. 
What is the Cambodian Funan Techo Canal?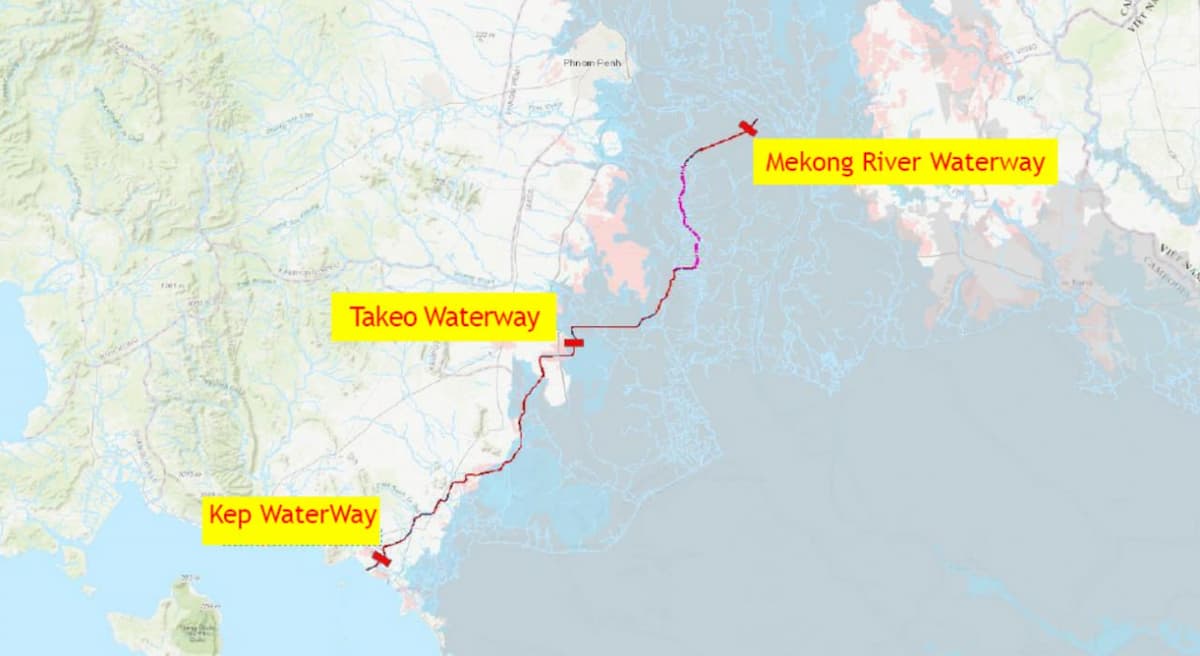 The Funan Techo Canal project will establish a direct link between the capital of Phnom Penh and the coastal provinces and create an alternative route set to unlock untapped supplementary logistics opportunities for Cambodia.
The man-made canal will be 180 kilometres long and will connect Prek Takeo to Prek Ta Ek and Prek Ta Hing of the Bassac River System and onto Kep province. Once completed, the canal will pass through Kandal, Takeo, and Kampot and see the installation of three watergates or locks (on the current plans these will be added outside of Phnom Penh, in Takeo, and at Kep), as well as 11 bridges and the addition of 208 kilometres of roads on either side of the waterway. 
The canal will be 100 metres wide upstream and 80m downstream and have a  depth of 5.4 metres. There will be two shipping lanes, to enable vessels to safely travel in opposite directions simultaneously. In the area impacted, there is an estimated total population of 1.6 million living on both sides of the waterway. 
John Yip Weiyan (Head of Investment of Real Estate at Belt Road Capital Management) said of the project: "The Funan Techo Canal infrastructure project will be a game-changer for Cambodia logistics as it will impact the distribution of containers throughput between Sihanoukville's deep sea port and Phnom Penh Autonomous Port (via Vietnam). More freight will end up being routed through local Cambodian port(s) as use of the waterway commences.
The usage of the waterway could also stimulate the development of additional international ports, such as the proposed Kampot International Multi-Purpose Logistics and Port Centre. With an alternative route available for freight transportation to and from the capital, logistics facilities could be relocated or constructed to support and complement this alternative transportation corridor."
The initial planning document we have seen supports this as currently 67% of goods reach the port in Sihanoukville but after the completion of the canal, this is hoped to reach 90%.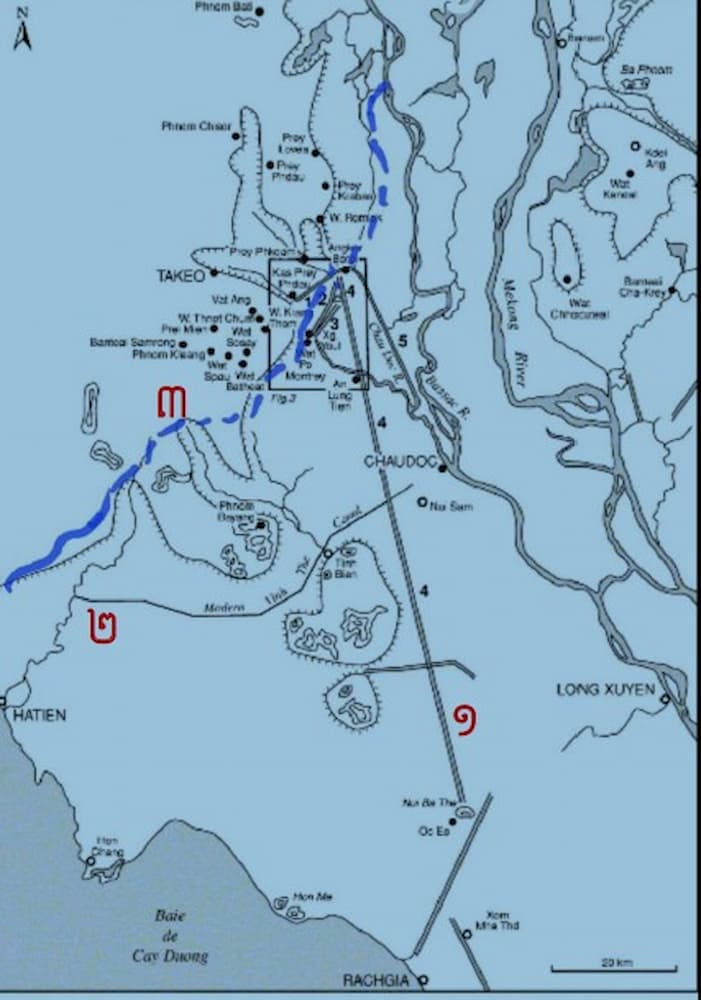 Cambodian Investment and Economic Growth
The World Bank increased its financial outlook for the Kingdom of Cambodia in May 2023 and under its Cambodia Economic Update, raised its growth forecast to 5.5 per cent this year, which is an increase from its previous projection of 5.2 per cent. 
Most global financial institutions as well as the National Bank Cambodia have predicted GDP growth of between 4-6% for 2023 which is high compared to the global averages. 
The World Bank also advised Cambodia to bolster economic growth "through investing in connectivity infrastructure and human development, safeguarding financial stability, and promoting diversification of exports to enhance the economy's resilience and competitiveness." The projects such as the Funan Techo Canal appear to be addressing exactly that.
Previous reports from the World Bank suggested that the logistics costs in Cambodia are estimated at 26 per cent of the GDP in 2020 and that costs in the Kingdom were much higher than those of neighbouring countries.
The Cambodian government realises investment is key as are private-public partnerships which have seen the completion and ongoing development of major projects to improve connectivity nationwide. Located strategically at the centre of China, India, and Indonesia, and in a region seeing comparative growth - there is massive potential as a key logistics hub. 
Minister of Public Works & Transport, H.E. Sun Chanthol discussed the Comprehensive Intermodal Transport Master Plan 2022 – 2030 (CIT-MP). The CIT-MP is a comprehensive plan covering infrastructure such as roads, railways, waterways, airways, logistics and ports and has already identified more than 150 projects which will require as much as US$30 billion of investment. 
Chanthol previously said that the intention is " to strengthen and expand road infrastructure and connect major thoroughfares – especially international border checkpoints – in order to increase Cambodia's competitiveness, attract foreign investment, and reduce logistics and transport costs and avoid delays."
Cambodia Port, Logistics & Maritime Projects
Port container traffic has indicated a shift in the dynamics of Cambodia's logistics landscape, with Sihanoukville (PAS) emerging as a prominent port and even surpassing the Phnom Penh autonomous port (PPAP).
The PAS is undergoing investment to modernise, deepen, and enlarge its capabilities to host larger ships more often. Only 20 km northeast of the international deep-water Sihanoukville Autonomous Port, is the SSEZ which Sihanoukville Deputy Governor Long Dimanche said is the biggest industrial zone in size and occupancy in Southeast Asia.
Both are key in China's Belt and Road Initiative (BRI) which consists of the Silk Road Economic Belt and the 21st Century Maritime Silk Road, which intends to link trade and infrastructure networks in Asia with Europe and Africa.
In May 2023 it was announced that the Japanese-financed Sihanoukville container terminal had started, aimed at transforming the seaport into a Southeast Asian hub by 2029. The upgrades will include the modernisation and automation of the port's equipment. 
The PAS capacity will increase from 700,000 TEUs (twenty-foot equivalent unit) a year to 1.4 million by 2026, and 2.6 million by 2029, while the port's shallow channel which is 9.2m deep will be dredged to a new depth of 14.5m in the project's first phase and allow more and bigger container ships to dock at the Cambodian port. Currently, 82% of container ships are unable to access the port.
Koh Kong province's first international seaport is due to be launched in the second half of 2023, said provincial governor Mithona Phoutong.
Kampot International Port & Logistics Centre is a USD $1.5bn project in Kampot province, which started foundational work in 2022. The multipurpose port will have a depth of 15m and will be developed over 15 years and across three phases.
The Kampot International Tourism Port was also completed in mid-2022 and needs additional dredging.
A new Sihanoukville Logistics Hub was established via a public-private partnership.
In addition, there are a number of airports still being developed with the new Siem Reap International Airport due to be operational before the end of 2023 with other large transport & logistics projects continuing development.
The Knight Frank "State of Logistics Asia-Pacific Focus Report 2023" indicated that with global supply chains adjusting, Southeast Asia is seen as a top destination for foreign direct investment among emerging regions.
The creation of new and more affordable trade routes, facilitating the seamless movement of goods in a foreign trade and in an investment-friendly nation should have investors and businesses take notice and look for opportunities within Cambodia's burgeoning logistics and infrastructure sector.