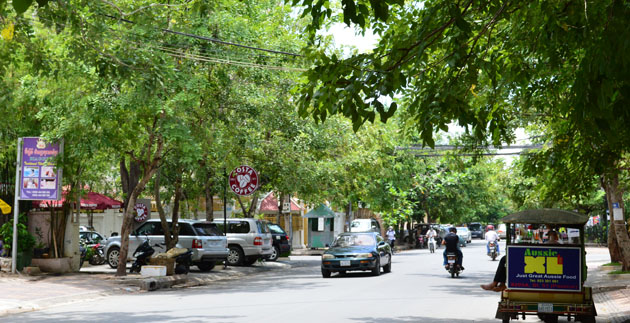 The Ministry of Interior announced earlier this month that two new districts will be carved out of the Phnom Penh map. 
The sub-decree, which goes into effect in May, also establishes a single municipality comprised of the southern islands of Koh Rong and Koh Rong Sanloem. 
Boeung Keng Kang, formerly three separate communes within Chamkarmon district, will become a district of its own.
The other new district, Kambol, will be made up of communes from Por Sen Chey and Dangkor districts.
Included in the new Boeung Keng Kang district will be Boeung Keng Kang 1, 2 and 3, Toul Svay Prey 1 and 2, Olympic and Tomnub Teuk communes. 
The new Kambol district will take Kambol, Kantork, Snao, Phleung Chheh Roteh, Boeung Thum, and Ovlork communes from Por Sen Chey district. Prateah Lang commune, now a part of Dangkor district, will also become part of Kambol.
In a recent interview with Radio France Internationale, Sak Setha, secretary of state at the Ministry of Interior, said that these communes have grown massively over the past few years. Public services, he said, would benefit from the new classifications.
According to a 2017 report from the Ministry of Land Management, Urban Planning and Construction (MLMUPC), the Kingdom's urban population is set to hit seven million by 2030. The document further stated that more than 850,000 new homes would be required over the next decade.
Chrek Soknim, president of the Cambodian Valuers and Estate Agents Association, said that the new district would not impact the real estate sector. Values would remain unchanged.
However, he speculated that public services wouldn't be spread as thinly.
Islands become city

Un Khannaron, director of Elevated Realty, said it was unlikely there would be any major change in the market due to the new districts. 
He said the BKK area already commands some of the highest prices in the city and hosts many new developments.
Kambol district, meanwhile, could become a hotspot for industrial real estate such as factories and warehouses, according to Khannaron.
Property ownership would carry over unchanged, he said, but any new transactions would soon take place in the new district offices.
Besides creating two new districts in Phnom Penh, the sub-decree will make the southern islands of Koh Rong and Koh Rong Sanloem a single municipality.
Additionally, Stung Treng, Kampong Thom and Pursat provinces will each add another district to their maps when the document is officially passed in May.
For more breaking news like this, check our news section every day. You can also sign up for our newsletter to get news right to your inbox.