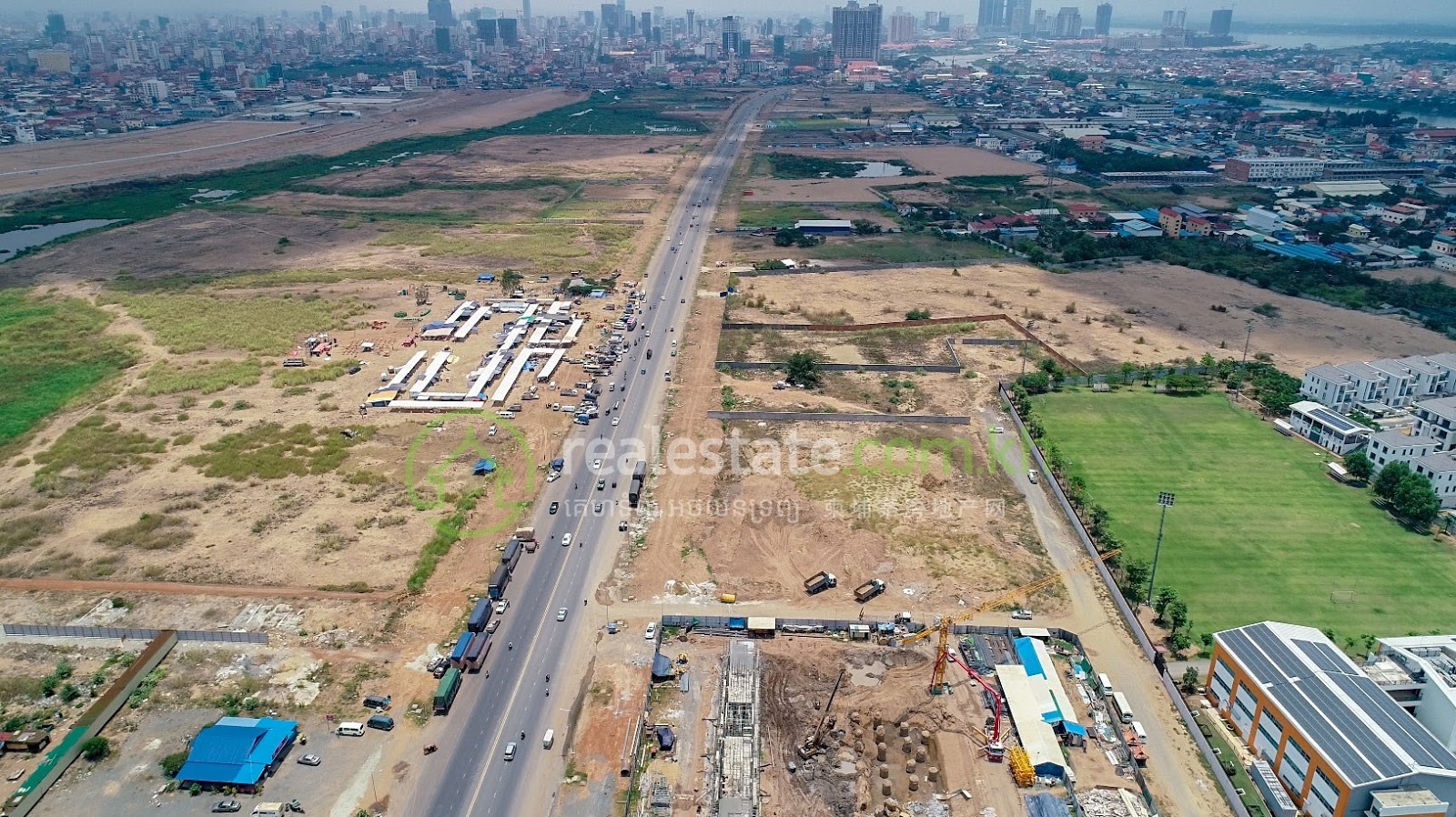 With Cambodia's economy showing no signs of slowing down and a building boom in full swing, local and international real estate developers are flocking to Cambodia in record numbers.
In Phnom Penh, Siem Reap, Sihanoukville, and other urban areas developers are buying up or leasing land to build an array of residential, commercial, and mixed-use developments. In Phnom Penh, land along the major thoroughfares are particularly hot items. Areas along Monivong, Norodom, Russian, and Mao Tse Tung Boulevards are slowly being saturated with high-rises, boreys, etc. There is construction work going on in many stretches going in and out of the city.

Lately, one particular stretch is rising above the rest in terms of attractiveness and drawing power: land along Hun Sen Boulevard.
Intended to reduce traffic congestion in the city's south, the 60-meter wide and nearly 10 kilometers long Hun Sen Blvd. is Phnom Penh's largest and one of its most important road connections. It connects Street 271 in the north with National Road (NR) 2 in the south. Hun Sen Blvd. is an integral part of Phnom Penh's 2035 Master Plan, which aims to improve resident's living conditions as the capital continues to expand and develop.
Ken Lo, Chairman and CEO of Century 21 Imperial Realty, said several major development projects have been built or are under construction in the area.
Leading these is the 2,600 hectares ING City, the largest development in Cambodia. Also one of the largest in Southeast Asia, ING City, whose development is ongoing, comprises of residential, commercial, and retail facilities.
Major borey (gated community) projects like Borey Chip Mong, Borey Piphup Thmey, and Borey Peng Hout are also located along Hun Sen Blvd.
Mr Lo said that Chinese investors are also buying huge plots of land for the construction of residential and commercial centers.  
The 7.6-hectare Urban Village, 2.1-hectare Lingnan Garden, and  R&F City are major mixed-use projects being developed by leading Chinese property developers or their local affiliates on prime lot along the Boulevard.
There are also reports that Japanese developers are planning to build the third Aeon Shopping Mall in the same locality.
Jessie Mao, Planning Executive of R&F City, said their studies found that the southern part of Phnom Penh, where a big part of Hun Sen Blvd. runs through, is the most ideal location for property development.
"While there have been an increase, land there still costs less compared to those found in parts of the city. There is a big potential for more development there. Southern Phnom Penh will definitely become the new city center," she stressed, noting that at this time space is getting smaller and land is getting more expensive in central Phnom Penh.
Hun Sen Blvd. stretches across three sangkats: Chak Angre Leu and Chak Angre Krom in Khan Meanchey and Cheung Ek in Khan Dankao. The 2018 (1st half) Phnom Penh land price report of Key Real Estate, shows that the average prices of commercial land in Chak Angre Leu and Chak Angre Krom are $1,650/sqm and $1,250/sqm, respectively, while in Sangkat Cheung Ek commercial land is priced at $600/sqm on average.
Sorn Seap, Founder and CEO of Key Real Estate, said Hun Sen Blvd. greatly contributes to the area's real estate growth. He said the area's popularity and development will increase if major infrastructure projects will push through, referring to the proposed Ring Road and new international airport in Kandal Province, which is only a few kilometers away from the Boulevard.
The entry and interest of more developers have led to higher land prices in the area, a development not lost on Mr Lo. "Land is more expensive compared before."
The price of land in-between Road 271 and Borey Peng Hout increased to $2,000/sqm from last year's $1,000-$1,200/sqm. Between National Road (NR) 2 and Borey Peng Hout the price of land is now $800-$1,500/sqm, up from $400-$1,200 recorded in the end of last year.