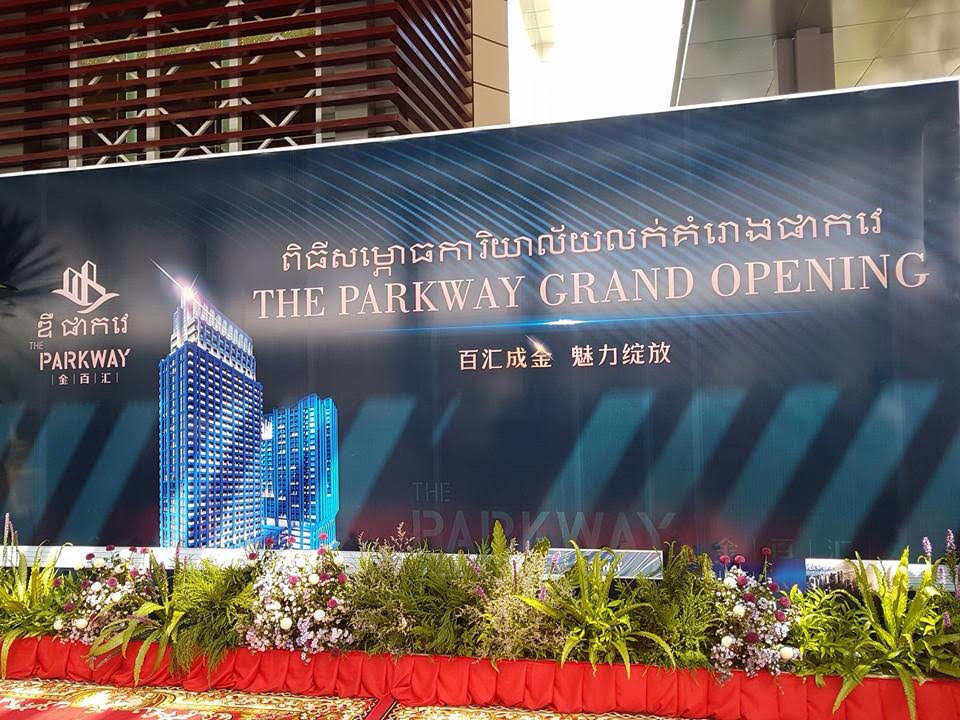 After exhibiting at Cambodia's Real Estate Show 2, The Parkway Investment Co., Ltd officially held their Grand Opening of commencing sales on the 18th November 2017 at their showroom The ceremony was great success, and honor to be presided by His Excellency Sar Kheng, the Cambodian Deputy Prime Minister. 
The Parkway is a joint venture between Cambodian Construction Firm, Parkway Investment Co., Ltd, and Chinese Construction firm, Nantong City Daxin Engineering (Cambodia) Co., Ltd. This new project aims to bring a modern condominium to the high potential area not to be overlooked- Toul Kork. 
At his speech at Saturday's ceremony, Mr. Sour Sok Theng, CEO of Parkway Investment Co., Ltd, stated that, "Cambodia has overcome many obstacles, the country is progressing well and is rapidly becoming one of the countries with the largest potential amongst the developing countries in the world- especially in the real estate industry."
Parkway Investment Co., Ltd, is a leading development company and frequently cooperates with international construction companies to bring produce quality and luxurious projects; including projects Borey Rith and Parkway Square.
Parkway Investment  Co., Ltd, established in 1994, has become renowned in Phnom Penh and focuses on developments such as building houses, commercial buildings, and multi-purpose international projects. The company has a vision to develop Phnom Penh into a clean, harmonious residential area that will continue to progress rapidly.
Director of Nantong City Daxin Engineering, Mr. Ma He Jun said: "That the name "The Kingdom of Cambodia'  is not just a slogan that the Cambodian Government uses to promote the nation. For 15 years the average growth of Cambodia's economy has ranked number 6 in the world. We can see the prosperity of the Cambodian real estate market, especially in relation to China's economy and domestic policies. Cambodia is becoming the preferred investment destination  in the next coming 10 years."
"In addition, the'One Belt One Road' Policy initiative will push Cambodia's real estate prospects and lead to a remarkable increase'' Mr. Ma also added that "Now is a great opportunity for investors to invest in Phnom Penh and The Parkway project is your best option"
Parkway Investment Co., Ltd's developments have gained strong attraction and have been supported by both local and international prospective buyers and investors. Mr. Ma believes "This is a great honor, yet it is also a big responsibility for the company". Daxin Engineering is a renowned construction firm ranked number 200 in Chinese construction industry. The company has been operating for 43 years in China.
The construction firm will cooperate with architecture team of China's Sambok Chab Stadium, the construction team that was previously awarded "The Luban Prize for Construction Project", the highest accolade in Chinese construction, as well as in cooperation with Parkway Investment Co., Ltd, to design The Parkway. This project is focused on reaching international standards of quality to satisfy the needs and provide comfort for valued customers.
The Parkway's Sales Manager, Ms. Ding LiLi has researched and analyses Cambodia's real estate market.  Ms. LiLi said: "Buying property to obtain wealth is an investment strategy that is recognized by Chinese people, however, the value of property in China has significantly increased, therefore loan limitation policies, buyer limitation policies, and sale limitation policies in China are also increasing.  As a result, investing in Cambodia as well as in other countries in Asia is considered the wise option for Chinese investors"
Ms. LiLi added that currently, "Phnom Penh's real estate market development looks as same as Shenzhen did previously. Phnom Penh has emerged as an international market with a collection of multinational corporations and multi-international staff. Even though Phnom Penh has a wealth of apartments buildings, and more continuing and commencing construction to be completed in 2018 -  this still cannot meet the market demand".
Ms. LiLi has high expectations and has evaluated the location of The Parkway in Toul Kork and  said that "'Toul Kork is popular for wealthy families and it is also a world popular tourism destination the  same as 16 districts in Paris, Roppongi in Tokyo, and Lujiazui in Shanghai."
She continued on by stating that "'The growth rate of property value in Toul Kork is between 10% to 20%, apartment rental rate occupancy is higher than 90% and guaranteed rental return rate is expected from 8% to 10% - higher than apartments in Beijing and Shanghai. Therefore the  investment atmosphere is better than Shanghai, Beijing and Kwang Chov was 20 years ago"
"Presently, the growth of value of residential houses in major areas in Phnom Penh starts with an average price at 25%, with rental return rates is anywhere between 8% to 15%. Therefore, if you miss out your investment in Shanghai, you must take the opportunity to invest in Toul Kork, Phnom Penh by choosing The Parkway".
Ultimately, The Parkway Investment Co., Ltd. would like to thank distinguished guests and the management and leadership of Royal Government of Cambodia. Due to this wise leadership, it brings a stable society with fast economic development as well as preferential policies offered by the Government. Therefore the investment atmosphere in Cambodia is more preferable, which will lead to encouraging homeowners to benefit as well
Located in the finest city in Cambodia, in an elite location in the capital city of Phnom Penh, The Parkway is built to a luxurious world-class residential that you would never missed.